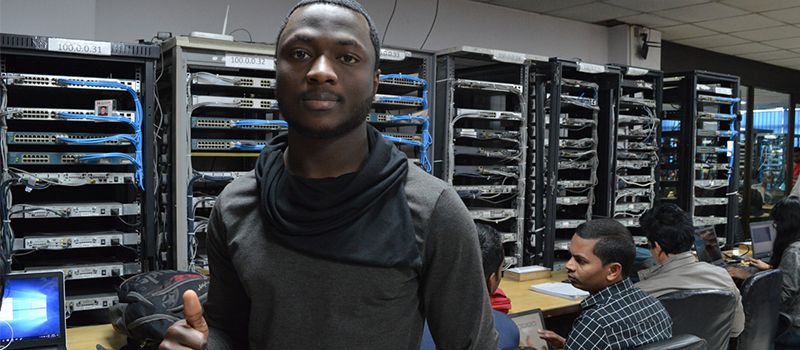 Cisco CCNA, CCNP and CCIE Security V5 Training Reviews Shared By Oladotun from Nigeria
Oladotun Joesph enrolled at Network Bulls with the aim of becoming a CCIE certified professional and he accomplished the milestone of his career. Oladotun came from Nigeria to India to become master in networking. Thus, he enrolled at Network Bulls for Cisco CCNA, CCNP and CCIE Security Written +Lab V5 training.
After completing Cisco CCNA, CCNP and CCIE Security Written + Lab V5 training at Network Bulls, Oladotun has expressed his all gratitude towards Network Bulls for best Cisco training, let's hear his reviews-
"Thanks Network Bulls for your professional guidance. I just adore your training facilities. I came all the way from Nigeria to Gurugram, Haryana, India to become expert in networking as Network Security domain has always been my favorite subject.
I enrolled in CCNA Security, CCNP Security & CCIE Security V5 course at Network Bulls and I have successfully pursued my training.
See the course- https://www.networkbulls.com/training-ccie-security-delhi
I would recommend every networking aspirant should visit the campus once to get the sneak-peak of the learning surrounding.
The trainers are well-experienced and they'll clear all your doubts during your course session. The lab training and infrastructure is beyond excellent. You'll enjoy during your training journey.
See NB technical team- https://www.networkbulls.com/nb-technical-team
Thanks Network Bulls for making me master in my favorite domain which is- Cisco CCIE Security V5 course and giving wings to my career."
See more reviews- https://www.networkbulls.com/international/customer-reviews
So, these were the Network Bulls' CCIE Security V5 training reviews by Oladotun Joseph who did his CCIE Security V5 training successfully and was feeling very grateful to sharing his CCIE Security V5 training reviews with Network Bulls. He seemed very delighted to start his new phase of life and work with big IT giants.
He came from Nigeria which is very far from India just for the sake to become a master in CCIE Security domain. He started his course from the scratch- CCNA Security + CCNP Security + CCIE Security Written + Lab training. On his successfully completion of course, Network Bulls entire team congratulates Oladotun very best of luck in his future endeavors.
Why enroll at Network Bulls-
World's largest Cisco labs for CCNA, CCNP and CCIE course programs
World's biggest pool of Cisco certified trainers who have 5-15 years of industrial experience
More than 16,500 students have been placed since 2009
Offers 100% practical training
Network Bulls provides free lab workbooks
Unlimited repetition of batches to avoid doubts
Smart Hi-tech classrooms
Airport pick-up and drop facility to international students
Accommodation services and many more.
Network Bulls, India has CCIE certified experienced trainers who travel globally to fulfill corporate customer training requirement. These trainers are dual and triple CCIE certified.
Visit our official website to know more about Cisco training- https://www.networkbulls.com/international