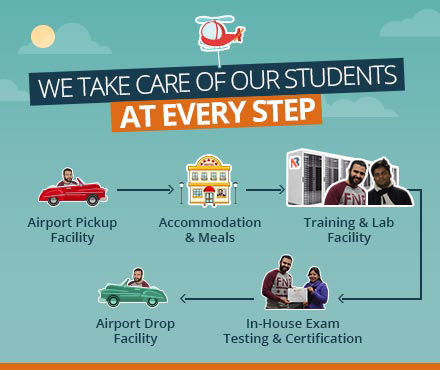 End To End Solutions

Registration and Visa Process
As soon as you register with us, our company official remains in constant touch with you to provide all the necessary details required for an uninterrupted training schedule, here in India. Post completion of the registration process you'll receive an invitation letter from our authorities confirming the number of days of your stay with us. This invitation letter serves as an important document while applying for a visa from your relative country. We also provide complete visa assistance to our international aspirants (documents required, counselor to embassy individual confirmation, etc.) on requirement basis.
Post receiving all your details (visa, arrival date, departure date, flight details, etc.) we reserve a training slot as per your requirements given and provide you with all the points required to enjoy a comfortable training schedule throughout your stay with us. We also help you in getting your flight tickets booked, in case you face any problem regarding the same.

Airport Pick Up and Drop Facility
Once you have registered and shared your arrival dates with us, all you have to do is to sit back and relax. Complete transportation services will be provided to our offshore students which includes pick-up and drop facility from and to airport on arrival/departure.

Accommodation Services
After your pick up from the airport we take you to the desired accommodation type chosen helping you get comfortable with your stay area instantaneously.

Introduction with Training Manager and Trainer
Next day you will be introduced to your Training Manager. She will introduce you to your trainer. Our trainers and management team believe in serving our students well providing them with a world-class studying environment.

General Assistance
We provide complete assistance in so many other facilities related to your day to day requirements.Some of the facilities we provide are:
Purchasing a local SIM Card.
Cash exchange.
Purchasing dongle & Internet connection
Purchasing Foods and beverages.
Make available to you, a Rate list of raw food material and other necessary stuff.
Make available to you, the details of few important online Services you might require while staying in India.
Taking you to the Bank, Western Union Money Transfer and any other places on demand.
Take complete responsibility of every formality of FRRO (Foreigner Registration Office).

Training
The trainer allotted to you takes full care of your studying needs and makes sure that each and every topic is understood before moving onto the next one. Clarification of your theoretical concepts are taken care by our trainers, leading to good absorption of the topics learnt. The trainer makes sure that their teaching and your learning pace goes hand in hand. Not only your trainer trains you in theoretical parts of the course but also helps you become proficient in practical parts of the course. In short, practical training is what we master in as we believe in making our students industry ready and real scenario experienced.

Tourism
Offshore management team at NB makes sure that each and every individual who comes from the other countries should get a chance to experience our diverse yet unique culture and for this we provide our students with complete assistance by introducing them to our religions, varied foods, regions, attires, tourist places, etc. which form the crust of our country. Put simply, we introduce them to our Incredible India. In order to get a break from your daily training routine on weekends you can well utilize your time by visiting great places within the country. We not only organize excursion trips for our international candidates but also guide them about various leisure spots within the city.

Certification

Airport Drop Facility
Post completion of your training program with us, we will provide you with a relieving letter specifying your authenticity of knowledge against the taken up course. After settling all your dues, if any, our official executive will see you off at the airport to make you board your departure flight back home.
Post your Reviews & Comments
{{comment.temp_name}}
{{comment.user.name}}
{{comment.created_at|timeSince}}
{{comment.message|trusted}}