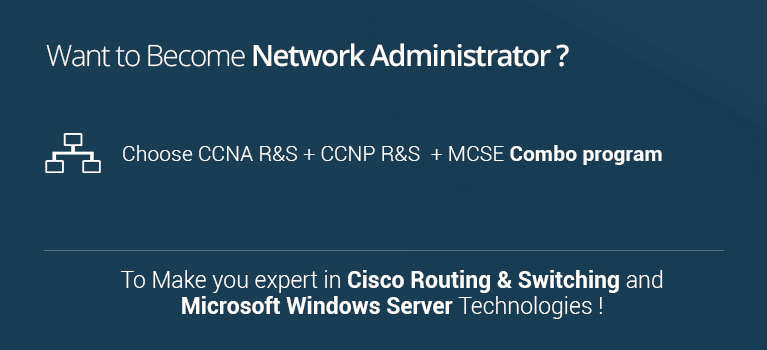 CCNA + CCNP Enterprise + MCSE Server Infrastructure - To Become Network & Windows Server Administrator
Infographic
Infographic
This Combo program is perfect Job Oriented training program to become expert in Cisco Core Enterprise and Microsoft Windows Server technologies and to be eligible for jobs related to Cisco Network Engineering and Windows Server Administration.
What you gain in this course?
Network Designing

You Learn how to Design enterprise level of Cisco Enabled Scalable Networks with hundreds and thousands of users.

Network Implementation

You learn how to install, implement and configure high end Cisco Routers & Switches to form an enterprise level of complex network using technologies like RIP, EIGRP, OSPF, BGP, VTP, STP, IPV6 and lot more.

Server Administration

You get expertise in Installing and Configuring Windows Server along with configuration and administration of advanced windows 2016 services. You also learn designing and implementing advanced server infrastructure.
Course Description
Course Description
CCNA – Cisco Certified Network Associate is an entry level Certification for networking beginners. This Cisco Certification allows aspirants to learn the basics of Networking/N+ and utilize their potential knowledge to increase the value of one's network. CCNA, formerly known as CCNA R&S is an associate level certification which serves as a foundation course for other advanced level courses i.e. CCNP Enterprise and CCNP Security/ Voice Certifications, etc. In this course, a candidate will learn about basics of Networking(N+), TCP/IP, LAN, WAN Technologies using real Cisco Routers and Switches. After the completion of this course, an aspirant will become proficient in implementing, configuring, and troubleshooting (T-shoot) small/medium scaled Cisco Networks.
CCNP Enterprise - Cisco Certified Networking Professional is a professional level certification in Enterprise track offered by Cisco Systems. Post course completion candidate will be well proficient with planning, implementing, verifying and troubleshooting local and wide-area enterprise Cisco networks. This course can be pursued by network technicians, support engineers, system engineers or network engineers.
MCSE- Microsoft Certified Solution Expert training program allows an individual to gain a deep understanding and master his/her skills in identity management, system management, virtualization, storage, and networking. MCSE will allow candidates to develop and sharpen their skills of designing and developing comprehensive server infrastructural solutions. In short aspirants will get an opportunity to learn about the changing needs of an enterprise's infrastructural solutions in an easy manner. The topics that will be covered are Server Migrations, Address Management Solution, IP Configuration, Active Directory Domain Services Forest Infrastructure, GPO Strategy, and many more.
Why to choose Network Bulls for CCNA + CCNP Enterprise + MCSE Server Infrastructure training:
100% Practical training on real Devices.

Fully Loaded Lab consists of 2611xm, 1841, 2811, 3640 Series Routers; 2950, 2960, 3550, 3750 Series Switches and High-end Servers.

24X7 Lab Facility

Dedicated lab instructors are available

Updated practical workbook to simulate the real exam

One of the Top 5 biggest Cisco/Networking Training Labs worldwide.

World Class Infrastructure.

An ISO 9001-2008 certified company.

Incorporated under Central Government of India
Available Training Mode - Online Training
Training Plan
Training Plan
Training Duration and Fee

Track

Group

One-on-One

Duration

3-3.5 Months

3-3.5 Months

Price

(USD) 4700

(USD) 6500
Online Training
Available on Demand
Training Schedule

Group Training

One-on-One Training

Batch 1
11th September 2023
As per student's preference
Batch 2
13th November 2023
As per student's preference
Batch 3
8th January 2024
As per student's preference
Batch 4
11th March 2024
As per student's preference
Batch 5
20th May 2024
As per student's preference
Batch 6
8th July 2024
As per student's preference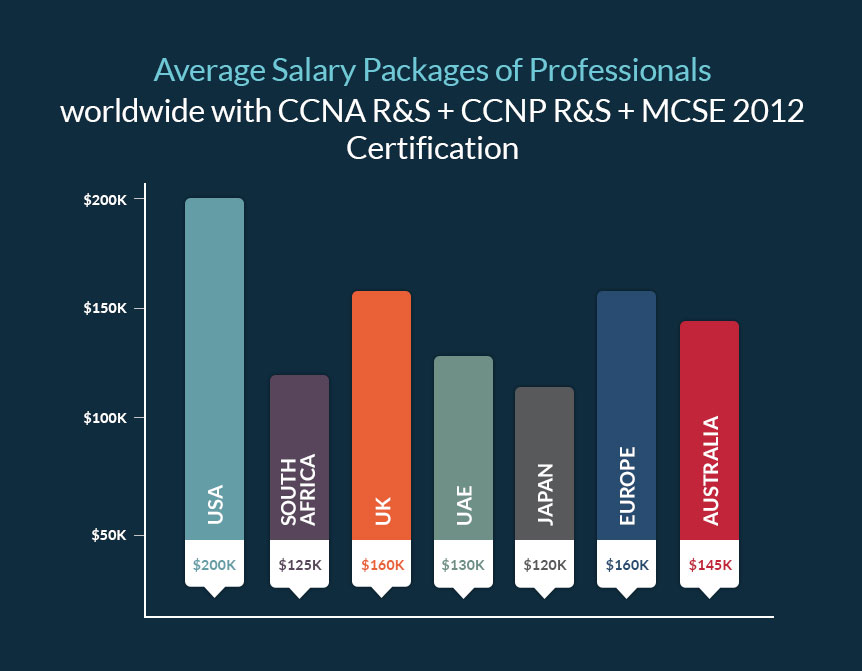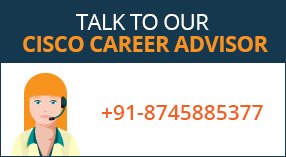 Fill the Form to
Know More