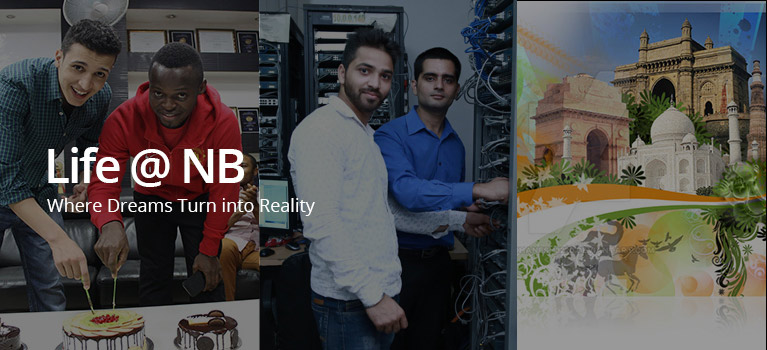 Life @ NB

Incredible India
India is a country known for its unique yet diverse culture around the globe. With 120 languages and 1599 dialects spoken in India, Indians apparently are the most different individuals in the world in terms of languages they speak, religions they follow or food they eat. This diversification has been the ultimate reason of curiosity amongst foreign people who want to discover the oldest civilization in the world.

Welcome to India
Under this category of services offered, we make sure that our students get familiar with various cultures present within our country. We introduce them with the variety of foods, religions, attires, tourist places which make the heart and soul of our nation. Offshore candidates with extreme zeal and vigor celebrate various Indian festivals with us, which ultimately allows them to experience what they never have anywhere else in the world.

High-end technological training
Students have come here from all over the world, acquiring excellent training on various courses. Students here at NB get trained by the most successful pool of certified trainers with years of industrial experience. Acquiring extraordinary education on latest subject curriculum (as per vendor/technology specific syllabus), learning on the technology by practically implementing the concepts in our 24x7 open labs, life at NB for all our students becomes impeccable.

24X7 Lab Facility
One of the many striking features of our training facilities is 24X7 Lab access, we offer to our students coming from all over the world. A Student can come and access the labs any time of day/night making complete use of the latest equipment and infrastructure. Our labs have fully loaded racks with real devices required for exceptional technological training. Each course offered has a separate area for lab practice allowing candidates to make their conceptual skills extraordinary.

World Class Accommodation Facility
Students are coming to us from different parts of India or all over the world to get a chance to avail our world class accommodation facilities in which they get an opportunity to choose the varied type of accommodation plans offered, as per their preference and requirements. All the plans offered are highly reasonable and affordable including meals and well-furnished rooms/accommodation suiting every requirement of an individual.

Availability of various eating options nearby
Within few minutes of walking distance from our institute, students can access the variety of eating options available i.e. McDonald's, Barista, Subway, Pizza Hut, Dominos, CCD, etc. and variety of other restaurants offering mouthwatering delicious at reasonable prices. All of this in just 10 minutes of walking distance from our training center.

Fun Assistance
Our team of expert hospitable members provide, complete guidance to all the known places. Be it Discos, Malls, Water parks, Monuments, etc. proper assistance for places meant for leisure and enjoyment is provided.

Celebrations like pros
Not only, we celebrate all Indian festivals at our institute but also make sure that other international festivals are celebrated with equal zeal and vigor. Be it our staff members, trainers and even students take an active part in various celebrations with full enthusiasm at our institute. A glimpse from Christmas Celebration at Network Bulls:

Recreational trips
All work and no play make Jack a dull boy!

Network Bulls is an institute which not only believes in imparting course specific training using latest methodologies but also promotes recreational trips, encouraging our students to explore the unique yet diverse culture of our country. We organize occasional excursion trips for our students so that they can discover the real beauty India.

Cafe-De-NB
Network Bulls has inaugurated Cafe-de-NB for its students, offering a variety of eating options to choose from. Students can sit and eat as per their choice and preference from the number of options available, satisfying their taste buds under reasonable prices.
Network Bulls believes in imparting outstanding facilities to its students, giving them a home away from home. With this we intend to promote the beautiful culture of our country where you get to experience the finesse of diversity. Concisely giving you a homely environment where you never feel out of place.