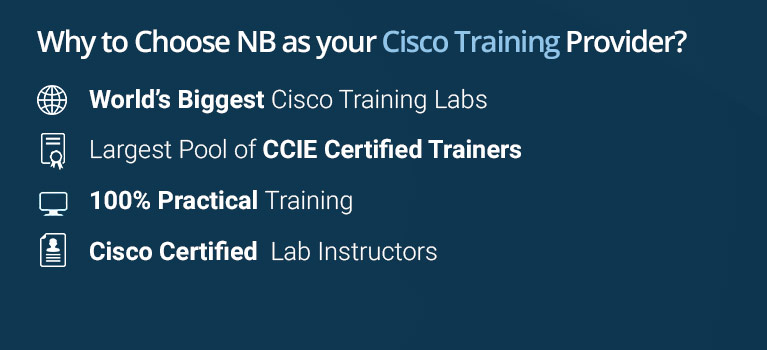 CCNP Data Center Certification Training | Cisco Nexus and UCS Boot Camp Training Online
Course Description
Course Description
CCNP Data Center (Cisco Certified Network Professional Data Center) is a professional level certification that covers advanced level concepts of unified computing and unified fabric. During CCNP Data Center Certification Training, Network Bulls' candidates learn data center network designing, installation, and maintenance of small & mid-size data center networks. Once a candidate successfully completes CCNP Data Center Certification he/she can easily get jobs like Business Services Architect, Technology Architect, Pre-Sales Engineer, Design Engineer, Implementation or Support Engineer.
CCNP Data Center Certification by Network Bulls is the most suitable course for data center professionals with 3-5 years of experience that helps them in achieving higher job titles and much better remuneration. At Network Bulls, candidates are trained as per needs of market demands and are prepared for challenging job roles in data center industry. We also offer CCNP DC Boot Camp trainings and Online instructor led Training. You can also get One to One Cisco Nexus 5000, 7000 and 9000 (5k, 7k and 9k) Boot Camps Online. You can also get customized or fast track Boot Camp training on some particular Cisco Data Center technologies like Nexus and UCS.
Prerequisites – Candidates must have CCNA Data Center Certification with him/her.
DCII (Implementing Cisco Data Center Infrastructure) 6.0
Configuration of MST, RSTP & port channels and implementation of OTV, LISP, VXLAN and Cisco Fabric Path.
Configuring multicast, routing and first-hop redundancy in DC.
Configuration of user management & implementation of system security features on Nexus switches.
Implementation of Fibre Channel port security & binding, managing Fibre Channel domains as well as performing basic Fibre Channel configuration.
Configuration of FCoE, FCIP, distributed device aliases, NPV & zoning.
Configuring system management as well as infrastructure monitoring.
DCUCI (Implementing Cisco Data Center Unified Computing) v6.0
Installation of UCS B-Series system & deployment of service profiles making use of pooled identities and service profile templates.
Configuration of UCS B-Series system for the purpose of deployments viaiSCSI. Configuration of B- &C-Series systems for deployments via Fibre Channel for booting as well as regular data access.
Configuration & implementation of security mechanisms such as RBAC with Organizations and Locales, LDAP integration, key rings and trusted points.
Implement &configure monitoring with syslogandCall Home.
Management of UCS Manager domains with UCS Central, interaction with UCS Manager XML API as well as management of multiple C-Series servers with IMC Supervisor.
DCVAI (Implementing Cisco Data Center Virtualization and Automation) v6.0
Implementation of infrastructure virtualization solutions, such as VDC, VRFs, Cisco Nexus 1000v &Cisco AVS.
Identification of different programmability methods & programing Nexus switches using XML, Pythonand NX-API.
Implementation of Cisco ACI solution which provides fabric connectivity to bare-metal hosts, external L2 & L3 domains andvirtual machines.
Integration of Cisco ACI with virtual machine managers, such as VMware vCenter.
Enforcement of application policies in intra & inter tenant scenarios.
Deploying Cisco AVS & micro-segmentation.
Programming Cisco ACI via Aryaand Python, RESTful APIs.
Monitoring Cisco ACI deployment via monitoring tools & atomic counters.
DCIT (Troubleshooting Cisco Data Center Infrastructure) v6.0
Troubleshooting various L2 technologies such as STP, port channels, vPC, Cisco Fabric Pathand FEX.
Troubleshooting CFS, routing & first-hop redundancy in DC.
Troubleshooting virtualization solutions such as OTV,VXLAN, & VRF.
Troubleshooting SAN including Fibre Channel, NPIV, FCoE,NPV& zoning.
Troubleshooting DC unified computing.
Available Training Modes - Online Training
You can also opt for Cisco Nexus 5k, 7k and 9k Switches Boot Camp Training or you can also customize your CCNP Data Center course by choosing either Cisco Nexus Switching Training or by opting only for Cisco UCS Boot Camp Training. You can also get Cisco Nexus and Cisco UCS Boot Camp Training Online.
Note: 25 Rack Sessions - 4 Hours Each will be provided to students during the program enrolling for CCNP Data Center Training.
Training Plan
Training Plan
Training Duration and Fee

Track

Group

One-on-One

Duration

60 Days

60 Days

Price

(USD) 2000

(USD) 4500
Online Training
Available on Demand
Training Schedule

Group Training

One-on-One Training

Batch 1
11th September 2023
As per student's preference
Batch 2
13th November 2023
As per student's preference
Batch 3
8th January 2024
As per student's preference
Batch 4
11th March 2024
As per student's preference
Batch 5
20th May 2024
As per student's preference
Batch 6
8th July 2024
As per student's preference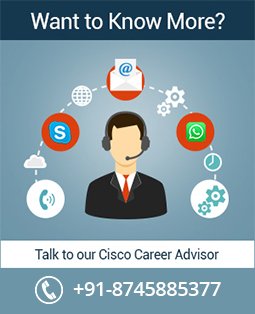 Fill the Form to
Know More