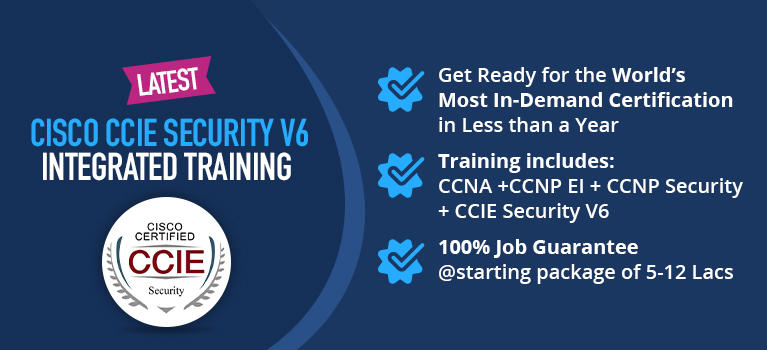 CCIE Security (SCOR + V6 Lab)
Course Description
Course Description
CCIE Security is highest level certification offered by Cisco Systems in Network Security track. One should have in-depth knowledge of CCNA and CCNP Security before starting preparing for CCIE Security V6 certification.
Before sitting for CCIE Security V6 lab exam, candidates are expected to be SCOR exam certified.Training on CCIE Security V6 course offered by NB includes in depth study and hands on training on Security concepts making course aspirants well versed with the technology.
Devices used while providing CCIE Security V6 training are as follows:
Throughout the training period, students go through different technologies and set of devices to practice on. For example: During their CCNA and CCNP Enterprise/R&S Training, students majorly practice on Cisco Routers and Switches, whereas during their Cisco Security journey, they work on devices like Firewalls, Next Gen IPS Systems (NGIPSv) and many more.
Below is the detailed information about the devices student access throughout their CCIE Security journey:
Physical Devices:
Routers: 1841, 2801, 2811, 2911
Switches: 3550, 3750 and C3850-12S
Cisco Adaptive Security Appliance 5512x and 5515x
Cisco WLC 2504 and AP 1602E
Cisco IP Phone 7965
Virtual Devices:
Cisco ISE Server
Cisco WLC (Wireless Controller)
Cisco Web Security Appliance – WSA (IronPort S Series)
Cisco Email Security Appliance – ESA (IronPort C Series)
Cisco Firepower Management Centre (Virtual Appliance)
Cisco Firepower NGIPSv (Next-Generation Intrusion Prevention System – Virtual)
Cisco Firepower Threat Defense
Cisco Adaptive Security Virtual Appliance (ASAv)
Cisco Stealthwatch
Cisco DNA Center
Cisco FireAMP Cloud
Windows Server - AD/DNS/CERTIFICATE Services
Despite of the fact that Cisco is using Virtual Machines for Next generation Security technologies like SourceFire and FirePoweretc in CCIE Security V6 Lab exam, we have real devices present in lab for major technologies, to make students ready for industry. We are the only CCIE Security Version 6 Certification Training company in India with in-house availability of Next Generation Cisco Firewalls, IronPort and IPS Systems in our labs. Our CCIE Security V6 (Version 6) racks are available in our lab and ready for testing.
Mr. Mohit Bhalla

Dual CCIE #42145 (R&S, Security)

Mr. Praveen Kataria

CCIE Security #43866

Mr. Kundan Kumar

CCIE Security #CSCO14200055
Training Plan
Training Plan
Pre-Requisites: In-Depth knowledge up to CCNP Security
CCIE Security (SCOR + V6 Lab) Exam Training Plan

Track

Regular Track (Mon – Fri)

Weekend (Sat – Sun)

Training Duration

3.5 Months

(3 Months SCOR + 10-15 Days Lab Training)

4.5 Months

(4 Months SCOR + 10-15 Days Lab Training)

Hours

2 Hours a Day

3-4 Hours a Day

Training Fee

Rs 1,00,000/-

Rs 1,00,000/-

Available Training Modes
Classroom/Online
Classroom/Online
Note - The NB training fee doesn't include exam fees.
CCIE Security V6 Training is delivered by Mr. Vikas Kumar, who is Triple CCIE Certified Trainer and having more than 15 years of experience in Network Security. Network Bulls offers CCIE Security Bootcamp Training, One to One Training and Classroom Training in Gurgaon Center with Dedicated Cisco CCIE Security Racks, as per Cisco Lab exam blueprints. We provide CCIE Security V6 Training with fully equipped Cisco CCIE Security Racks with 24*7 Lab Facility to practice. We also provide Online Cisco CCIE Security Racks access to students to practice at home. We are situated in Delhi NCR, in Gurgaon region. Network Bulls has biggest Cisco Training Labs in India, with incomparable infrastructure in Delhi, Gurgaon NCR. We also offer CCIE Security V6 Rack Rental to corporates of the industry.
Regular theoretical class for CCIE Security V6 is for 2-3 hours after which practical class for the same is conducted. Practical sessions are conducted in our 24x7 labs which are also the biggest CCIE Security V6 labs of the world. The practical lectures for CCIE Security V6 course can be for n number of long hours, as per student's wish or requirement.

The training provided on CCIE Security V6 course is given by CCIE Security (written or lab) certified trainers who have minimum of 5-15 years of industrial experience.

Students are free to practice day/night in our 24x7 available labs sharpening their conceptual skills for the taken up CCIE Security V6 certification. Fully loaded dedicated racks are allotted to each individual for better understanding and implementation of the CCIE Security's conceptual scenarios.

Our CCIE Security V6 labs are fully equipped with technology specific routers, switches, and firewalls including latest technological equipment ensuring smooth implementation of course relative concepts/approaches. Also, get instant access to course material, workbooks, handbooks, and other relative material required for smooth functioning of the CCIE Security V6 course.

Wi-Fi facility is also available with remote access to various lab devices and racks within the institute's premises.
Student Reviews
Student Reviews
I passed my CCIE Security written and lab exams and became a CCIE which was my ultimate career goal. It has changed my life completely. Fully equipped and live CCIE Security racks along with updated CCIE Security lab workbooks and supportive lab instructors made it possible for me. This is the best institute for CCIE Security training.

Manish Kumar
CCIE Security SCOR + V6 Lab
India
I visited NB all the way from UK for my CCNA Voice course. It was a wonderful learning experience with NB. Sudhanshu is a wonderful trainer. I think we covered far more than the actual syllabus of CCNA Voice. I would like to revisit India for my CCNP Voice course. Thanks.

Steve
CCNA Collaboration/Voice
United Kingdom