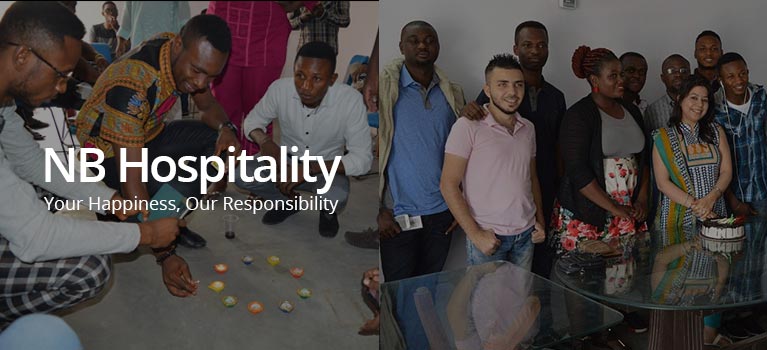 NB Hospitality
Hospitality is a cordial and generous welcome, for the entertainment of our guests. We treat each of our international students as our valuable guests. Network Bulls presents itself as a serving organization in education sector. It does not represent itself like any other training Institute. Our Hospitality trade fundamentally comprises of industry's best practices of being hospitable. Below mentioned are some areas in which we serve our international students.
Orientation About India

Incredible India!!

India is a diverse country. We provide an overview to our students, making them familiar with India and its diverse culture, religions, foods, attires and tourism.
Accommodation Services

We provide end to end accommodation services to our international students in our Lodge. We provide best accommodation Plans on a justified cost and take care of all your basic needs. We are very much thoughtful and considerate about your requirements and concerns.
Transportation Services

We provide Transportation services as well. We take care of everything starting from your Picking-up from the Airport on your arrival in India, providing Pick-up and drop facility from accommodation to the Institute on daily basis and dropping you at the Airport on the day you leave India.
Food and Beverage

Indian cuisine or Indian food encompasses a wide variety of regional cuisines native to India. We suggest you very good and healthy cuisines at affordable prices. We make you familiar with all the famous places, offering numerous delicious and mouthwatering dishes at low costs. We also assist you with online food services available in Delhi/NCR. We introduce a rate list of basic food material and also to guard you from being dumped by shopkeepers.
Fun Assistance Services

We provide guidance to you for almost all the available and known places i.e. Pubs, Disco, Malls, Hotels, Restaurants, Ambience, Water Parks, Resorts and many other similar places meant for leisure and enjoyment.
Tourism Services

We provide you complete assistance in Tourism. We introduce all historical monuments, famous places and cities to you. We also provide complete assistance in making a trip on demand, if you wish to visit any of the tourism places in India; we take care of almost everything you might require from start till the end, while making that trip memorable for you.
Other Facilities
We provide complete assistance in so many other facilities also related to your day to day necessities. Some of them are:
Purchasing a local
SIM Card

Purchasing dongle &
Internet connection

Purchasing Foods and
beverages

Make available to you,
a Rate list of raw food
material and other necessary stuff

Make available to you, the
details of few important
online Services you might
require while staying in India.

Taking you to the Bank
, Western Union Money
Transfer and any other
places on demand

Take complete responsibility of every formality of FRRO (Foreigner Registration Office).
FRRO (Foreigner's Registration Office) services:
Online registration in FRRO.

Arrangement of all the documents required to submit in FRRO.

Taking you to FRRO on all your Appointments.

Complete assistance in Police Verification process.

Complete assistance in Visa Extension.

Complete assistance to get an Exit Permit ready.
Your Security | Our Responsibility:
Many times security in a different country is a worrying factor but you need not to worry at all. Your airport pick up to entire stay and then airport drop we are always with you. During your stay Network Bulls support staff assists you with all your requirements. If you want to visit a place, go for shopping or planning to buy something, need guidance in interacting with locals Network Bulls team would be available 24x7 to assist.
We strictly take care of all security measures to make your stay is safe and enjoyable. All students of Network Bulls are given every possible security assistance as per Indian Law. Every student is requested to follow Indian law and not to get involved in any suspicious activity, in any such cases assistance as per legal procedure is provided.
So no need to worry, just pack your bags and get ready to enjoy an incredible learning experience.