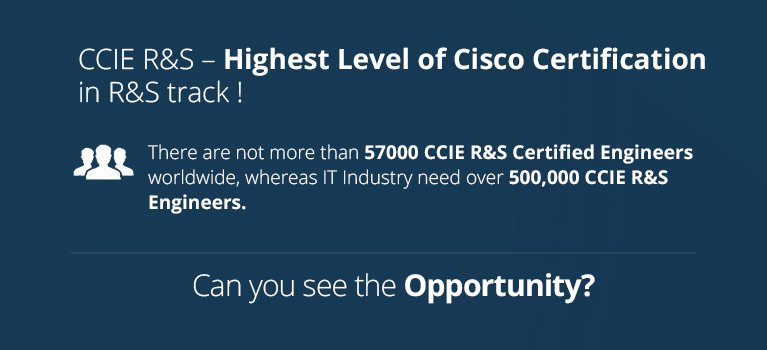 CCIE R&S Integrated Program - CCNA + CCNP + CCIE R&S Combo Training
Infographic
Infographic
The Highest level of Cisco Certification in R&S track is World's Most Famous Networking Certification as well. CCIE R&S Integrated - Our Shortcut to Success Program is an amazing combination of CCNA R&S, CCNP R&S and CCIE R&S Certification trainings making you eligible for job roles related to Cisco Networking.
What you gain in this course?
Network Designing

You Learn how to Design enterprise level of Cisco Enabled Scalable Networks with hundreds and thousands of users.

Network Implementation

You learn how to install, implement and configure high end Cisco Routers & Switches to form an enterprise level of complex network.

Monitoring & Troubleshooting

You also learn how to monitor, manage and troubleshoot hard-core complex network scenarios when a fault appears.
Course Description
Course Description
Being the Highest Level of Certification in Routing & Switching track offered by Cisco, CCIE is most famous and demanded IT Certification worldwide. There are not more than 57,000 CCIE Certified engineers worldwide whereas IT Industry need over 500,000 CCIE R&S engineers right now.
Our Shortcut to Success - CCIE R&S Integrated program is the best available option to start from scratch and end up with the highest level certification in Networking, i.e. CCIE. This combination is a best suitable option for professionals working in or wants to work with IT companies as proud Cisco Certified CCIE engineers.
This combo training program starts from basic of networking/N+ and covers in-depth knowledge of network designing, network implementation, network troubleshooting and monitoring. In this training program, we will start your training from a scratch level that is CCNA R&S, and then we will move forward to a professional level certification, i.e. CCNP and finally preparation of the most prestigious IT Certification, i.e. CCIE will start. This is how we will start our training program from very basics and take it to expert level. After this training program candidate will be able to design network solutions for enterprise level networks, will be able to configure routers and switches to implement a network and troubleshoot it.
Why to choose Network Bulls as your training partner for CCIE R&S Integrated training:
100% practical training on Live Cisco Routers & Switches

Fully Loaded Labs consist of 2611xm, 1841, 2811, 3640, 2911 Series Cisco routers and 2950, 2960, 3550, 3560, 3750 Series Cisco Switches.

24X7 Lab availability

540 Hours (6 Hours a day x 3 Months) of CCIE R&S rack access after CCIE training

Dedicated CCIE R&S Certified lab instructors

Over 70% passing rate in the first attempt, 90% passing rate in the second attempt

Updated lab practical workbooks to simulate the real exams

One of the Top 5 biggest Cisco/Networking Training Labs worldwide.

World Class Infrastructure.

An ISO 9001-2008 certified company.

Incorporated under Central Government of India.
Network Bulls offer CCNA R&S, CCNP R&S and CCIE R&S Certification Training on real Cisco Routers and Switches. We do not use simulator software for practical. Labs of Network Bulls are World's Largest IT Training Labs. Labs are 24x7 available for students to practice on real devices. We use 1841, 2611xm, 2801, 2811, 3640, 3825 series routers and 2950, 2960, 3550, 3560, 3750 series switches in CCNA and CCNP and CCIE R&S Integrated course offered in our school.
Mr. Vikas Kumar

Triple CCIE #30078 (R&S, Security and Voice)

Mr. Mohit Bhalla

Dual CCIE #42145 (R&S, Security)
Training Plan
Training Plan
Training Duration and Fee

Track

Regular Track

Fast Track

Duration

116 Days

NA

Price

(USD) 5900

NA
Online Training
Available on Demand
Training Plan

Exam Code

Exam

Regular Track (Days)

Fast Track (Days)

200-125

Cisco Certified Network Associate

18

NA

300-101

Implementing Cisco IP Routing (ROUTE)

17

NA

300-115

Implementing Cisco IP Switched Networks (SWITCH)

10

NA

400-101
CCIE Routing & Switching Written Training
25
NA

CCIE Routing & Switching Lab Training

14

NA

Balance Days (For additional practice and rest)

36

NA

Total Duration

116

NA
Training Schedule

Regular Track

Fast Track

Batch 1
14th Oct 2019 - 17th Feb 2020
Any Date
Batch 2
13th Jan 2020 - 08th May 2020
Any Date
Batch 3
13th April 2020 - 06th Aug 2020
Any Date
Batch 4
13th July 2020 - 06th Nov 2020
Any Date
Batch 5
12th Oct 2020 - 09th Feb 2021
Any Date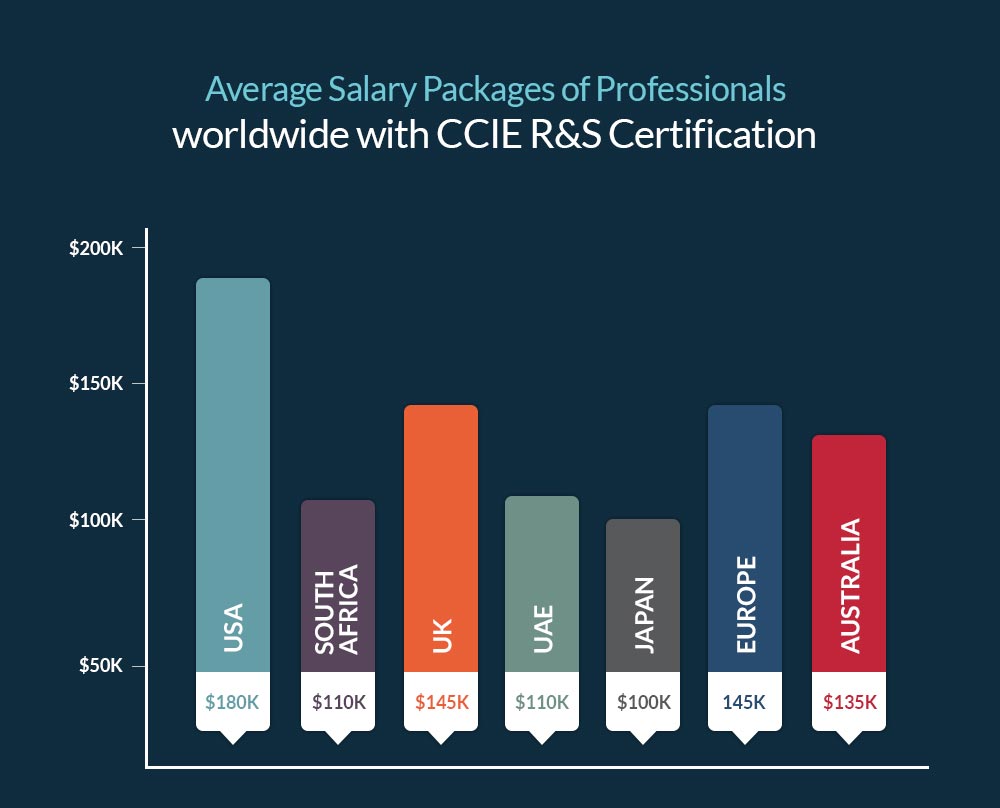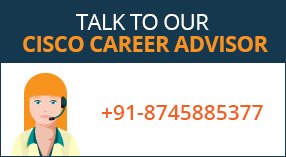 Fill the Form to
Know More