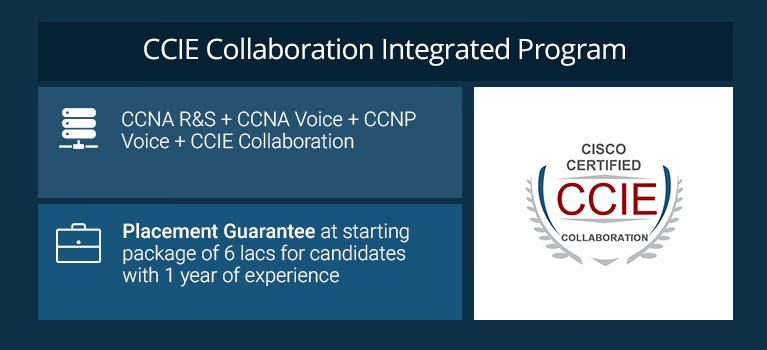 CCIE Collaboration Lab Bootcamp Training
Course Description
Course Description
Training on CCIE Collaboration lab exam offered by Network Bulls covers in depth theoretical and hands on practical training on Collaboration concepts like Unified Communications. This certification is suitable for candidates who aspire to become masters of Video or Voice implementation and Cisco Unified communication architect. Topics like IP Routing, Virtualization, IP Multicast, IPV6, SCCP, MGCP, SIP, H.323, RAS, and Voice and Voice Codec, Quality of Service and Security in Cisco Collaboration Solutions QoS, etc. are focused to impart better exposure of concepts for real time implementation.
Known as the highest paid and most demanded certification of the world, CCIE Collaboration lab exam can only be given after clearing the written exam for the same. All over the world only 8 locations are available where the candidate can sit for the CCIE Collaboration Lab exam, and they are Bangalore (India), Beijing (PRC), Brussels (Belgium), Dubai (UAE), Hong Kong (PRC), RTP (USA), San Jose (USA), Sydney (Australia), and Tokyo (Japan). Applicants canchoose the nearest lab location to save on expenditures incurred. Lab exam for CCIE Collaboration is of 8 hours.
Devices used while preparing candidates for CCIE Collaboration lab exam are as follows:
Routers:2811, 2911
Switches: 3750
Collaboration End points: 7961, 7965, 7970, DX650, EX60
Other VoIP Devices: Cisco Unified Call Manager 9.0; Cisco Unified Call Manager Express, Cisco Unity Connection 9.0, Cisco Unity Express, IM&Presence, UCCX, etc.
Mr. Vikas Kumar

Triple CCIE #30078 (R&S, Security and Voice)
Training Plan
Training Plan
CCIE Collaboration Lab Training Plan

Course

CCIE Collaboration Lab Training

Training Fee

Rs 70,000/-

Training Duration

3 Months (6 hours a day)
Note - The NB training fee doesn't include exam fees.
CCIE Collaboration Lab exam training cannot be defined in a particular time frame. Duration depends upon various factors like candidate's grasping speed, daily time spent in labs and previous knowledge which vary from candidate to candidate. CCIE Collaboration Lab exam preparation duration could be anything from 15 days to 90 days depending upon your learning speed and daily time spent in labs.
Dedicated CCIE Collaboration Racks till the time you clear your Lab exam

Practical sessions are conducted in our labs which are available 24x7, where you can practice for any number of hours as per your requirement.

CCIE Collaboration Lab training is given by CCIE Collaboration (lab) certified trainers with 5-15 years of industry experience.

Dedicated CCIE Collaboration certified Lab Instructors, providing immediate solutions to problems occurring during Lab exam preparation.

Access to in house practical workbooks within no time.