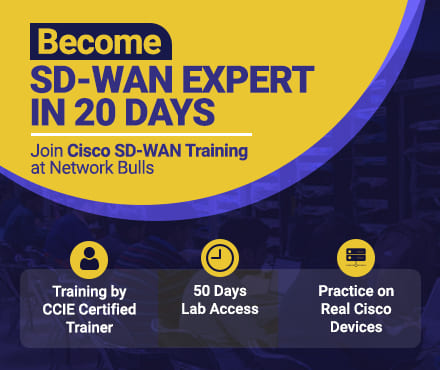 Implementing Cisco SD-WAN Solutions (ENSDWI) v2.0
Course Description
Course Description
Cisco SD-WAN helps you connect users to applications with multiple integrated capabilities such as unified communication, security, application optimization, multi-cloud and much more. It is a highly secure cloud-scale architecture as well as scalable, programmable and open.
Cisco SD-WAN Solution certification course makes you learn how to deploy, design, manage and configure SD-WAN solutions in a live network. Not only this, but you will also learn migration to SD-WAN from legacy WAN, deployment of WAN Edge devices, configuring DIA (Direct Internet Access) breakout, controller placement and much more.
Network Bulls provides world-class training on real Cisco devices and live racks with 24*7 lab facilities. We have designed the Cisco SD-WAN course curriculum in accordance with Ciscos' 300-415 ENSDWI exam. We use real and updated Cisco devices during theoretical sessions as well in order to provide a crystal clear understanding of the real-life implementation of concepts.
We are one of the best Networking training institutes and have the world's largest Cisco training labs which are equipped with ultra-modern racks and devices. Post completion of this course, you will be able to establish a transport independent WAN, optimize user experience with SAAS application, meet SLAs for real-time and business-critical applications and much more.

Mr. Sukhbir Chahal

CCIE R&S #62007
Training Plan
Training Plan
Training Fee and Duration

Track
Regular Track
Weekend (Sat & Sun)
Duration
20-22 Days
8 Weekends
Hours
2 hours a day
3 hours a day
Training fee
INR 40,000/-
INR 40,000/-
Available Training Modes
Online/Classroom
Online/Classroom
Lab access time for students can be 50 days (3 hours per day as per available slot)
Implementing Cisco SD-WAN Solutions (ENSDWI) v2.0 Course Outline:-
Prerequisites:-​​​​​​​Basic CCNA and CCNP Enterprise knowledge
1. Architecture
Describe Cisco SD-WAN architecture and components
( vmanage , vbond, vsmart, vedge/cedge ).
Describe Cisco SD-WAN Edge platforms and capabilities.
2. Controller Deployment
Describe controller deployment on cloud and on-premises.
Initial configuration on SD-WAN controllers via CLI and high availability.
Root certification on controllers and edge devices using enterprise Root CA server.
Troubleshoot control connection between controllers.
3. Router Deployment
Describe wan edge on-boarding ( manually, PNP and ZTP).
Configure dynamic tunnel and under-overlay connectivity
Configure basic templates ( system, banner, interface, vpn).
Describe overlay management protocol and tloc.
Configuration static, OSPF and BGP via CLI and vmanage and TLOC extension.
4. Policies
Configure Centralized control plane and data plane policies.
Configure Localized control plane and data plane policies
Configure end-to-end segmentation ( VPN and topology) and VPN route leaking.
Configure Hub Spoke, regional, custom topology via centralized policy.
Configure application-aware routing and direct internet access.
5. Services
Configure quality of service (marking, queuing, shaping, policing, etc.)
6. Security
Configure Application-aware enterprise firewall
URL filtering, IPS, Zone-based firewall.
Devices: ​​​​​​​
Virtual devices :-
Controllers - vmanage , vbond, vsmart (versions - 18.4.5, 19.2.31, 20.3.x)
Edge :- viptela edge, cisco edge (versions - 18.4.5, 19.2.31, 20.3.x)​​​​​​​​​​​​​​
Available Training Modes – Classroom/Online Training
300-415 ENSDWI Implementing Cisco SD-WAN Solutions Exam details:
Implementing Cisco SD-WAN Solutions 300-415 ENSDWI is a 90 minutes exam available in two languages i.e. English and Japanese.
It will cost you $300 USD plus tax; however, you can also use Cisco learning credits to pay the tax amount.
This certification exam is conducted in two modes-
In-person - This mode allows you to appear for exams in your nearest Pearson Vue centre in a highly secured environment and has all the amenities available for a hassle-free experience.
Online - this mode gives you the freedom to give examinations anywhere, anytime in a highly secured environment.
The certification is valid for three years from the date you pass the examination. Post that, you will have to appear for a recertification exam.