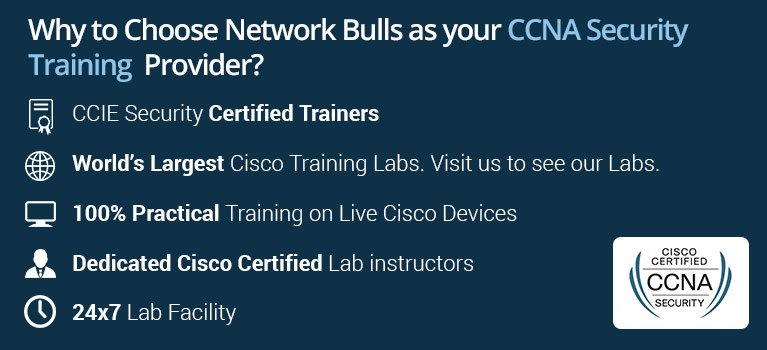 CCNA Security Certification
Course Description
Course Description
CCNA (Cisco Certified Network Associate) Security is a beginner level certification for aspirants seeking job opportunities in network security field. This certification validates an aspirants' ability of creating a secure network using Cisco Devices. CCNA Security certified professional is also capable of installing, monitoring and configuring various network security devices including identifying potential network security threats, taking apt measures for controlling them simultaneously.
CCNA Security Certification offered by Network Bulls focuses on numerous aspects of network security such as threats, VPN's, Firewalls, Cisco Router Switch Security, etc. This certification lays the foundation for career options like Network Security Engineer/Specialist, Support Engineer, and Security Administrator and also serves as a prerequisite for CCNP Security and CCIE Security.
Devices used while CCNA Security Training are as follows:
Routers: 1841, 2801, 2811, 2911, 3825 series
Switches: 2960, 3560, 3750 series
ASA Firewalls: 5510, 5512x, 5515x
Network Bulls is a leading IT Training provider company in India offering CCNA Security training services to candidates from more than 40 countries. With our CCNA Security course training we not only aim at producing exceptional Security professionals, but also intend to deliver training excellence through our contemporary & advanced training methodologies at World's Largest Cisco Labs. We have vastly experienced (ranging from 5 to 15 yrs. Of experience) certified trainers for every course along with 24x7 lab facility and dedicated lab instructors.
CCNA Security Course Outline:210-260
Prerequisites – CCNA R&S
1. Understand common security threats like Email-based and web-based attacks including mitigation methods for Worm, Virus, and Trojan horse attacks.
2. Implement security on Cisco routers secure router access using strong encrypted passwords, IOS login, enhancements, IPV6 security. Understand topics like multiple privilege levels, Role-based CLI and securing of control, data and management plane.
3. Implement (AAA) on router and switches and ASA. Further describe TACACS+ and RADIUS.
4. Describe standard, extended, and named IP IOS ACLs to filter packets and implement IP ACLS to mitigate the threats using Filter IP traffic, SNMP, DDoS attacks, IP ACLs to prevent IP spoofing, VACLs, etc.
5. Implement Secure Network Management using SSH, syslog, SNMP, NTP, SCP, CLI, CCP, and SSL.
6. Describe Layer 2 security using Cisco switches with the help of STP attacks, ARP spoofing, MAC spoofing, CAM overflows. Understand VLAN Security (Voice VLAN, PVLAN, VLAN hopping, and Native VLAN)
7. Understand Cisco Firewall Technologies like Proxy firewalls, Packet and stateful packet firewall. Describe types of NAT used in firewall technologies like Static, Dynamic, and PAT. Configure ASA using NAT, ACL, Default MPF, Cisco ASA sec Level.
8. Understand IPS technologies like Attack responses, Monitoring options, syslog, SDEE, Signature engines, Signatures, Network-based and Host-based.
9. Describe cryptography types (Symmetric, Asymmetric, HMAC, Message digest, and PKI) and VPN Technologies (IPsec, SSL, IKE, ESP, AH, Tunnel mode, and Transport mode).
10. Implement an IOS IPSec site-to-site VPN with pre-shared key authentication implementation of SSL VPN using ASA device manager – Clientless and AnyConnect).
Available Training Modes – Classroom Training
Mr. Vikas Kumar

Triple CCIE #30078 (R&S, Security and Voice)

Mr. Praveen Kataria

CCIE Security #43866
Training Plan
Training Plan
CCNA Security Training Plan

Track

Regular Track (Mon – Fri)

Weekend (Sat – Sun)

Training Duration

21-25 Days

6 Weekends

Hours
2 Hours a Day
3-4 Hours a Day
Training Fee
Rs. 15000/-
Rs. 15000/-
Note - The NB training fee doesn't include exam fees.
Regular theoretical class for CCNA Security is for 2-3 hours after which practical class for the same is carried out. Practical sessions are conducted in our 24x7 labs which are also the biggest CCNA Security labs of the world. The practical lectures for CCNA Security course can be for n number of long hours, as per student's wish or requirement.
The training provided on CCNA Security course is given by CCIE Security (written or lab) certified trainers who have minimum of 5-15 years of industrial experience.
Students are free to practice day/night in our 24x7 available labs sharpening their conceptual skills for the taken up CCNA Security certification.
Our CCNA Security labs are fully equipped with technology specific routers, switches, and firewalls including latest technological equipment ensuring smooth implementation of course relative concepts/approaches.
Wi-Fi facility is also available with remote access to various lab devices and racks within the institute's premises.
Instant access to course material, workbooks, handbooks, and other relative material required for smooth functioning of the CCNA Security course.
Student Reviews
Student Reviews
Hi, My name is Mustapha Bako from Nigeria. I have been at Network Bulls twice, first for CCNA Security and CCNP R&S and second time for CCNP Security & CCIE Security Boot camp Training. Both times my experience has been great. I learned everything on real cisco equipment which were available 24x7. Its strong course content and vastly experienced team of trainers has made my CCIE dream come true. Special thanks to Mr. Baldev Singh, Cheers

Mustapha Bako
CCNA Security
Nigeria
My company needed us to polish our skills for Cisco Security and then I decided to go from CCNA Security Certification. Our IT manager recommended Network Bulls and I heard from him was not wrong. NB's vastly experienced & CCIE Certified trainers equipped me with all the skills and knowledge required to manage network security devices. Here I learned about all potential security threats, practiced to troubleshoot them under guidance of certified lab instructors. Post completion I was ready for new challenges in my company and my work has been appreciated as well. 

Sudhir
CCNA Security
India
Hi everyone, I choose Network Bulls for pursuing CCIE R&S Integrated course training and I am really satisfied with my decision. Trainers, their knowledge, experience, revision sessions, in house workbooks, labs with 24x7 access, practice on live cisco devices made everything possible. 

Md. Jalal
CCIE R&S v5
Saudi Arabia
Hi, My name is Mustapha Bako from Nigeria. I have been at Network Bulls twice, first for CCNA Security and CCNP R&S and second time for CCNP Security & CCIE Security Boot camp Training. Both times my experience has been great. I learned everything on real cisco equipment which were available 24x7. Its strong course content and vastly experienced team of trainers has made my CCIE dream come true. Special thanks to Mr. Baldev Singh, Cheers

Mustapha
CCIE Security V4
Nigeria