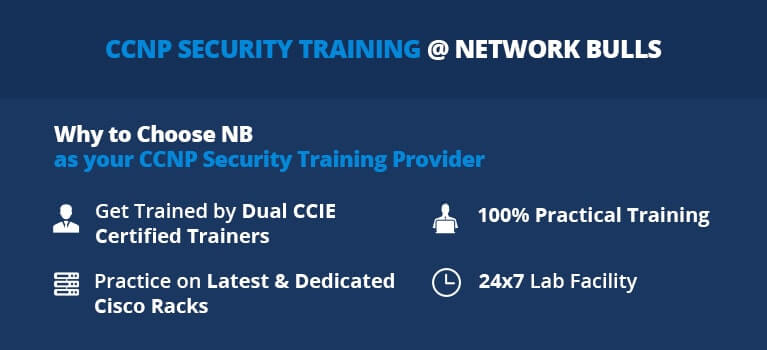 Course Description
Course Description
CCNP Security also known as professional level certification in Network Security discipline. This certification is basically meant for aspirants seeking career in the field of network security by using vendor specific devices like ASA firewalls, Switches and IPS Systems. This certification basically deals in making individuals well equipped with skillset required while handling complex security issues incurring in enterprise networks.
CCNP Security certification offered by Network Bulls trains aspirants on knowledge and skills necessary while testifying, deploying, configuring, maintaining and troubleshooting Cisco devices used for providing network security.
Devices used for CCNP Security training are as follows:
Physical Devices:
Routers: 1841, 2801, 2811, 2911
Switches: 3550, 3750 and C3850-12S
Cisco Adaptive Security Appliance 5512x and 5515x
Cisco WLC 2504 and AP 1602E
Cisco IP Phone 7965
Virtual Devices:
Cisco ISE Server
Cisco WLC (Wireless Controller)
Cisco Web Security Appliance – WSA (IronPort S Series)
Cisco Email Security Appliance – ESA (IronPort C Series)
Cisco Firepower Management Centre (Virtual Appliance)
Cisco Firepower NGIPSv (Next-Generation Intrusion Prevention System – Virtual)
Cisco Firepower Threat Defense
Cisco Adaptive Security Virtual Appliance (ASAv)
Windows Server - AD/DNS/CERTIFICATE Services
Your daily class at Network Bulls starts with 2 hours of theoretical training inclusive of in-depth training on CCNP Security course. After completion of your theory class, practical sessions are conducted in our labs which are available 24x7, where you can practice and learn the actual working of the concepts learned for any number of hours you want to.
CCNP Security course training is given by CCIE Security (SCOR+written) or CCIE Security (lab) certified trainers with 5-15 years of industry experience.
CCNP Security lab of NB consists of course specific devices: routers and switches with highly updated equipments and other required devices.
24x7 lab assistance while you are practicing in labs providing immediate solutions to problems occurring, ensuring uninterrupted high quality practical training.
Availability of Wi-Fi access to enhance your practical learning experience.
Remote access to labs and devices within institute premises.
Access to in house practical workbooks within no time.
Doubt sessions ensuring complete understanding of the course at each and every step.
CCNP Security certification offered by Network Bulls allows candidates to obtain professional level certification training in Security technologies. Training provided on Cisco Certified Network Professional Security at NB is beyond comparison as we believe in imparting 100% practical training to our students coming from different parts of the world. Having best pool of CCIE experts and World's Largest Cisco Labs, CCNP Security course training at Network Bulls is quite amazing as we carve the technical personalities of our students with our intense types of various classroom sessions.
Cisco Certified Network Professional : Security
1. The Core certification SCOR training covers knowledge of implementing and operating core security technologies like Network Security, Cloud Security, Content Security, Endpoint Protection & Detection, Secure Network Access, Visibility, and Enforcement.
2. The Concentration certifications course covers training on Network Security with Cisco Firepower, Email Security with Cisco Email Security Appliance and Web Security with Cisco Web Security Appliance. You also learn to Implement Secure Solutions with VPN, Cisco Identity Services Engine alongside taking automation and Programmability training for Cisco Security Solutions.
3. Implement Firewall (ASA or IOS) including ACLS, static/dynamic NAT/PAT, and object groups. Threat detection features and implement botnet traffic filtering. Describe and implement ASA security contexts, Layer 2 Security, dynamic ARP inspection, storm control, common layer 2 attacks and mitigation, and MACSec and configuring DHCP snooping, port security and IP source verification.
4. Troubleshoot, monitor (firewalls using analysis of packet tracer, capture and syslog).
5. Understand Threat Defense Architectures (Design a Firewall Solution, High-availability, Basic concepts of security zoning, Transparent & Routed Modes, Security Contexts, and Layer 2 Security Solutions). Implement defenses against MAC, ARP, VLAN hopping, STP, and DHCP rogue attacks
6. Understand and implement secure communications using VPN on routers and firewalls. Implement and troubleshoot AnyConnect IKEv2 VPN and AnyConnect SSLVPN on ASA and routers. Implement and troubleshoot FlexVPN (hub-Spoke on both IPV4 & IPV6) using local AAA and on routers. Implement and troubleshoot IPsec (with IKEv1 and IKEv2 for both IPV4 & IPV6) and DMVPN (hub-Spoke and spoke-spoke on both IPV4 & IPV6). Implement and troubleshoot clientless SSLVPN on ASA and routers.
7. Design VPN solutions and identify VPN technology considerations based on functional requirements and configuration output, and Identify functional components of GETVPN, FlexVPN, DMVPN, and IPsec.
8. Understand Cisco WSA (features and functionality, implement data security, WSA identity and authentication with transparent User identification). Describe web usage control, decryption policies traffic redirection and capture methods.
9. Understand Cisco ESA (features and functionality) and describe traffic redirection and capture. Implement email encryption, anti-spam policies, virus outbreak filter, DLP policies, anti-malware, inbound and outbound mail policies and authentication.
10. Understand Network IPS and implement traffic redirection and capture methods, network IPS deployment modes, event actions & overrides/filters, anomaly detection, risk ratings, and device hardening per best practices. Describe signatures engines and configure device hardening best practices.
11. Implementing TACACS+ and RADIUS and wired/wireless 802.1X ISE authentication/authorization policies, ISE endpoint identity configuration and Verify MAB Operation).

Mr. Mohit Bhalla

Dual CCIE #42145 (R&S, Security)

Mr. Praveen Kataria

CCIE Security #43866
Training Plan
Training Plan
CCNP Security Training Fee and Duration

Track

Regular Track (Mon – Fri)

Weekend (Sat – Sun)

Training Duration

3.5 - 4 Months

5 Months

Hours

2 Hours a Day

3-4 Hours a Day

Training Fee

Rs 65,000/-

Rs 65,000/-

Available Training Modes
Online/Classroom
Online/Classroom
Note - The NB training fee doesn't include exam fees.
Network Bulls is considered as one of the Best Cisco Security Training Institutes in India. Network Bulls offers CCNP Security course Training in three different tracks. We have the Biggest Network Security Training labs in India. We offer a 24x7 lab facility with the best Cisco Security equipment like Cisco ASA Firewall and IPS. Network Bulls Institute is situated in Gurgaon, in Delhi NCR Region. CCSP was updated to CCNP Security by Cisco Career Certifications Network in 2011. And now on the 24th Feb 2020, Cisco has added new modules to its certification exam known as The Core and the Concentration Exams. Where the Core exam is mandatory to pass, the concentration exams provides you with 6 different choices in which you choose of your choice to attempt and become CCNP Security Certified. Network Bulls offers updated CCNP Security Certification Training as per new exams of Cisco CCNP Security certification. We follow Cisco Exam blueprints to provide World-class Training to our students.
Frequently Asked Questions
Frequently Asked Questions
What is the validity of the CCNP Security Cisco certification?
The CCNP Security Cisco certification is valid for three years. To maintain the certification, It is recommended that the students or aspirants continue their education and apply for recertification every three years. This can be achieved by passing Cisco Certified Network Professional Security (CCNP Security) certification exam or Cisco Certified Internetwork Expert Security (CCIE Security) certification exam.
How do I become a CCNP Security certified ?
To become a Cisco Certified Network Professional (CCNP), you need to pass a core exam and security concentration. The core exam focuses on knowledge of security infrastructure, whereas the concentration exam focuses on topics like - VPN services, layer 3 routing, and advanced services.
Can I do CCNP security directly?
No. You can't do CCNP directly. CCNP security covers advanced concepts in security. You need to first do a CCNA course and then you can do CCNP course and then you can do CCNP Security. However you have option to skip CCNP Enterprise but we highly recommend it.
Is CCNP Security worth it?
The Cisco Certified Network Professional (CCNP) Security certification is considered to be a valuable and respected certification in the field of network security. It demonstrates a professional level of knowledge and skills in securing Cisco networks technologies. It can help to open up job opportunities and increase earning potential for those in the field of network security. Later on if they pursue CCIE Security certification their growth prospects increases exponentially.
How much does CCNP Security cost?
At Network Bulls, it is Rs 65,000/- and can be completed in a duration of 3-5 months on regular and weekend batches.
Is CCNP Security hard?
The CCNP Security certification is one of the advanced level certifications that requires a significant level of knowledge and experience in Cisco network security. It requires a solid understanding of Cisco network security concepts, along with hands-on experience with Cisco security products. It is considered to be more challenging than the CCNA Security certification. However, with proper training, preparation, and study - it can be achieved.
Can I take CCNP Security without CCNA?
Yes. You can take CCNP Security certification without CCNA. However, you need to have a good understanding of the concepts of networking to pass the exam. To qualify for the CCNP exam, it is advised that you go through intensive training from a reputed institute. With proper training, guidance, and preparation , you can achieve CCNP security certification.
Will CCNP get me a job?
Yes. You can get a well-secured job with CCNP certification. Having a CCNP (Cisco Certified Network Professional) certification can certainly help you in your job search, as it demonstrates to potential employers that you have a certain level of knowledge and expertise in Cisco network technologies.
How long does IT take to pass CCNP Security?
The duration to pass the Cisco Certified Network Professional (CCNP) Security certification exam can vary depending on several factors, including a person's prior experience and knowledge. On average, it may take anywhere from 4 to 6 months (3-4 hours a day) of dedicated study and practice to pass the CCNP Security exam.
Who is eligible for CCNP?
Anyone with knowledge of CCNA, can appear for CCNP training. If you are looking for a headstart in Networking industry then you can go for CCNA and CCNP course training and get a well paying job in networking industry. After that you can eventually do CCIE in future.
Student Reviews
Student Reviews
My company needed us to polish our skills for Cisco Security and then I decided to go from CCNA Security Certification. Our IT manager recommended Network Bulls and I heard from him was not wrong. NB's vastly experienced & CCIE Certified trainers equipped me with all the skills and knowledge required to manage network security devices. Here I learned about all potential security threats, practiced to troubleshoot them under guidance of certified lab instructors. Post completion I was ready for new challenges in my company and my work has been appreciated as well. 

Sudhir
CCNP Security
India
Being a Network Engineer I always wanted to upgrade my skills into Network Security, so I decided to do CCNA Security and CCNP Security Certification combo course from Network Bulls. Now I can design and implement Network Security Solutions using Cisco ASA Firewalls, WSA IronPort, IPS Systems and ISE Servers. It was a wonderful learning experience with NB.

Melvin
CCNP Security
India
I wanted to pursue my CCNP security certification from a reputed and Cisco Authorized Institute and got to know about Network Bulls from Google. NB provides a great bunch of facilities like 24*7 access to its labs, REAL and latest Cisco devices etc. The trainers at NB are very interactive and are always ready to walk a mile away for a better understanding of students.

Ashish
CCNP Security
India
Hi everyone, my name is Vikas Kumar and I came from Bihar. After completing my B.Tech, I switched to networking. One of my friends told me about Network Bulls and I finally joined NB in CCIE R&S integrated course training. NB all trainers are CCIE certified and are technically very strong. The placement is very dedicated in organizing campus drives. After completing my training, I got placed in Gigantic Infotel Pvt Ltd. Proud to be an NBian.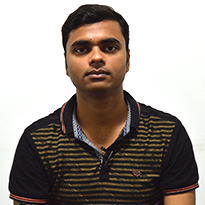 Hello everyone, I am Swatantra and like every other graduate, I also wanted to build a bright career. However, getting placed was seeming an unachievable task, then I got to know about NB's 100% job guarantee course and enrolled at CCIE R&S Integrated course. After a year of hard work, dedication and hands-on training, I got placed in AGC Networks at quite a good package. They have the best trainers and world-class training infrastructure. Their 24*7 lab access facility helped me to learn for long hours without any disturbance. Thanks a ton, NB and team!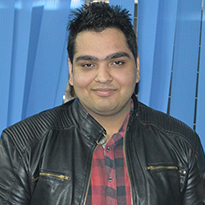 Swatantra
CCIE R&S/Enterprise Infrastructure
India
Hello friends, I'm Dhirendra, a Network Bulls CCIE student. I would like to express my sincere appreciation towards Network Bulls, Gurugram especially the expert trainers for their tied-less support and guidance. Without the excellent practice session in Network Bulls, I could not have achieved my CCIE R&S #56299. Many thanks for everything. Proud to be an NBian.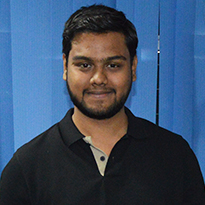 Network Bulls has a very hard working and well-skilled pool of CCIE certified trainers. Working really hard to make networking enjoyable to students. Under their righteous guidance and rigorous efforts during my CCIE Security training at NB, I cleared my CCIE Security V5 certification exam in first attempt and my CCIE no. is #61456. Thanks a lot Network Bulls.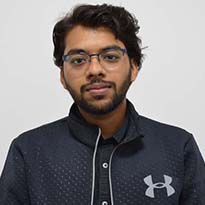 Nishant
CCIE Security V5
India