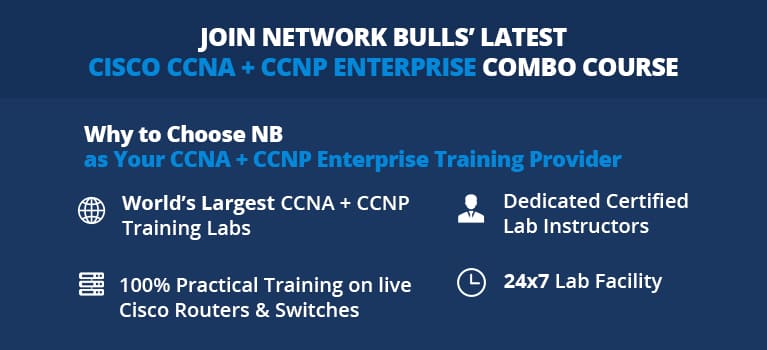 CCNA + CCNP Enterprise/R&S Combo Training in Delhi, Gurugram, India
Course Description
Course Description
Cisco Certified Network Associate (CCNA), is the basic level certification course in networking offered by Cisco Systems which covers basics of Cisco Networking security, automation and programmability. You learn Network fundamentals, Network access, IP connectivity, IP services, Security fundamentals, and Automation & programmability technologies in CCNA training.
CCNP Enterprise/R&S certification course is a professional level certification for the candidates who wish to become certified enterprise networking technologies competent.
At Network Bulls, we have introduced a Combo course program of CCNA + CCNP Enterprise/R&S to make you eligible for Sr. Network Engineer or Network Administrator job roles. This Combo course will be the best option for you to pursue if you're looking forward to establish your career in networking technology with a vast scope and growth.
After the completion of CCNA and CCNP Enterprise/R&S training, a candidate will be able to install, configure and troubleshoot Cisco devices for small to medium-sized networks.
Network Bulls, India's no.1 networking training institute is located in Gurgaon with Biggest Cisco training labs in India. Although, this institute is considered as one of the best CCNA and CCNP networking institutes in Delhi/ NCR.
Things you'll learn in CCNA + CCNP Enterprise/R&S Combo Certification Course-
Designing the complex network using Cisco routers and switches.
Installing, configuring and implementing high-ended Cisco router and switches to form complex networks using Cisco technologies like- RIP, VTP, STP, GLBP, IPV6, and lot more.
Eligibility:
An aspirant should be a graduate or post-graduate from any stream, however, B.Tech/ BCA/ MCA, BS, MS, BE is preferable. Having work experience would be an add-on.
Job Roles Offered After Completing the Certification Training-
Network Engineer
Sr. Network Engineer
Network Technician
Network Support Engineer
Cisco Network Engineer
Mr. Ayush Sharma

CSCO13717348

Mr. Rajnish Kumar Pandey

CCNA + CCNP R&S

Mr. Gaurav Yadav

CSCO #14152003
Training Plan
Training Plan
CCNA + CCNP Enterprise/R&S Combo Training Plan

Track
Regular Track
Weekend (Sat & Sun)
Duration
5 Months
6 - 7 Months
Hours
2 hours a day
3 hours a day
Training fee
Rs 55,000/- (Including taxes and study material)
Installment Plan: Rs 25,000/- Down Payment
Rs 20,000/- First Installment
Rs 10,000/- Second Installment
Rs 55,000/-
Available Training Modes
Classroom/Online
Classroom/Online
Note: Payment modes: Cash, Cheque, Demand Draft, Credit Card, Debit Card, Net Banking
CCNA + CCNP Enterprise/R&S Combo Course Outline:
This Combo Course covers the official course curriculum of Cisco CCNA and Cisco CCNP Enterprise/R&S, details of which are listed below –
CCNA Course Syllabus-
Describing the role and function of network components (Routers, L2 and L3 switches, Next-generation firewalls and Servers).
Concepts like ACL, Frame Relay, HDLC, PPP, NAT, IOS installation, password recovery, and hardware up-gradations to be covered
Understanding, configuring and troubleshooting routing protocols for IPV4 and IPV6. Topics like OSPFv2 (single-area), Routing protocol metric and components of routing table are covered
Introduction to WAN protocol and devices.
Understanding IP services like DHCP, SNMP, Netflow, FHRP, and NTP.
Site to Site VPN and DM VPN majorly.
Introduction and Configuration of IPV6 Routing
Basics of QOS (Quality of Service)
Basics of Cloud Computing and SDN technologies, and many more.
Defining and describing key security concepts, security program elements and some wireless security protocols (WPA, WPA2, and WPA3).
Understanding how automation impacts network management and learn about Controller-based networking and its architecture.
Devices used in Lab Training:
Routers:- 2611, 2801, 1841, 2811, 3640, 7204 series
Switches:- 3550, 3560, 3750 series

CCNP Enterprise/R&S Course Syllabus- 
CCNP Enterprise/R&S certification course package consists of training on three varied modules i.e. ENCOR, ENARSI, CCNP V6 explained below -
This module covers in-depth study and practical training about core enterprise network technologies like dual-stack (IPv4 and IPv6) architecture, virtualization, infrastructure, network assurance, security, and automation.
Includes deep theoretical and practical knowledge on Layer 3, VPN services, infrastructure security, infrastructure services, and infrastructure automation technologies.
You'll get to learn about how to troubleshoot and maintain IP networks using Cisco technologies like IPV6, FHRP, SSO, SD-WAN, wireless QoS, CEF, TCAM, GRE, LISP, VXLAN, NAT/PAT, eBGP, EIGRP and OSPF, Telnet, SSH, HTTP(S), SNMP, OSPF, BGP.
Thus, it's a brilliant combo program for students who wish to become Sr. Network Engineers or Sr. Network Administrators.
Download CCNA + CCNP Enterprise/R&S Practical Workbooks- https://www.networkbulls.com/ebooks
Student Reviews
Student Reviews
Studying in Network Bulls is a boon for me as I have provided world-class training where the labs are fully loaded with live racks, Cisco devices and are 24x7 hours accessible. The institute has CCIE certified trainers who are well-supportive and have more than 5-15 years of experience in the networking domain. I'm currently pursuing CCNA + CCNP Routing and Switching combo course from Network Bulls, Gurugram and I'm proud of my decision for choosing Network Bulls as a Cisco training institute.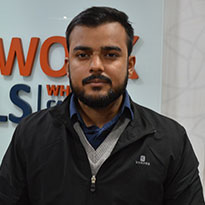 Shubham
CCNA + CCNP Routing & Switching Combo
India
Hi friends, I'm Sanjay Kumar and I'm currently pursuing CCNA+CCNP Routing & Switching Combo course from Network Bulls, Gurugram. I must say, this institute is the best Cisco training institution in Delhi/ NCR offering excellent training facilities such as- 24x7 lab facility, world-class training labs, infrastructure and many more. Network Bulls trainers are very friendly and supportive which really helps us to know all possible minors to the major part of networking course.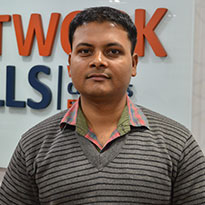 Sanjay
CCNA + CCNP Routing & Switching Combo
India
Hello friends, my name is Anuj and I enrolled at NB for learning CCIE Security and just after completing my training, I had offer letters from multiple MNCs such as Tech Mahindra, Airtel and CSS Corp. Finally, I have decided to join CSS Corp to give a kick-start to my career. NB has a very great training team as trainer are always ready to help students and clear their doubts. Labs at NB are open 24*7 which help us continue our studies without any restriction to time. Thanks Network Bulls for making my career fly.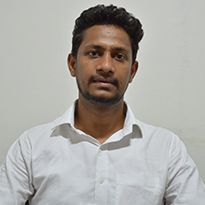 Hi, my name is Govind Pandit and I did CCIE Routing & Switching Training from Network Bulls. It was the best decision I made as I got placed at Tikona after the completion of my training. I was trained on CCNA, CCNP and CCIE R&S by Cisco Certified Trainers. They were awesome and they helped me a lot throughout the training.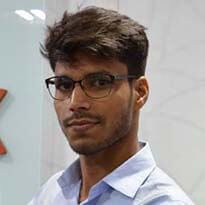 Hi, I am Nilton. I am happy as I cleared my CCIE R&S certification exam recently and my CCIE number is #61356. Thanks a lot to my trainers and NB staff for continuous support and incredible facilities. I really enjoyed my training here. Thank you Network Bulls, Cheers!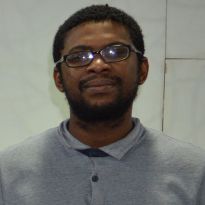 Nilton
CCIE R&S
International
I was recommended this place by one of my friends, and the experience was truly perfect and amazing. Now I am a CCIE Security V5 certified Engineer #61446 and I cleared my exam in the first attempt.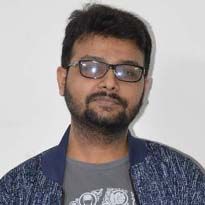 Vishal
CCIE Security V5
India