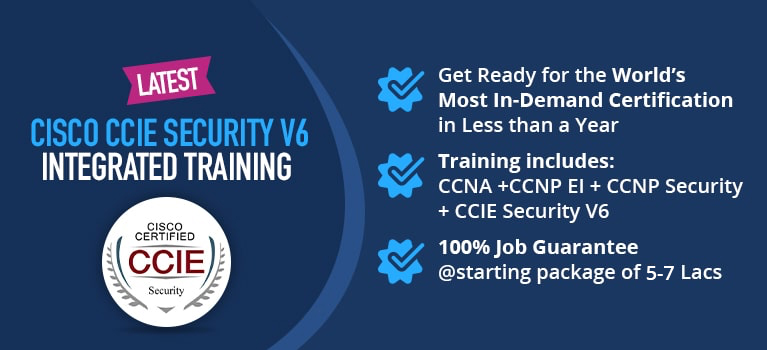 CCIE Security V6 Course Training in Delhi, Gurgaon, India
Course Description
Course Description
CCIE Security Version 6 Certification being the World's Most Prestigious, Most Demanded and the Highest-level of Cisco certification available in the world offers brilliant job and growth opportunities to its applicants, worldwide. Also known as the highest paid and most desired certification of all times, CCIE Security V6 Certification Training was introduced by Cisco Systems with an intent of providing a common platform to all the Network Engineers making them master of updated and next generation Network Security technologies.
The all-new CCIE Security V6.0 Integrated course offered by Network Bulls is an amazing combination of Cisco Routing & Switching and Cisco Network Security technologies, making you equipped with skills and expertise of Network Engineers and Network Security Engineers both.
There are not more than 6,000 CCIE Security certified engineers available worldwide whereas IT industry need over 200,000 engineers right now. Can you see the opportunity?
Mr. Praveen Kataria

CCIE Security #43866

Mr. Priyavarat

CCIE R&S and Voice Written
Training Plan
Training Plan
Program Contents: CCNA, CCNP Enterprise, CCNA Security, CCNP Security, CCIE Security Version 6, Juniper SRX firewall, Checkpoint Firewall, Palo Alto Next Generation Firewalls, etc.
CCIE Security V6 Integrated Course Training Plan

Track

Regular Track

Intensive Training

Weekend Batches

Training Duration

10 Months

10 Months

15 Months

Training Days

Monday to Friday

Monday to Friday

Saturday - Sunday

Total Minimum Hours Required per Day

2 Hours for Classes

6-8 Hours for Classes, Practice & grooming

4 hours for Classes

Classes

2 Hours a Day

2-3 Hours a Day

3-4 Hours a Day

Practice Per Day

As per your Schedule & Convenience

Minimum & Mandatory 2-3 Hours/Day

As per your Schedule & Convenience

Grooming Classes

As per your Schedule & Convenience

Mandatory 2 Hours a Day

As per your Schedule & Convenience

Training Fee

(One Time Payment)

Rs 1,30,000/-
Rs 1,30,000/-
Rs 1,30,000/-
Available Training Modes
Classroom/Online
Classroom/Online
Classroom/Online
Notes - 1. The NB training fee doesn't include exam fees.
Notes -2. Students of Weekend batches can attend weekday batches to cover these extra modules -Juniper SRX firewall, Checkpoint Firewall, Palo Alto Next Generation Firewalls
Installment Plan :
Pay in 4 Easy Monthly Installments:
1st Installment: Rs 40,000/-
2nd Installment: Rs 40,000/-
3rd Installment: Rs 40,000/-
4th Installment: Rs 40,000/-
We recommend you to join our newly launched and most innovative 6-8 Hours a Day Intensive Training plan for a world-class learning experience. In this training plan, we will deliver 2-3 hours a day classes (theory + practical), after completion of the classes, you will be taken to labs where dedicated lab instructors will be waiting for you with some preplanned practical scenarios and to make sure you implement each and every technology discussed during classes practically. You will have enough time to implement it by your own and discuss the doubts and clear the confusions. After practical sessions, you will get a break for 1 hour for refreshments and lunch. Post lunch, you will be taken to a classroom, where you will go through Spoken English, Presentations, Group Discussions, Interview Preparation, Mock Interviews and lot more throughout your training duration.
After your mandatory classes and practicals, you are free to relax, self-study and practice as much as you want as our labs are open 24x7. You will feel highly motivated and fresh after grooming classes, and you will love to practice more and more. And 24x7 Lab Facility is waiting for you upstairs!
Note:
For Winter Batches (January and February), refreshment/lunch break will be given before practical sessions.
2-3 hours a day Practical Classes will be provided only for CCNA and CCNP Enterprise batches to build a strong foundation. For CCNA Security, CCNP Security and CCIE Security V6 practicals, we encourage students to create their own practicals in labs and implement them in presence of Cisco Security lab instructors. Minimum 4-5 hours a day practice is recommended when you start your Security training. Lab Instructors will be available in labs to help you. Don't restrict your practice for 2-3 hours a day. Read books, Do unlimited practicals and take help from your lab instructors during your practicals. Happy Learning!!
Training Schedule

Month

Regular Track

Regular/Intensive Training

Weekend Batch

Jan 2023
3rd Jan'23
17th Jan'23
21st Jan'23
Feb 2023
7th Feb'23
14th Feb'23 / 28 Feb'23
18th Feb'23
Mar 2023
14th Mar'23
21st Mar'23
18th Mar'23
April 2023
4th April'23
18th April'23
15th April'23
May 2023
2nd May'23
16th May'23
20th May'23
Jun 2023
6th Jun'23
20th Jun'23
24th Jun'23
Jul 2023
4th Jul'23
18th Jul'23
22nd Jul'23
Aug 2023
1st Aug'23
16th Aug'23 / 22nd Aug'23
19th Aug'23
Sep 2023
5th Sep'23
19th Sep'23
23rd Aug'23
Oct 2023
3rd Oct'23
10th Oct'23 /17th Oct'23
14th oct'23
Nov 2023
1st Nov'23
21st Nov'23
25th Nov'23
Dec 2023
5th Dec'23
19th Dec'23
16th Dec'23
To join Weekend Batch of CCIE Security V6.0 integrated, candidate need to register at-least 15 days before.
100% JOB PLACEMENT GUARANTEE:
Network Bulls offers 100% job placement guarantee to students opting for CCIE Security V6 Integrated program. CCIE Security V6 integrated course offered by Network Bulls is the only program in which you don't only get trained on Cisco Routing & Switching and Network Security technologies but you also get knowledge on Firewalls of multiple other vendors, i.e. You get to learn and trained on CCNA, CCNA Security, CCNP Enterprise, CCNP Security, CCIE Security V6, Juniper SRX firewall, Checkpoint Firewall, Palo Alto Next Generation Firewalls, all in one package and cost. Our CCIE Security V6 Integrated training package is the most popular and successful training package offered witnessing record-breaking placements every year.
We provide 100% written job placement guarantee to students enrolling for any CCIE Security V6 course training package:
Starting Package of 3 to 5.0 Lac is guaranteed without appearing for any exam, based on your skills.

Upon clearing CCIE Security V6 Written & Lab exams (conducted by Cisco), starting package of 5.0 to 7.0 Lac is guaranteed.
Note: 1. Placement guarantee is only applicable for graduates. Graduation may either be regular or distance and in any stream (Computers, Engineering, Commerce, Arts, Science, etc.).
2. According to life-long membership of student with Network Bulls, any enrolled student of NB can reach NB's placement team anytime, in case if he/she wants to switch from their current organization to different one after a few years of being placed.
3. If students are undergraduate but they enroll for integrated course we'll treat them as same as other students. Placement team will conduct their multiple interviews but we'll not provide any job guarantee on paper
Throughout the training period, students go through different technologies and set of devices to practice on. For example: During their CCNA and CCNP Enterprise Training, students majorly practice on Cisco Routers and Switches, whereas during their Cisco Security journey, they work on devices like Firewalls, Next Gen IPS Systems (NGIPSv) and many more.
Below is the detailed information about the devices student access throughout their CCIE Security V6 journey:
Physical Devices:
Routers: 1841, 2801, 2811, 2911
Switches: 3550, 3750 and C3850-12S
Cisco Adaptive Security Appliance 5512x and 5515x
Cisco WLC 2504 and AP 1602E
Cisco IP Phone 7965
Virtual Devices:
Cisco ISE Server
Cisco WLC (Wireless Controller)
Cisco Web Security Appliance – WSA (IronPort S Series)
Cisco Email Security Appliance – ESA (IronPort C Series)
Cisco Firepower Management Centre (Virtual Appliance)
Cisco Firepower NGIPSv (Next-Generation Intrusion Prevention System – Virtual)
Cisco Firepower Threat Defense
Cisco Adaptive Security Virtual Appliance (ASAv)
Cisco Stealthwatch
Cisco DNA Center
Cisco FireAMP Cloud
Windows Server - AD/DNS/CERTIFICATE Services
Despite of the fact that Cisco is using Virtual Machines for Next generation Security technologies like SourceFire and FirePoweretc in CCIE Security V6.0 Lab exam, we have real devices present in lab for major technologies, to make students ready for industry. We are the only CCIE Security Version 6 Certification Training company in India with in-house availability of Next Generation Cisco Firewalls, IronPort and IPS Systems in our labs. Our CCIE Security V6 (Version 6) racks are available in our lab and ready for testing
About CCIE Security V6 Training:
CCIE Security Version 6.0 Training is available for all CCIE Security Integrated Candidates. We are no more taking admissions for CCIE Security V5.0. We had offered last batch of version 5.0 in 2019 to those candidates who had booked their lab exams in old version. New students are getting enrolled in CCIE Security V6.0 course only. New updated CCIE Security Training is provided strictly as per CCIE security V6 blueprints provided by Cisco. You can download latest syllabus or blueprint of SCOR 350-701 Exam​​​​​​​​​​​​​​ and CCIE Security V6 Lab exam from official website of Cisco.
CCIE Security V6 is expert-level certification offered by Cisco in network security track. We offer Juniper SRX Firewall training and Palo Alto Next generation Firewall training as free courses in our CCIE Security V6 training program. We offer CCIE Security V6 training in Gurgaon in Delhi NCR region in India. CCIE Security V6 training is also delivered online to international students who cannot visit India due to their any reason. CCIE Security course delivers in-depth knowledge of R&S and network security both, where we start from very basics and cover in-depth of Cisco Security domain. In order to get CCIE Security V6 certification candidate need to pass updated SCOR 350-701 Exam​​​​​​​​​​​​​​ and CCIE Security V6 Lab exams. CCIE is world's most prestigious IT certification from last 20 years and NB is the only training institute in North India where you can get access to all updated devices as per Cisco's latest blueprint/syllabus to prepare for your CCIE Security V6 Certification.
Note: Network Bulls is the only training institute having CCIE Security Version 6 and Racks in North India. No other training institute in North India offers CCIE Security V6 training on real devices.
We suggest you to make a list of institutes offering CCIE Security V6 training in India, and then visit them all. Have a look at their labs and ask them to show you the latest devices according to the CCIE Security V6 lab equipment checklist provided by Cisco, and don't forget to ask them to show you the placement records which is the most important thing.
Available Training Modes - Classroom Training
CCIE Security V6 Training at NB:
CCIE Security V6 Integrated certification introduced by Network Bulls offers beyond excellence theoretical and practical training making candidates highly skillful and knowledgeable, all at once. CCIE Security V6 Integrated course comprises of basic to advance level of training which starts with CCNA, CCNP Enterprise, CCNA Security, CCNP Security and then CCIE Security V6. By this we not only perfect your technical skills and knowledge but also carve your professional career as a CCIE with expert level knowledge and skill-set. For this we provide various types of classes to our students aiming at their overall personality development:
Theoretical and practical classes

Personality Development classes

Interview Preparation classes

Group Discussion sessions

Resume/CV writing classes

Spoken English classes

Presentation classes

Technical interview sessions with 3x CCIE

Live industrial training from industry experienced experts

Mock interview sessions

Doubt Sessions, and lots more.

100% Job Placement Guarantee at starting Salary Package of 5-6 Lac per annum for freshers.

Spoken English, Group Discussion, Presentation Skills, CV Writing, Interview Preparation, Industrial Seminars, Mock Interviews.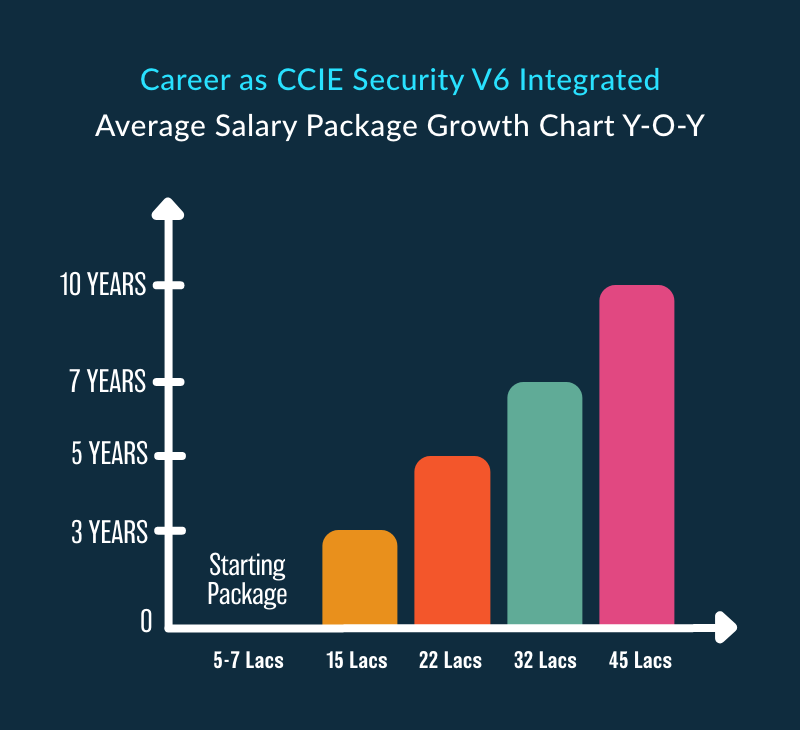 Frequently Asked Questions
Frequently Asked Questions
What Is The Duration & Fee Of the CCIE Security Course?
The duration of the CCIE Security V6 Integrated Course Training plan is - 10 months in regular and intensive training modules with a fee structure of Rs. 1,30,000/-. Besides, the duration and fee of the CCIE weekend batch are 15 months and Rs 1,30,000/-. You need 6-8 hours of intensive training for a world-class learning experience.
Who Should Take This CCIE SECURITY Training Course?
CCIE Security training course is suitable for anyone looking for a career in ever growing field i.e. networking. It is recommended for individuals with interests and skills to implement and maintain extensive network security solutions.
What Are The Prerequisites For This CCIE Security Learning Course?
There is no formal prerequisite for CCIE security training. However, aspirants must have a good understanding of network security technologies, rerouting and switching. You can get CCIE training from Network Bulls, one of the leading IT networking training institutes in India. With online and offline modes of training, their lessons are designed to give a complete understanding of core concepts. Our CCIE beginner to expert level integrated course is a 100% job guarantee training program.
Student Reviews
Student Reviews
Hi, my name is Kanchan and I have just completed my CCIE Security course training from Network Bulls and got placed in Brix which is quite a famous organization. All of this has been possible due to Network Bulls only, the infrastructure of this institute is quite good. The 24x7 lab access to Cisco labs, obviously I have learned a lot of things here, updated labs and good faculty members have made me able to stand on such an amazing level. Seriously, I would like to thank the team of Network Bulls.The placement team of NB has also helped me a lot in getting me placed, they always help students get placed in good companies and that is the reason I have been placed in such a great company with such a great package.I would really suggest to students looking for a career in Networking or Security, you must come to Network Bulls at least once and notice the difference.

Kanchan
CCIE Security
India
Hello everyone, my name is Niraj Joshi. I am from Gujarat. I have started my journey with Network Bulls from very first day of this year 1st January 2015. This is 8th month going on and believe me or not I got the job in very well reputed MNC CSS Corp. I enrolled here CCIE Security Intensive Training Program (8 Hours batch). They provided me Theory session, Practical session along with Personality Development classes where as I could enhance my communication skills and soft skills both.

Niraj Joshi
CCIE Security
India
Hello everyone, myself Pooja and I wanted to build my career in networking, so while searching for the best institute, I came to know about Network Bulls. I feel proud of my decision to join Network Bulls as today just after my MVTE course training, I am placed in CSS Corp at quite a good package. Their theoretical sessions are backed by the practical sessions which helped us learn the real-time utility of the technology. The personality development sessions at NB are very fruitful as they improved our communication skills. Thanks to NB for their guidance and assistance.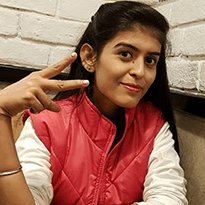 Hi friends, I am Vandit and I am overwhelmed to share my success with you all. I wanted to learn networking and build a bright career in the IT industry. I searched for the best networking institute in India and came to Network Bulls for CCIE R&S training. Trainers are always ready to answer your queries and you can practice in the labs for long hours as the lab is open 24*7. I got detailed knowledge of networking and the placed team helped me to get placed in HCL just after my training. Thanks to NB for helping to give a kick-start to my career…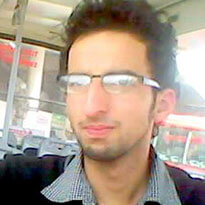 I was impressed with the huge labs, CCIE certified trainers, and intensive training model at Network Bulls so, I enroll here in CCIE Security Integrated training program. The 8 hours of daily training made me an all-rounder. Now, I can speak fluently, work effectively and could represent myself in front of anyone as I always desired. I recently cleared my CCIE exam and my CCIE number is #61077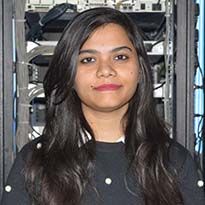 Shalini
CCIE Security V5
India