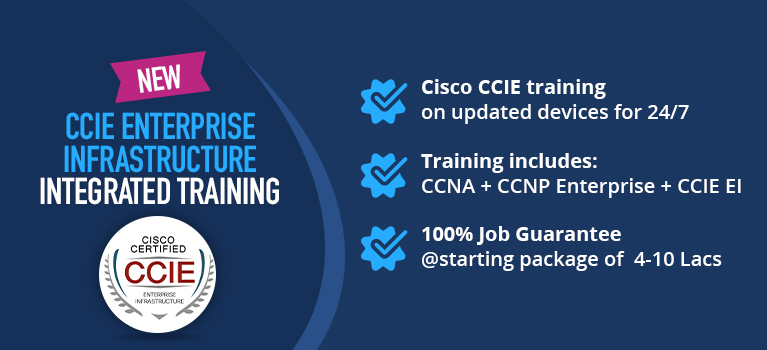 CCIE Enterprise Infrastructure V1.0/R&S Training in India | Cisco Certification
Infographic
CCIE Enterprise Infrastructure/R&S Course
CCIE EI/R&S is Highest Level of Certification in EI/R&S track offered by Cisco Systems. CCIE Enterprise Infrastructure V1.0/R&S course is perfect combination of CCNA + CCNP Enterprise + CCIE EI V1.0 Certifications making you eligible for job roles related to Cisco Networking.
What you gain in this course?
Network Designing

You learn how to combine automation with hardware technical expertise to design Enterprise level of Cisco Enabled Scalable Networks with hundreds and thousands of Users.

Network Implementation

You learn how to install, implement and configure high end cisco devices to form an enterprise level of complex network using networking automation, network programmability and technologies like RIP, EIGRP, OSPF, BGP, MPLS, QoS, Multicast, VTP, STP, GLBP, IPV6 and lot more.

Monitoring & Troubleshooting

You also learn how to monitor, manage and troubleshoot hard-core complex network scenarios when a fault appears.

Network Automation

You will learn the basic concept of network automation and also specialized skills necessary for automating the networking setup in a firm or office. The technical skills and devices that will be covered in this segment are Telnetlib, Netmiko, Paramiko, Nornir, Netconf, Restconf, Python String, along with other advanced networking tools and programs.
Course Description
Course Description
Cisco Certified Internetwork Expert (CCIE) in Enterprise Infrastructure V1.0/R&S is highest level of Cisco certification in EI track. We offer CCIE EI V1 Training with 100% placement guarantee to our fresher graduate students. This program is designed in such a way that job placements are automatically assured after completion of the course. CCIE Enterprise Infrastructure V1.0/R&S certification integrated course consists of CCNA, CCNP Enterprise and CCIE Enterprise Infrastructure V1.0 back to back in which we start from basics and cover in-depth of EI/R&S technologies. After completion of CCIE EI/R&S course training from us candidate will have to go through CCIE ENCOR 350-401 exam. After clearing CCIE ENCOR 350-401 exam, he/she can either start preparing for CCIE Enterprise Infrastructure V1.0 Lab exam or contact placement team to process their CV's for placements.
About Job Placement Guarantee:
We provide 100% written job placement guarantee to students enrolling for any CCIE Integrated course training program. Starting package of 4 to 10 Lacs is guaranteed based on communication and technical skills
Note: 1. Placement guarantee is only applicable for graduates. Graduation may either be regular or distance and in any stream (Computers, Engineering, Commerce, Arts, Science, etc.).
2. According to life-long membership of student with Network Bulls, any enrolled student of NB can reach NB's placement team anytime, in case if he/she wants to switch from their current organization to different one after a few years of being placed.
3. If students are undergraduate but they enroll for integrated course we'll treat them as same as other students. Placement team will conduct their multiple interviews but we'll not provide any job guarantee on paper
Devices Used for CCIE EI/R&S Training:
Physical Devices:-
Routers: 2811, 2911 series, XR Router.
Switches: 3550, 3750, 3850, 9300 series.
SD Access Devices: DNA Center, Access Point 9105.
Virtual Devices:-
Routers: 3640,3825, 7204, viosl3 15.6.x series.
Switches: viosl2 15.4.x, L2-iron image.
SD Access Devices: Identity Service Engine 2.6 , 2.7 , Virtual WLC 9800.
SD-WAN Devices: vmanage, vsmart, vbond, vedge cloud, CSR 1000v.
IOS XE Device
Mr. Priyavarat

CCIE R&S and Voice Written

Mr. Parvez Singh Dhillon

CCIE Enterprise #66675

Mr. Ayush Sharma

CSCO13717348

Mr. Rajnish Kumar Pandey

CCNA + CCNP R&S
Training Plan
Training Plan
Program Contents: CCNA, CCNP Enterprise, CCIE EI/R&S, Nexus, Network Automation
CCIE Enterprise Infrastructure V1.0/R&S Integrated Course Training Plan

Track

Regular Track

Intensive Training

Weekend Batches

Training Duration

7 - 8 Months

7 - 8 Months

10 Months

Training Days

Monday to Friday

Monday to Friday

Saturday - Sunday

Total Minimum Hours Required per Day

2 Hours for Classes

6-8 Hours for Classes, Practice & grooming

4 hours for Classes

Classes

2 Hours a Day

2-3 Hours a Day

3-4 Hours a Day

Practice Per Day

As per your Schedule & Convenience

Minimum & Mandatory 2-3 Hours/Day

As per your Schedule & Convenience

Grooming Classes

As per your Schedule & Convenience

Mandatory 2 Hours a Day

As per your Schedule & Convenience

Training Fee

(One Time Payment)

Rs 1,00,000/-
Rs 1,00,000/-
Rs 1,00,000/-
Available Training Modes
Classroom/Online
Classroom
Classroom/Online
Notes - 1. The NB training fee doesn't include exam fees.
2. Students of Weekend batches can attend weekday batches to cover these extra modules - Advanced BGP, Advanced MPLS, Nexus.
Installment Plan :
Pay in 3 Easy Monthly Installments Option:
1st Installment: Rs 45,000/-
2nd Installment: Rs 40,000/-
3rd Installment: Rs 40,000/-
Training Schedule

Month

Regular Track

Regular/Intensive Training

Weekend Batch

May 2023
2nd May'23
16th May'23
20th May'23
Jun 2023
6th Jun'23
20th Jun'23
24th Jun'23
Jul 2023
4th Jul'23
18th Jul'23
22nd Jul'23
Aug 2023
1st Aug'23
22nd Aug'23
19th Aug'23
Sep 2023
5th Sep'23
19th Sep'23
23rd Sep'23
Oct 2023
3rd Oct'23
17th Oct'23
14th Oct'23
Nov 2023
1st Nov'23
21st Nov'23
25th Nov'23
Dec 2023
5th Dec'23
19th Dec'23
16th Dec'23
To join Weekend Batch of CCIE Enterprise Infrastructure V1.0 integrated, candidate need to register at-least 15 days before.
CCIE Certification was started with an aim to polish and advance technical skills of Network Engineers worldwide, giving them an opportunity to update their technical skills and knowledge about Cisco products and enabled networks. Being the highest paid and most demanded certification of the world, CCIE has allowed network engineers to maintain and increase their worth as a highly skilled IT professional of the world.
Value of CCIE Enterprise Infrastructure V1.0/R&S Certification:
Cisco Certified Internetwork Expert – Enterprise Infrastructure V1.0 as certification offers incomparable growth and scope opportunities to its applicants. Be it a fresher or experienced, CCIE EI certification has never failed to do wonders for its apprentices. Routing and Switching technologies form basis of each and every other Cisco certification one wishes to pursue. Be it CCNA, CCNP or CCIE in any track, knowledge of R&S technologies form the basis of other higher or professional level certifications. Talking about the value of CCIE EI/R&S technologies, scope of EI/R&S is evergreen. Candidates who aspire to a part of ever-growing networking industry need to obtain quality training on /EIR&S (at least up to CCNP level) for better understanding of other technologies in the market.
Available Training Modes - Classroom Training
CCIE EI V1/R&S Training at NB:
CCIE EI/R&S Integrated course offered by Network Bulls consists of hands on practical and theoretical training on CCNA, CCNP Enterprise, and CCIE EI V1/R&S courses. CCIE Enterprise Infrastructure V1.0/R&S Integrated course intends to provide basic to advance and in depth knowledge about Routing and Switching technologies, preparing a strong niche for other advance courses. Apart from the technical and practical part of the course, we here a NB transform overall personalities of individuals by giving following types of professional and personal skill enhancement classes:
Personality Development classes

Interview Preparation classes

Group Discussion sessions

Resume/CV writing classes

Spoken English classes

Presentation classes

Technical interview sessions with 3x CCIE

Live industrial training from industry experienced experts

Mock interview sessions

Doubt Sessions and lots more.
Training on CCNP Enterprise, CCIE Enterprise Infrastructure V1.0 course is given by CCIE EI/R&S (written + lab) certified trainers with minimum of 5-15 years of industry experience. We promote live practical training and for this we have well equipped classrooms with fully loaded racks (having routers and switches) promoting in hand exposure about working of these devices. Access to in house practical workbooks specially made under the supreme guidelines of multiple CCIE trainers who have years of industrial exposure to their credit.

100% Job Placement Guarantee at starting Salary Package of 4 -12 Lacs per annum for freshers.

Spoken English, Group Discussion, Presentation Skills, CV Writing, Interview Preparation, Industrial Seminars, Mock Interviews.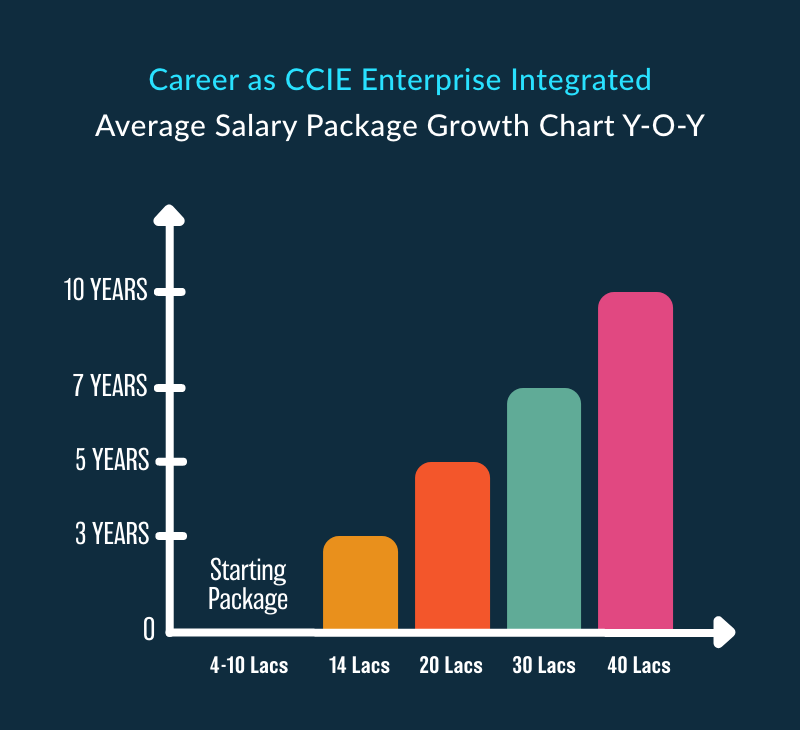 Frequently Asked Questions
Frequently Asked Questions
Who is eligible for CCIE?
Anyone can do CCIE but our Job Guarantee is only applicable if student has graduation in any field. There's no experience required to be CCIE Certified and get placement from Network Bulls.
How much does the CCIE training cost?
CCIE Enterprise Training cost is Rs 1 Lac.
Can I get a job after CCIE?
CCIE Certification is Most reputed and Highest paid IT Certification worldwide. Companies are always running short on CCIE's. You will surely get a highly-secured and well-paid job after CCIE. We provide a 100% job guarantee to students enrolling on any CCIE Integrated training program at Network Bulls.
What is the salary of CCIE in India?
The starting salary after of CCIE certification training is around 4.5 - 5.5 lacs per annum for freshers and goes up to 40 lacs per annum in span of 10 years depending upon years of experience. After CCIE Security certificate training starting salary is between 5 - 7 lac per annum and goes upto 45 lacs per annum in 10 years.
How long is CCIE valid?
CCIE certification is valid for up to 3 years. But its very easy to recertify your CCIE Certification. There are multiple recertification options to choose from. Certified individuals will be able to recertify by taking the written exam which is very easy for a CCIE. All the certifications will be valid for 3 years from the date it is achieved. The certification status is extended each time recertification requirements are met.
Is CCIE a good career?
CCIE-certified professionals are one of the highest-paid professionals in the world. CCIE Security V6 and CCIE R&S/Enterprise certifications are amongst the best career options for network engineers in India. Our CCIE R&S/Enterprise, CCE Security, and CCIE integrated programs are designed with 100% placements guarantee to ensure career success of a student.
How hard is the CCIE exam?
The difficulty of the CCIE exam is high. You need to go through hours of intensive training from a reputed institute like Network Bulls. Our CCIE courses are designed in a way to help students acquire theoretical and practical knowledge along with interview preparation. Additionally, it covers everything from industrial training to mock tests, doubt sessions, technical interview sessions, personality development and more.
Can I do CCIE without CCNA?
Yes, you can do CCIE directly without CCNA certification but knowledge of CCNA and CCNP is mandatory.
What is the benefit of CCIE?
CCIE is also known as World's Most demanded and Highest paid IT Certification. The benefits of CCIE certification are many. You can get job in one of the leading and reputed IT companies on a good package. It is a globally recognised certification with great job opportunities in the networking industry. There would also be ample growth with diverse job roles. Some of the popular jobs for CCIE-certified professionals are - Network Engineer, Senior Network Engineer, Network Administrator, Network Security Specialist, and Sr.Network Engineer.