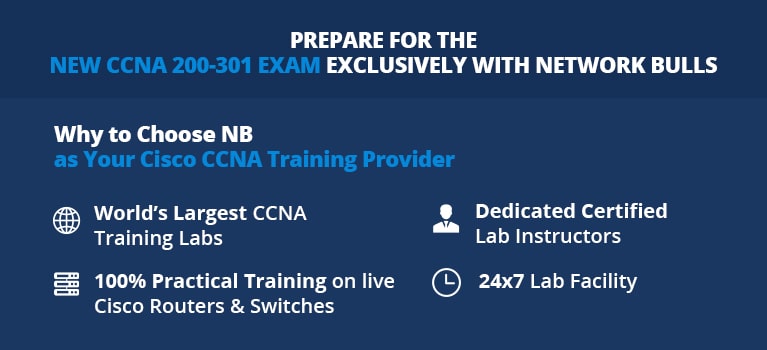 CCNA course Training in Gurgaon, Delhi NCR, India
Course Description
Course Description
Cisco Certified Network Associate (CCNA) is the associate level Certification in Networking offered by Cisco Systems. CCNA formerly known as CCNA Routing and Switching covers basics of Cisco Networking and routing switching technologies along with IP addressing schemes, routing basics, switching, WAN technologies, Network Security fundamentals, Network Automation and Network Programmability basics. After completion of CCNA course, a candidate can easily install, configure and troubleshoot Cisco Routers and Switches for medium sized networks. After completion of CCNA Certification training, you can go for higher level of Cisco Course like CCNP Enterprise or CCNP Security, to further strengthen your Routing & Switching, Network Programming & SDN and Network Security skills.
We are the Best Institute for Cisco CCNA course Training in India. Network Bulls provides New CCNA course in Gurugram Centre on real Cisco devices (Routers and Switches), with 24x7 Lab Facility. Our CCNA curriculum is designed as per CCNA Certification exam blueprints and New latest CCNA Syllabus provided by Cisco. We do not use simulator software in our classes or labs. In order to prepare for all New Consolidated CCNA 200-301 exam conducted by Cisco, candidates need to work on real devices instead of relying on simulators.
Training Centre is situated at Gurugram with Biggest Cisco CCNA Training labs in the World. Network Bulls is considered as one of the best CCNA Training Institute, not just in Delhi, India, but in the whole World. We also provide Networking Project based Industrial and Summer Trainings in Gurugram and Delhi. If you are looking for training on All New CCNA Consolidated 200-301 CCNA Certification, then Network Bulls should be your first and only choice.
Mr. Vikas Kumar

Triple CCIE #30078 (R&S, Security and Voice)

Mr. Mohit Bhalla

Dual CCIE #42145 (R&S, Security)

Mr. Parvez Singh Dhillon

(CCNA + CCNP R&S #CSC03180974)

Mr. Sukhbir Chahal

CCIE R&S #62007
Training Plan
Training Plan
CCNA Training Fee and Duration

Track
Regular Track
Weekend (Sat & Sun)
Duration
40 - 45 Days
8 Weekends
Hours
2 hours a day
3 hours a day
Training fee
8500/-
8500/-
Available Training Modes
Online/Classroom
Online/Classroom
Note - The NB training fee doesn't include exam fees.
Training Schedule for CCNA course (Regular)

Month
First Batch
Second Batch
Jan 2022
4th Jan'22
18th Jan'22
Feb 2022
1st Feb'22
15th Feb'22
Mar 2022
1st Mar'22
23rd Mar'22
Apr 2022
5th Apr'22
19th Apr'22
May 2022
10th May'22
17th May'22
June 2022
7th Jun'22
21st Jun'22
July 2022
5th Jul'22
19th Jul'22
Training Schedule for CCNA course (Weekend)

Month
Batch
January 2022
22nd Jan'22
February 2022
19th Feb'22
March 2022
26th Mar'22
April 2022
23rd'Apr'22
May 2022
21st May'22
June 2022
18th Jun'22
July 2022
23rd Jul'22
Course Outline of New CCNA Certification Exam 200-301/CCNA R&S:
Prerequisites – Not required
1. Describing the role and function of network components (Routers, L2 and L3 switches, Next-generation firewalls and Servers).
2. Describing the Characteristics of network topology architectures (2 tier, 3 tier, Spine-leaf, WAN, SOHO, On-premises, and cloud).
3. Comparing physical interface and cabling types along with Identification to interface and cable issues like collisions, errors, mismatch duplex, and/or speed.
4. Configuring and verifying IPv4 addressing and subnetting, IPv6 addressing and prefix and describing some wireless principles like Non-overlapping Wi-Fi channels, SSID, RF, Encryption.
6. Verifying IP parameters for Client OS (Windows, Mac OS, and Linux) and explaining virtualization fundamentals and some switching concepts.
7. Configuring and Verifying Layer 2/Layer 3 discovery protocols and EtherChannel (LACP) and describing AP and WLC management access connections (Telnet, SSH, HTTP, HTTPS,Console, and TACACS+/RADIUS)
8. Introduction to components of WLAN (AP, WLC, access/trunk ports, and LAG): Getting familiar with WLAN creation, security settings, QoS profiles, and advanced WLAN settings.
9. Understanding, configuring and troubleshooting routing protocols for IPV4 and IPV6. Topics like OSPFv2 (single-area), Routing protocol metric and components of routing table are covered.
10. Understanding, configuring and troubleshooting layer 3 protocols like Frame Relay, HDLC, PPP, NAT, etc.
11. Introduction to MPLS and forwarding per-hop behavior (PHB) for QoS such as classification, marking, queuing, congestion, policing, shaping. Understanding IP services like DHCP, DNS, SNMP, Netflow, FHRP, TFTP/FTP, and NTP.
12. Defining and describing key security concepts, security program elements and some wireless security protocols (WPA, WPA2, and WPA3).
13. Understanding, configuring and troubleshooting layer 2 security features DHCP snooping, dynamic ARP inspection, and port security & layer 3 security that is ACL (standard, extended, named), SSH and Secret password.
14. Understanding how automation impacts network management and learn about Controller-based networking and its architecture.
15. Learn the characteristics of REST-based APIs (CRUD, HTTP verbs, and data encoding) and recognizing the capabilities of configuration management mechanisms Puppet, Chef, and Ansible.
Devices Used for Practical:
Routers: - 1841, 2600, Switches: - 2950, 2960, 3550
New CCNA 200-301 Certification Exam details:
How to pass and get New CCNA 200-301 Certification:
Cisco has now changed the syllabus of CCNA R&S Exam and made one consolidated CCNA exam instead of having different exams in different technologies. In order to pass CCNA exam and become CCNA certified, you need to pass New CCNA 200-301 Exam. This new CCNA exam has new syllabus which includes old CCNA content and Automation basics, Network Security basics and Network programming basics.
New CCNA Certification Exam:
Implementing and Administering Cisco Solutions (CCNA). Exam code for this all new CCNA Exam is 200-301. This exam will go live from 24th February 2020.
Fee for CCNA certification composite exam is 354 USD and passing marks required are 825 out of 1000. CCNA exam is conducted online in Pearson Vue testing centers.
There are around 55 questions in latest CCNA Online Exam, out of which there are 3-4 simulations and around 50-52 Multiple choice questions. You cannot risk your exam by failing in any simulation, so make sure you prepare the practical part really well. To crack CCNA certification exam in first attempt candidate need to practice at-least for 3-4 hours a day during classes. If you are wondering How to pass your CCNA Certification Exam, here are few tips to pass CCNA Online Exam in first attempt:
Make sure you study each topic listed in CCNA Syllabus Blueprint logically.
Practice each technology on real Cisco devices.
Avoid Simulators. Learn technology on real devices.
Practice Subnetting really well. It should be on your tips.
Create unique yet logical scenarios using multiple Routing & Switching protocols in a single practical, and then configure them.
Test your knowledge on simulation based exams available on internet.
Never get nervous.
Just follow these tips and we bet you can pass your New CCNA Certification exam in the first attempt.
Student Reviews
Student Reviews
I joined Network Bulls for CCNA R&S course, my mentor referred me this Institute. I had a great learning experience here, first we were given thorough knowledge of routing and switching concepts then practical sessions helped me in mastering the concepts. Our doubts were cleared as many times we asked and it was best part of learning especially for me. Apart from trainers, 24x7 available lab instructors make learning easy.

My name is Tarun Kumar and I am a Student of Network Bulls. Anyone who wish to join any Institute for Cisco Certification training must look for 3 qualities. First trainers, 2nd labs and third is environment and Network Bulls beats all other Institutes in all 3 departments. Trainers are industry renowned, labs are fully equipped & open 24x7 and environment is also good. Students from 40+ countries study here. Our Lab Mentor and Trainer Mr. Mohit Bhalla has played key role in my preparations. Great job by Network Bulls.  

I came to Network Bulls for CCNA R&S training from Nigeria. I found training provided here helpful, all facilities of Network Bulls were great. Labs, trainers, accommodation everything was as expected. Many thanks to my trainer Mr. Mohit Bhalla for helping me in CCNA R&S preparation

Hi friends I am Lucas from Nigeria and I came to Network Bulls for CCIE R&S integrated course training. Coming here has been the best decision of my life as this institute has helped me in shaping my career and giving it a new turn that is now I am CCIE R&S certified and I have all the knowledge a CCIE R&S certified requires to have to become a successful network engineer. I am extremely thankful to my trainers Mr. Saurabh Yadav, Mr. Mohit Bhalla (CCIE R&S #42145) and Mr. Vikas Kumar (3XCCIE #30078) for making my training experience wonderful. A big thank you to Ms. Vijeta and all the members of management team for helping me whenever I had any sort of problem within few minutes of reporting. Thank You NB!! I will cherish my stay here throughout my life.

Lucas
CCIE R&S Integrated
Nigeria