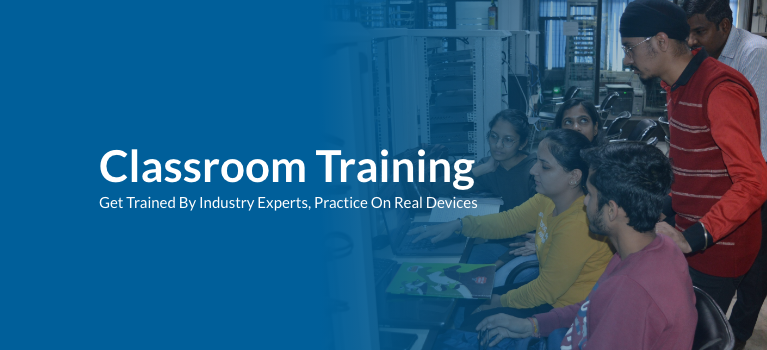 Classroom Training
With constant technological advancement, need of more centralized yet student oriented training has increased drastically overtime. Network Bulls' Classroom training program has been developed on similar ideas providing outstanding in house training facilities to Indian students of our institute. Our effective classroom training module has been designed in a manner that each and every student with different skills or abilities in the class understands the course easily.
The teaching style adopted at NB is student friendly that is each student at our institute gets equal focus and trainer attention making the entire training process well absorbed and systematic. Network Bulls has been providing various types of training services to its students coming from various parts of India. Facilities like offshore training program, online training program, onsite training, etc. have given our international students the much required platform to utilize their resources and skills to upgrade their career and professional skills.
Classroom training program at NB is offered for various courses like Cisco, Microsoft, EC Council, Checkpoint, etc. allowing them to utilize the incomparable facilities provided at our institute. These facilities are:
INFRASTRUCTURAL BENTS
Situated in Gurgaon, India, Network Bulls has provided some mind-blowing infrastructural facilities to its students. Applicants have been coming to us for getting exceptional training services on various certification from various cities/parts of the country. Having fully equipped labs for various courses along with latest devices and racks, neat and spacious classrooms fully equipped with internet facility, projectors, and devices for live practical demonstration of concepts, separate silent and discussion zone for group and self-learning, and lot other facilities which has made our classroom training facility extremely successful.
LAB FACILITIES
NB is known for having World's Largest Cisco Labs, fully loaded with all latest training devices and equipments. We have separate lab for each course that is CCNA, CCNP (Enterprise/R&S, Security, Data Center and Collaboration), and CCIE (Enterprise Infrastructure/R&S, Security V6, Data Center, and Collaboration) have separate labs and racks for course specific training and understanding. Lab has been made available to our students 24x7 along with lab assistance too. Students can sit and practice as much as they want to, anytime of the day or night.
LIVE CLASSROOM LECTURES
Full-fledged working racks with devices have been kept for complete concept understanding allowing candidates to fully understand working of the devices before they actually work with them in our 24x7 labs.
CERTIFIED TRAINERS
Trainers at NB are highly certified offering over the top course relative trainings. All our trainers are CCIE certified with minimum of 5-15 years of industry experience. Each and every trainer at NB is readily available for students during and after finishing of the class. Trainer assistance is also available to students in lab during any time of the day, for their uninterrupted training sessions.
COURSE MATERIAL
In house practical workbooks are developed at our institute under the guidance of Mr. Vikas Kumar (3XCCIE #30078, MD Network Bulls) for providing them training on latest technologies of the market, giving their career an edge above the non-certified ones.