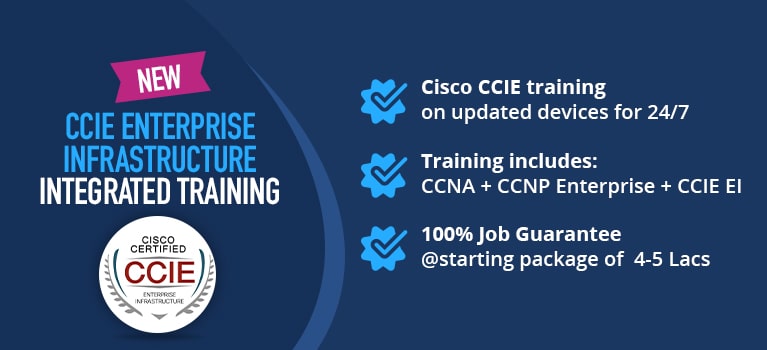 CCIE Enterprise/R&S (ENCOR + EI V1)
Course Description
Course Description
CCIE certification in Enterprise Infrastructure/R&S technologies is an expert level certification preparing individuals for handling advanced tasks and procedures of a network. CCIE EI/R&S V5 is also known as the most demanded and desired IT certifications of the world.
Training on CCIE EI/R&S V5 course offered by Network Bulls includes in-depth and hands on training on various course concepts making applicants job ready. ENCOR exam is mandatory for candidates who wish to appear for CCIE EI V1/R&S lab exam in near future. Applicants are expected to have basic to intermediate level of knowledge and skills in Enterprise/Routing and Switching technologies to be able to understand and grasp advanced level concepts of the course.
CCIE EI/R&S training is provided using following Cisco equipment:
Physical Devices:-
Routers: 2811, 2911 series.
Switches: 3550, 3750, 3850, 9300 series.
SD Access Devices: DNA Center, Access Point 9105.
Virtual Devices:-
Routers: 3640,3825, 7204, viosl3 15.6.x series.
Switches: viosl2 15.4.x, L2-iron image.
SD Access Devices: Identity Service Engine 2.6 , 2.7 , Virtual WLC 9800.
SD-WAN Devices: vmanage, vsmart, vbond, vedge cloud, CSR 1000v.
Mr. Vikas Kumar

Triple CCIE #30078 (R&S, Security and Voice)

Mr. Parvez Singh Dhillon

CCIE Enterprise #66675

Mr. Sukhbir Chahal

CCIE R&S #62007
Training Plan
Training Plan
CCIE EI/R&S (ENCOR + EI V1) Exam Training Plan

Track

Regular Track (Mon – Fri)

Weekend (Sat – Sun)

Training Duration

4 Months

(3 Months ENCOR + 25-30 Days Lab Training)

5 Months

(4 Months ENCOR + 25-30 Days Lab Training)

Hours

2 Hours a Day

3-4 Hours a Day

Available Training Modes
Classroom/Online
Classroom/Online
Note - The NB training fee doesn't include exam fees.
Available Training Modes - Classroom Training
Regular theoretical class for CCIE Enterprise Infrastructure/R&S (ENCOR + EI V1) training is for 2-3 hours after which practical class for the same is conducted. The rack access for this course can be for any number of long hours, as per student's wish or requirement.

The training provided on this course is given by CCIE EI/R&S Certified trainers who have minimum of 5-15 years of industrial experience.

Students are free to practice day/night in our 24x7 available labs to prepare for CCIE EI Version 1/R&S V5 certification.

Our CCIE EI/R&S labs are fully equipped with latest routers and switches as per Cisco CCIE Lab equipment checklist.

Instant access to CCIE EI/R&S study material including CCIE EI/R&S practical workbooks.

Wi-Fi facility is also available in labs to make sure you can access racks from anywhere within the institutional premises.
Student Reviews
Student Reviews
Network Bulls is best institute for Cisco courses in India. I joined Network Bulls for CCNA R&S, CCNP R&S and CCIE R&S V5 combo training. After 6 months of hard work and patience I passed my CCIE R&S Lab exam in first attempt. My CCIE number is 49148. My special thanks to my trainers Mr. Ajaypal, Mr. Piyush Kataria and Mr. Mohit Bhalla.

Md. Salman
CCIE R&S V5 Written + Lab
India
Incredible India… Incredible Network Bulls… I wanted to learn Cisco technologies and get Cisco CCNA and CCNP R&S certifications. I am from Nigeria and registered myself for CCNA and CCNP R&S Certification trainings at Network Bulls. I got world class hospitality services and support from their team from very first day. Labs of Network Bulls very very huge and we got a chance to work on real live projects as well, which simply boosted my confidence and knowledge in the technology. It was a great experience with Network Bulls.

Mr. Ibrahim
CCNA and CCNP R&S
Nigeria