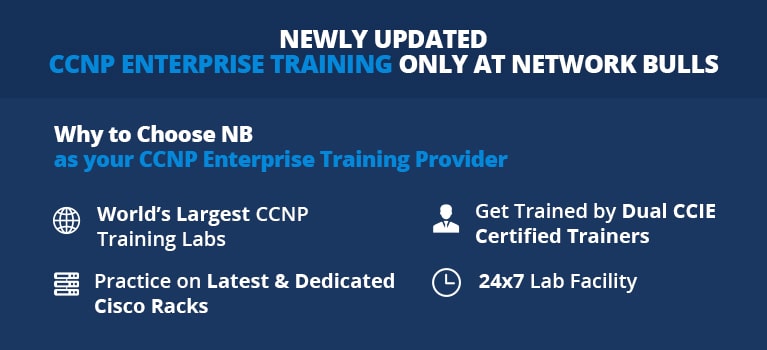 Best Institute for CCNP Enterprise/R&S course Training in Delhi Gurgaon, India
Course Description
Course Description
CCNP Enterprise/R&S certification is a professional level certification for candidates aspiring to become certified Enterprise technologies competent. After completion of CCNP Training, candidate will be able to plan, implement, verify, troubleshoot and automate local and wide-area enterprise Cisco networks. The CCNP Enterprise/R&S Certification training package consists of training on three varied modules i.e. - ENCOR, ENARSI, and CCNP V6 explained below:
ENCOR: Implementing Cisco Enterprise Network Core Technologies training will give you knowledge of implementing core enterprise network technologies by covering in-depth study and practical training on dual-stack (IPv4 and IPv6) architecture, virtualization, infrastructure, network assurance, security, and automation.

ENARSI: The Cisco Enterprise Advanced Routing and Services v1.0 training will be associated with Layer 3, VPN services, infrastructure security, infrastructure services, and infrastructure automation training.

CCNP V6+: This is an integrated module covering an overview of Cisco SD-WAN Architecture & its Components, Policies, Security, and QoS. You will also learn to Design WAN and LAN Solutions like MPLS L3 VPN, IPSEC VPN, L2 VPN, VXLAN, and Cisco SD-Access Solutions covering LISP, VXLAN, and Cisco DNA.
Network Bulls offers training on CCNP Enterprise/R&S course to wide variety of applicants worldwide. We offer outstanding training solutions to applicants in our 24x7 available labs which are also the biggest CCNP Enterprise/R&S training labs of the world. Having fully equipped and updated labs with ultra-modern devices/racks, our CCNP Enterprise/R&S course training focuses on topics like IPV6, FHRP, SSO, SD-WAN, wireless QoS, CEF, TCAM, GRE, LISP, VXLAN, NAT/PAT, eBGP, EIGRP and OSPF, Telnet, SSH, HTTP(S), SNMP, OSPF, BGP,etc. We offer CCNP course training in weekdays and weekend batches both.
CCNP Training on Real Cisco Devices:
We offer CCNP Enterprise/R&S certification training on real Cisco devices only. We do not use simulator softwares in our labs or classrooms. We use 2611, 2801, 1841, 2811, 3640, 7204 series routers and 3550, 3560, 3750 series switches in our labs for CCNP course training to our students.
Mr. Kundan Kumar

CCIE Security #CSCO14200055

Mr. Parvez Singh Dhillon

CCIE Enterprise #66675

Mr. Ayush Sharma

CSCO13717348
Training Plan
Training Plan
CCNP Enterprise/R&S Training Plan

Track

Regular Track (Mon – Fri)

Weekend (Sat – Sun)

Training Duration

3.5 Months

4-5 Months

Hours

2 Hours a Day

3-4 Hours a Day

Training Fee
Rs 50,000/-
Rs 50,000/-
Available Training Modes
Online/Classroom
Online/Classroom
Note - The NB training fee doesn't include exam fees.
Why Network Bulls is known as Best Institute for CCNP Training in India?
Network Bulls is known as the Best institute for Cisco certification courses like CCNA, CCNP, CCIE etc in Delhi, Gurgaon, India because of its world class infrastructure and huge labs. Training methodology includes not only classroom training but also hands-on training on Cisco equipment. We also provide practical workbooks to our students which is a part of our course content. In our CCNP training program candidate not only learns theoretical concepts of the technology but also gets familiar with the practical aspects. We have Live Cisco racks not only in our Labs but also in our classrooms which is a necessity in order to deliver best quality training. Even if you miss some classes due to any issue, you can rejoin any upcoming batch or even you can join any parallel batches to recover what you missed. We offer life time membership to our students to rejoin and redo any course for n number of times whenever required.
Before joining any other training institute for CCNP course, we suggest you to make a visit to Network Bulls, have a look at our labs, talk to our current students for feedback and then decide yourself. CCNP training is more about practicals and less about theory.
Your daily class at Network Bulls will include 2-3 hours of theoretical and practical training which includes in-depth training on CCNP Enterprise/R&S course. After your class, you are taken to our labs where you can practice and learn the actual working of the concepts learned for any number of hours you want to.

CCNP Enterprise/R&S course training is given by certified trainers with 5 to 15 years of industry experience.

CCNP Enterprise/R&S lab of NB consists of real Cisco Routers & Switches. Our CCNP Enterprise/R&S Lab is considered as World's Biggest. You can visit us and check our labs, along with series of routers and switches used.

24x7 available CCIE certified lab instructors while you are practicing in labs providing immediate solutions to problems occurring, ensuring uninterrupted high quality practical training.

Availability of Wi-Fi access to enhance your practical learning experience.

Remote access to labs and devices within institute premises.

World Class CCNP Enterprise/R&S practical workbook to enhance practical knowledge.

Doubt sessions ensuring complete understanding of the course at each and every step.

Unlimited Repetition of batches. No Extra fee for attending multiple batches.
CCNP Practical Workbooks:
We provide lab practical workbooks to students enrolling for CCNP course in our institute. Lab workbooks are most useful while preparing for CCNP certification exam. Our CCNP workbooks include practicals of 3 different levels, Basic, Intermediate and Challenge. Workbook covers all modules of CCNP Enterprise/R&S certification along with some additional challenge tasks where students need to solve industry related problems.
Frequently Asked Questions
Frequently Asked Questions
What is CCNP course?
CCNP is an acronym for Cisco Certified Network Professional. It is a professional-level certification provided by Cisco Systems to individuals who want to be recognized as experts in networking. The CCNP certification is intended for individuals who have some knowledge and experience in networking but wish to advance their knowledge and skills to take higher job roles. The exam covers all aspects of network administration, from basic configuration and troubleshooting.
What is CCNP course duration and eligibility?
The CCNP course training at Network Bulls plan is categorised into a regular track (Mon-Fri) and a weekend plan (Sat-Sun). The duration of the CCNP course in the regular track is 3.5 months and the weekend batch is 4-5 months. You need a to have CCNA knowledge to pursue CCNP course training.
Is CCNP difficult to pass?
The CCNP exam is not easy. However, if you have the necessary skills and knowledge, you can pass it with some effort. The key to passing the CCNP exam is to prepare for it adequately. Make sure you understand all the concepts that will be covered in the exam and practice as many sample questions as possible. Our CCNP courses can be very helpful in preparing for the exam. With enough preparation, you can pass the CCNP Certification exam easily.
What is the CCNP passing score?
The passing score of the CCNP exam is 750-850/1000. One can aim to achieve 90% to pass the exam. In case the students fail to get the desired score, they need to wait for 180 days to retake the exam. The passing scores are subject to change every year. After the completion of the exam, the students get a scorecard along with a breakout by exam section.
Can I get a job after CCNP?
Yes. You can get a secured and well-paid job after CCNP. some of the job roles you can join after CCNP are - systems and network engineer, network specialist, network analyst, and so on. Experienced networking professionals can take up advanced roles with a higher salary. CCNP is an professional -level certification that allows you to gain in-depth knowledge of networking technology.
How many exams in CCNP?
CCNP consists of 3 exams - 1) 300-101 ROUTE Implementing Cisco IP Routing (ROUTE) 2) 300-115 SWITCH Implementing Cisco IP Switched Networks (SWITCH) and 3) 300-135 TSHOOT Troubleshooting and Maintaining Cisco IP Networks (TSHOOT).
Student Reviews
Student Reviews
Hello friends, Myself Rajdeep and i did my CCNP R&S Course from Network Bulls. It's one of the top Institutes in Delhi/NCR for Cisco Certifications. When I asked my mentor and peers every second name came to me was Network Bulls. I must say they were not wrong, Training provided here is much better than others. Focus on practical training helped us a lot especially labs. I would definitely suggest all networking aspirants to visit Network Bulls once.

I just completed CCNP R&S with Network Bulls. NB's CCIE Certified Trainers covered all the topics of CCNP routing & switching thoroughly, big thanks to my trainers Mr. Mohit Bhalla and Mr. Rohit they made my learning experience great. Mr. Rohit gave extra time for BGP & MPLS topics so that i can master them. Great support by NB Trainers.

Richardson
CCNP R&S
India
My name is Sameer and I enrolled at Network Bulls for CCNP R&S Certification training. I must say it was one of the best decision of my career, as per reputation of this Institute I found every 2nd or 3rd networking professional recommending Network Bulls and now I know why. Trainers gave me extra doubt clearing classes when I asked for, management was also supportive. Here you study in a focused group and with students of other countries as well. I will rate NB 5 out 5 for its trainers, training and environment.

I heard about Network Bulls from my friends who did training from here earlier. I found everything correct what I heard, Network Bulls training methods, course content with practical learning , group study everything added into my CCIE success perfectly. Thanks to NB Team !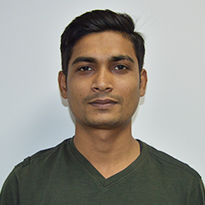 Hi everyone, I choose Network Bulls for pursuing CCIE Security Lab exam preparation and I am really happy with my decision. Trainers, their knowledge, experience, doubt sessions, in house workbooks, labs with 24x7 access, practice on live cisco devices made it possible.

Ravneet Singh
CCIE Security V4
India