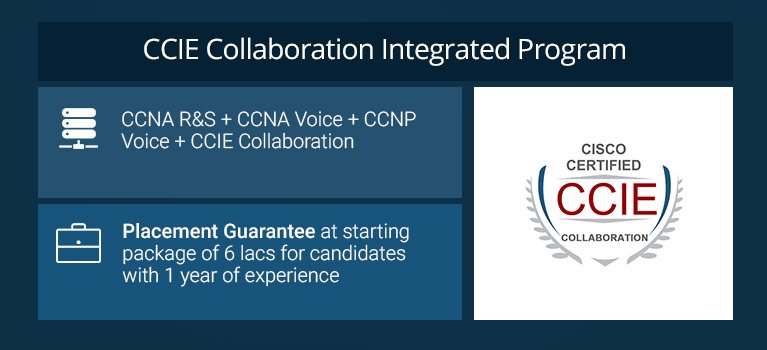 CCIE Voice / CCIE Collaboration Certification Training
Course Description
Course Description
After introducing CCIE Voice certification years ago, Cisco decided to upgrade the Voice certification giving it a whole new definition and outlook. In 2014, Cisco launched CCIE Collaboration and retired CCIE Voice certification forever. This step took place as a result of sudden increase in technologies and relative equipments required while handling various advanced to complex level of tasks in a voiced network.
100% JOB PLACEMENT GUARANTEE:
Network Bulls offers 100% job placement guarantee to students enrolling in CCIE Collaboration Integrated program where trainings on CCNA R&S, CCNA Voice, CCNP Voice, and CCIE Collaboration is provided to ensure basic to advance level understanding of the course concepts.
We provide 100% written job placement guarantee to students enrolling for any CCIE Integrated course training package. Upon clearing CCIE Collaboration (Lab + written) exam starting package of 6 Lacs is guaranteed.
Note: Placement guarantee in CCIE Collaboration is only applicable for candidates with excellent communication skills; whereas in CCIE R&S and CCIE Security, average communication skills will work.
Placement guarantee is only applicable for CCIE Collaboration (Lab) certified and is for only graduates. Graduation may either be regular or distance and in any stream (Computers, Engineering, Commerce, Arts, Science, etc.).
Devices used for CCIE Collaboration Integrated Training are as follows:
Routers:2611xm, 2811, 2911

Switches: 3750

Collaboration End points: 7961, 7965, 7970, DX650, EX60

Other VoIP Devices: Cisco Unified Call Manager 9.0; Cisco Unified Call Manager Express, Cisco Unity Connection 9.0, Cisco Unity Express, IM&Presence, UCCX, etc.
More about CCIE Collaboration:
CCIE Voice/Collaboration Certification is the highest level of Certification in Cisco VOIP Domain, offered by Cisco systems. Candidate should be Graduate in any stream to go for CCIE Voice/Collaboration Certification. A CCIE Voice candidate should have knowledge of technologies covered in CCNA, CCNA Voice and CCNP Voice Certifications to begin with CCIE Voice/CCIE Collaboration exam blueprint. Our CCIE Voice/Collaboration Integrated course covers all the trainings required to successfully achieve this Certification. This program is designed in such a way that placement is automatically assured after successful completion of this program. We offer updated CCIE Certification program. CCIE Collaboration is next updated version for CCIE Voice, which is expected to be changed in coming year with some new updation in CCIE voice current syllabus. Again we are ready in advance to offer updated CCIE Voice/Collaboration Certification training and to deliver results in New Version as well, as we did in CCIE Security. New CCIE Collaboration Certification will have some add on technologies like Video processing etc, which will take one more month to complete the course after current CCIE Voice syllabus. Students enrolling in CCIE Voice Integrated program will get updated training after change in the version. New CCIE Collaboration Certification will be more interesting and will include new upcoming technologies, which will benefit students for a great career.
Prerequisite:
There are no prerequisite for CCIE Voice or CCIE Collaboration Certification, but candidate need to get knowledge of CCNA, CCNA Voice and CCNP Voice technologies. You don't need to do CCNP R&S course to start preparing for CCIE Voice version 4 or CCIE Collaboration, but we are offering CCNP R&S as complementary program. Network Bulls is offering CCIE Voice/Collaboration course in Gurgaon, with one of the biggest CCIE infrastructures in India. CCNA Voice, CCNP Voice and CCIE Voice/Collaboration Training will be provided by Mr. Vikas Kumar(Triple CCIE#30078).He is experienced in Networking and VoIP Networks. Apart from regular training, candidates will also get a bootcamp of CCIE Voice/CCIE Collaboration from Mr. Vikas Kumar Triple CCIE#30078(R&S, Security, Voice).
Available Training Modes - Classroom Training
Mr. Vikas Kumar

Triple CCIE #30078 (R&S, Security and Voice)

Mr. Mohit Bhalla

Dual CCIE #42145 (R&S, Security)
Training Plan
Training Plan
Program Contents: CCNA R&S, CCNP R&S, CCNA Voice, CCNP Voice, CCIE Collaboration
CCIE Collaboration Integrated course Training Plan

Track

Regular Track (Mon – Fri)

Weekend (Sat – Sun)

Training Duration

9 Months

14-15 Months

Hours

2 Hours a Day

3-4 Hours a Day

Training Fee

Rs 2,00,000/-

Rs 2,00,000/-
Note - The NB training fee doesn't include exam fees.
CCIE Collaboration training at NB:
CCIE Collaboration Integrated certification offered by Network Bulls intends to validate applicants on their abilities of installing, configuring, monitoring, maintaining and troubleshooting Cisco enabled voice networks. Our CCIE Collaboration integrated training package consists of quality training on 4 different courses that is CCNA R&S, CCNA Voice, CCNP Voice and CCIE Collaboration. Basic to advance level that is Associate to Expert level knowledge and incomparable training is provided to candidates opting for CCIE Collaboration Integrated program. Not only we train them on technical skills but also transform their overall personality by giving them variety of skill improvement classes, which are as follows:
Theoretical and practical classes

Personality Development classes

Interview Preparation classes

Group Discussion sessions

Resume/CV writing classes

Spoken English classes

Presentation classes

Technical interview sessions with 3x CCIE

Live industrial training from industry experienced experts

Mock interview sessions

Doubt Sessions, and lots more.
Student Reviews
Student Reviews
Hi, myself Anupam and proud to say that I am dual CCIE Certified. I cleared CCIE Security and CCIE Voice lab exams and my CCIE number is #29880. I dedicate this success to my parents, NB Trainers and NB management's continuous support. Special thanks to my trainers Mr. Vikas and Mr. Gaurav Lamba for motivating me for doing such hard work. Thanks to all.

Anupam
CCIE Collaboration Lab Training
India
Hi, Myself Varun and I joined Network Bulls for CCIE Collaboration Integrated Course. I found Network Bulls was the only institute with Collaboration racks/devices for practice which is very important. Not to forget experienced trainers team, NB Collaboration course curriculum and innovative training methods adopted at Network bulls. And network bulls is the only institute which helps you in cracking good job offers, I got an offer from Velocis. Cheers.

Varun
CCIE Collaboration Integrated
India
Hello Friends, I am Jayant Soni and I joined Network Bulls for pursuing my MVTE course. Network Bulls is the best networking institute in terms of networking courses where job placement is guaranteed. They have the expert trainers with 24*7 lab facilities and a well-dedicated placement team. So, enroll at the best networking institute and give wings to your career.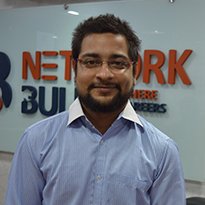 Getting CCIE R&S certification was biggest professional goal I ever had, and it came true with Network Bulls. I came to Network Bulls all the way from Nigeria to get CCIE Routing and Switching combo Training which covers CCNA R&S, CCNP R&S and CCIE R&S V5 certifications. I recommend Network Bulls for Cisco certification courses.

Omar-Al-AAdmi
CCIE R&S Integrated
Morocco