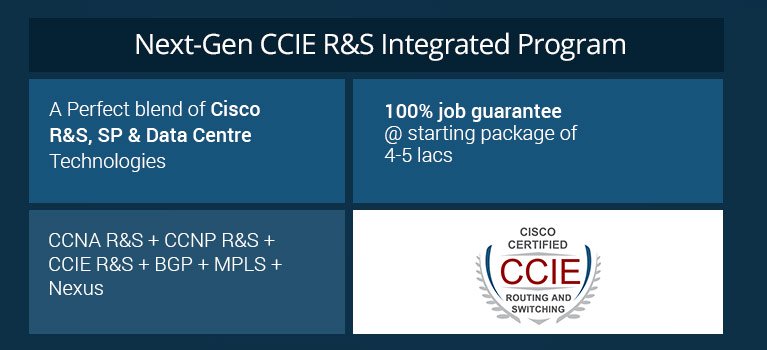 Course Description
Course Description
CCIE Routing & Switching version 5 Lab exam is considered to be world' s most desired and demanded IT certification for its scope and value in the IT Industry. Applicants who wish to appear for CCIE R&S V5 Lab exam need to clear CCIE R&S V5 written exam.Exam for this certification is an 8 hour procedure. All over the world only 8 locations are available where the candidate can sit for the CCIE R&S Lab exam, and they are Bangalore (India), Beijing (PRC), Brussels (Belgium), Dubai (UAE), Hong Kong (PRC), RTP (USA), San Jose (USA), Sydney (Australia), and Tokyo (Japan).Applicants can choose the nearest lab location to save on expenditures incurred.
CCIE Routing & Switching V5 Lab exam requires in depth study and practical implementation of topics mentioned below:
RIP, EIGRP, OSPF, BGP, MPLS, Multicast (PIM, Auto-RP, BSR, IGMP, MSDP), IPV6 (RIPng, OSPF V3, EIGRP V6, Tunneling), QoS, Static Routing, PBR, Route Filtering, Summarization, GRE, IP SLA, SNMP, NTP, DHCP, ARP, NAT, WCCP, Netflow, AAA, Zone Based Firewall,
ISL, 802.1Q trunking, DTP, VTP, EtherChannel, LACP, PAGP, STP, MST, RSTP, PVST, PVST+, RPVST+., SPAN, RSPAN, Storm Control, Private VLAN, VSS, CAM, TCAM, VLANS, VTP (V1, V2, and V3), HSRP, VRRP, GLBP.
Devices Used while preparing for CCIE Routing & Switching V5 Lab Exam are as follows:
Routers: 2811, 2911, 3825 series
Switches: 3750 series
Mr. Vikas Kumar

Triple CCIE #30078 (R&S, Security and Voice)

Mr. Mohit Bhalla

Dual CCIE #42145 (R&S, Security)

Mr. Piyush Kataria

Dual CCIE #50204 (R&S,Security)

Mr. Ali humza

CCIE R&S #60981

Mr. Rajender Kumar

CCIE R&S #57528, MCITP

Mr. Navneet

CCIE R&S #60606

Mr. Rajat Goyal

CCIE R&S #61725,#CSCO12054504

Mr. Ankur Kumar

CCIE R&S #60980
Training Plan
Training Plan
CCIE R&S V5 Lab Training Plan

Course

CCIE R&S V5 Lab Training

Training Fee

Rs 35,000/-

Training Duration

25-30 Days (6 Hours a day)

(3 Months of Rack Access and After training Lab support is provided)
Note - The NB training fee doesn't include exam fees.
Training Highlights at NB:
Fully Loaded CCIE R&S V5 Rack till the time you pass your Lab exam.
24x7 Lab Facility to ensure uninterrupted and world class learning experience
CCIE R&S Certified trainers with 5 to 15 years of experience
Dedicated CCIE R&S V5 certified Lab instructors, ensuring uninterrupted learning.
Updated CCIE R&S V5 practical workbooks for Lab exam preparation
Unlimited hours of practice and dedication are required toclear CCIE Lab exam in first attempt.
Wi-Fi facility is also available with remote access to various lab devices and racks within the institute's premises.