Cyber Security & Network Security Expert Certification Course Training
Course Description
Course Description
The Cyber Security + Network Security expert course equips you with the knowledge and skills necessary to protect digital landscapes from evolving threats. It covers a wide range of topics, ensuring you become a proficient IT security professional. With an emphasis on theoretical training and hands-on training in real-world scenarios, our cyber security course will empower you to safeguard critical networks and data.
About Job Placement Guarantee
We provide a 100% written job placement guarantee for students enrolling in this network security, cybersecurity and ethical hacking certification combo program. Students can expect a starting package ranging from 4 to 12 Lakh Per Annum (LPA) upon successful completion of the program. With the knowledge and practical skills acquired during the program, students are well-positioned to secure lucrative job offers and make a successful cybersecurity and network security career.
Devices used for Cyber Security + Network Security
Physical Devices:
Routers: 1841, 2801, 2811, 2911
Switches: 3550, 3750 and C3850-12S
Cisco Adaptive Security Appliance 5512x and 5515x
Cisco WLC 2504 and AP 1602E
Virtual Devices:
Cisco ISE Server
Cisco WLC (Wireless Controller)
Cisco Adaptive Security Virtual Appliance (ASAv)
Windows Server - AD/DNS/CERTIFICATE Services
VM Ware
Cyber Security Tools:
IBM QRadar
Splunk
Wireshark
Ethical Hacking Tools:
Kali Linux
Metasploitable 2
Windows PC
Mr. Kundan Kumar

CCIE Security #CSCO14200055
Training Plan
Training Plan
Program Contents: CCNA, CCNP Enterprise, CCNA Security, VPN, ASA Firewall, Ethical Hacking - Linux Fundamentals, CEH V12, Cyber Security - Cyber Security Fundamentals, Wireshark, IBM QRadar, Splunk
CCIE Security V6 Integrated Course Training Plan

Track

Regular Track

Intensive Training

Weekend Batches

Training Duration

10 - 11 Months

10 - 11 Months

15 Months

Training Days

Monday to Friday

Monday to Friday

Saturday - Sunday

Total Minimum Hours Required per Day

2 Hours for Classes

6-8 Hours for Classes, Practice & grooming

4 hours for Classes

Classes

2 Hours a Day

2-3 Hours a Day

3-4 Hours a Day

Practice Per Day

As per your Schedule & Convenience

Minimum & Mandatory 2-3 Hours/Day

As per your Schedule & Convenience

Grooming Classes

As per your Schedule & Convenience

Mandatory 2 Hours a Day

As per your Schedule & Convenience

Training Fee

(One Time Payment)

Rs 1,45,000/-
Rs 1,45,000/-
Rs 1,45,000/-
Available Training Modes
Classroom/Online
Classroom
Classroom/Online
Installment Plan :
Pay in 4 Easy Monthly Installments:
1st Installment: Rs 45,000/-
2nd Installment: Rs 45,000/-
3rd Installment: Rs 45,000/-
4th Installment: Rs 40,000/-
Training Schedule CCIE Integrated Course

Month

Regular Track

Regular/Intensive Training

Weekend Batch

Oct 2023
3rd Oct'23
17th Oct'23
14th oct'23
Nov 2023
1st Nov'23
21st Nov'23
25th Nov'23
Dec 2023
5th Dec'23
19th Dec'23
16th Dec'23
Jan 2024
2nd Jan'24
16th Jan'24
20th Jan'24
Feb 2024
6th Feb'24
20th Feb'24
17th Feb'24
Mar 2024
5th Mar'24
12th Mar'34
16th Mar'24
Apr 2024
2nd Apr'24
16th Apr'24
20th Apr'24
May 2024
7th May'24
21th May'24
18th May'24
Jun 2024
4th Jun'24
18th Jun'24
22nd Jun'24
To join Weekend Batch of Cyber Security + Network Security, candidate need to register at-least 15 days before.
More about Cyber Security + Network Security Certification
The Cyber Security + Network Security certification by Network Bulls is a comprehensive and advanced program designed that help individuals learn the skills and gain knowledge necessary to protect organizations from cyber threats and secure their network infrastructure.
This cyber security certification covers a wide range of topics, including network security, ethical hacking, intrusion detection and prevention, risk management, and more. It is a highly respected certification in the field of cybersecurity and network security and is recognized by industry leaders and organizations worldwide. Individuals with cyber security certification demonstrate a professional level of expertise in safeguarding the digital assets of an organization, regardless of size.
Cyber Security + Network Security Expert Training at Network Bulls
Network Bulls offers an intensive and industry-focused Cyber Security + Network Security training program that prepares aspiring professionals for a successful career in the ever-evolving field of cybersecurity.
The cyber security training program provides hands-on experience and in-depth knowledge of the latest security technologies and techniques. Students are provided training in real-world scenarios, ethical hacking methodologies, and cutting-edge security tools. We boost the careers of individuals by providing the following areas -
Personality development

Interview preparation

Group discussions

Spoken english

Presentation

Mock tests

Doubt sessions

Live training
Network Bulls is the leading institution for Cyber Security + Network Security training due to several reasons. Our cyber security training and ethical hacking training are led by a team of highly qualified and certified instructors with extensive industry experience. Additionally, Network Bulls has partnerships with industry leaders, providing students with opportunities for internships and job placements in renowned organizations. We offer flexible learning options, including online and classroom training, making it accessible to a wide range of students.

100% Job Placement Guarantee at starting Salary Package of 4 - 12 Lac per annum for freshers.

Spoken English, Group Discussion, Presentation Skills, CV Writing, Interview Preparation, Industrial Seminars, Mock Interviews.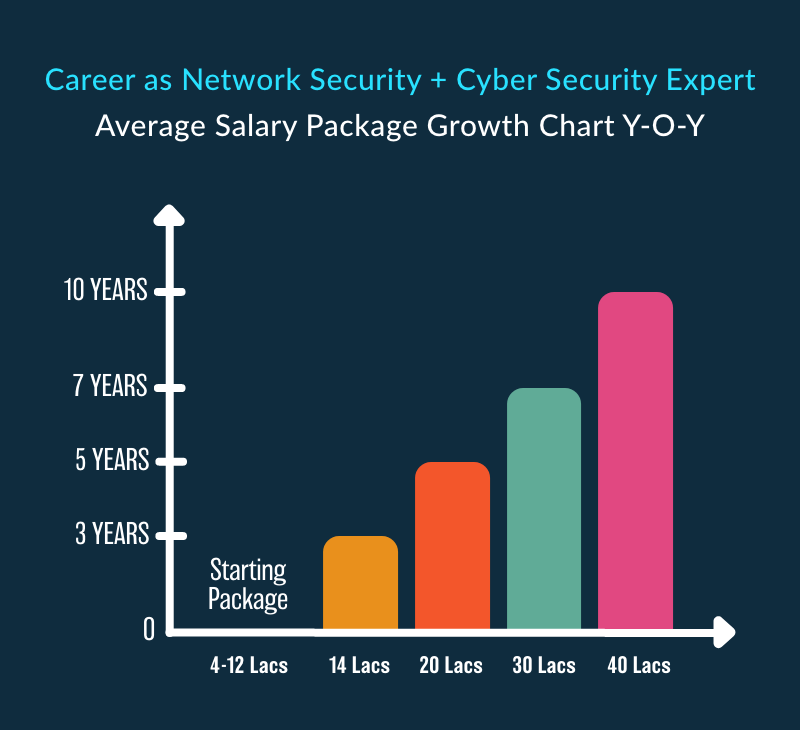 Student Reviews
Student Reviews
Hello friends, Myself Rajdeep and i did my CCNP R&S Course from Network Bulls. It's one of the top Institutes in Delhi/NCR for Cisco Certifications. When I asked my mentor and peers every second name came to me was Network Bulls. I must say they were not wrong, Training provided here is much better than others. Focus on practical training helped us a lot especially labs. I would definitely suggest all networking aspirants to visit Network Bulls once.