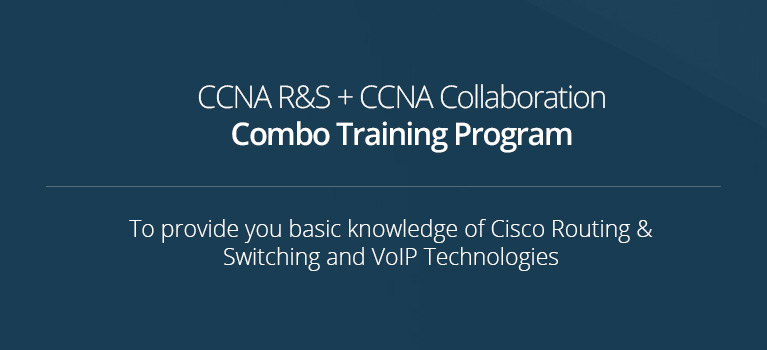 CCNA R&S + CCNA Collaboration/Voice
Course Description
Course Description
CCNA R&S is an associate level certification in Routing and Switching track; whereas CCNA Voice is associate level certification in VoIP (Voice over IP) track, offered by Cisco Systems. The combination of CCNA R&S and CCNA Voice will cover basic concepts of Routing and Switching technologies including OSI model, TCP/IP suit, IP Addressing/Subnetting, Cisco IOS, IP Routing, Switching, WAN technologies, and network attacks, basic VoIP technologies including IP Phones registration and use in a VoIP network.
CCNA R&S is a foundation course for CCNP R&S, CCIP, and CCNA Voice as well. In order to achieve CCNA Voice certification, a candidate will first go for CCNA R&S certification exam. CCNA R&S and CCNA Voice Certification certifies that candidate is able to select, connect, configure and troubleshoot various Cisco Networking equipment including Cisco IP Phones, Call Manager devices, Unity express etc for the small office network. Candidate will be able to manage small office VoIP and R&S enabled Cisco networks.
After completion of this combo certification program, you can go for CCNP R&S and CCNP Voice certifications in future, which will give you an in-depth understanding of Routing Switching technologies and in-depth knowledge of Cisco IP Phones, universal VoIP technologies and protocols, Call Managers, Unity express and other various VoIP devices etc. After doing CCNP R&S, a candidate will be able to Design, implement, trouble-shoot an Enterprise Cisco enabled network. Candidate will learn about various Routing and Switching protocols during CCNP R&S training, which will help candidate choosing right protocols and technologies to use as per requirements of the company. In CCNP Voice, the candidate will learn to select, connect, configure and troubleshoot Cisco enabled Voice over IP networks using Cisco IP Phones, Cisco Call Managers, Media Convergence Servers, Call Manager Express, Unity Express devices and some other lines and connections used for VoIP network implementation in Enterprise networks.
Why to choose Network Bulls for CCNA R&S + CCNA Voice/Collaboration training
100% Practical training on real Cisco Devices.

Fully Loaded Lab consists of 1841, 2811, 3640 Series Routers; 2950, 2960 Series Switches; 7961, 7965 Series IP Phones.

24X7 Lab Facility

Dedicated Cisco Certified lab instructors

Updated practical workbook to simulate the real exam

One of the Top 5 biggest Cisco/Networking Training Labs worldwide.

World Class Infrastructure.

An ISO 9001-2008 certified company.

Incorporated under Central Government of India.
Network Bulls offers CCNA Voice/Collaboration Certification Training on real Cisco devices. We do not use simulator software for practical. Labs at Network Bulls are World's Largest IT Training Labs. Labs are 24x7 available for students to practice on real devices.
Available Training Mode - Online Training
Note: 1) Unlimited Lab Access during the training period.
2) 1 Month of Additional Lab access post completion of the training.
Training Plan
Training Plan
Training Duration and Fee

Track

Regular Track

Duration

35 Days

Price

(USD) 2000
Online Training
Available on Demand
Training Plan

Exam Code

Exam

Regular Track (Days)

200-125

Cisco Certified Network Associate

15

210-060 CICD
210-065 CIVND

CCNA Voice

15

Balance Days (For additional practice and rest)

5

Total Duration

35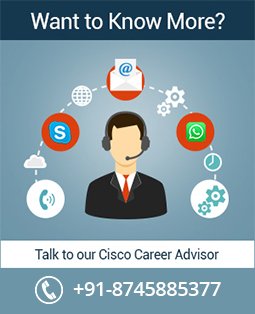 Fill the Form to
Know More