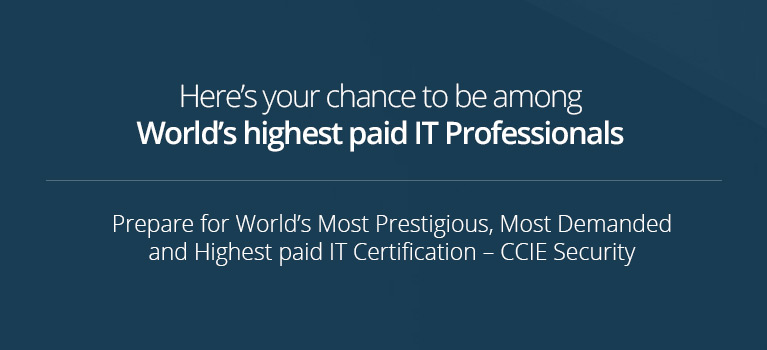 CCIE Security (SCOR + Security V6 Lab)Training
Course Description
Course Description
CCIE Security V6 Certification is the highest level of Certification in Network Security Domain, offered by Cisco. A CCIE Security Candidate should have knowledge of technologies covered in CCNA, CCNP, and CCIE Security Certifications. We offer Classroom as well as Online CCIE Security V6 certification training. Fast pace CCIE Security V6 Boot camp training is also available.
Pre-requisite: Knowledge up to CCNP Security(Certification not required)
Why to choose Network Bulls for CCIE Security Version 6 training:
Get Dedicated CCIE Security V6 rack for 45 Days - 6 Hours a Day

Fully loaded CCIE Security V6 rack which consist of 1841, 2801, 2811, 2911 Routers, 3550, 3750 and C3850-12S Switches, 5512x and 5515X ASA Firewalls, 4240 and 4255 IPS, Iron Port S170, ISE, WLC, AP, IP Phone

Dedicated CCIE Security Certified lab instructor

Over 70% passing rate in first attempt, 90% passing rate in second attempt

Updated practical workbook to simulate the real lab exam

One of the Top 5 biggest Cisco/Networking Training Labs worldwide.

World Class Infrastructure.

An ISO 9001-2008 certified company.

Incorporated under Central Government of India.
Network Bulls offer CCIE Security V6 Certification Training on real Cisco Routers, Switches, Firewalls, Iron Port, ISE, IP Phones and IPS Systems. We do not use simulator software for practical. Labs of Network Bulls are World's Largest IT Training Labs. Labs are 24x7 available for students to practice on real devices. We use 1841, 2801, 2811, 2911 series routers; 3550, 3750 and C3850-12S series switches; Cisco ASA 5512x, 5515x series Firewalls, WSA S170 Iron Port, ISE 3315, IP Phones, WLC AP and 4240/4255 series IPS Systems in this training program.
Available Training Mode - Online Training
Note: 1) Unlimited Lab Access during the training period.
2) 1 Month of Additional Lab access post completion of the training.
Training Plan
Training Plan
Training Duration and Fee

Track

Group

One-on-One

Duration

45 Days

45 days

Price

(USD) 4000

(USD) 5200
Online Training
Available on Demand
Training Schedule

Group Training

One-on-One Training

Batch 1
11th October 2021
As per student's preference
Batch 2
13th December 2021
As per student's preference
Batch 3
17th January 2022
As per student's preference
Batch 4
14th March 2022
As per student's preference
Batch 5
16th May 2022
As per student's preference
Batch 6
11th July 2022
As per student's preference
Batch 7
19th September 2022
As per student's preference
Batch 8
21st November 2022
As per student's preference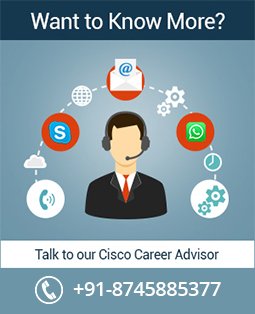 Fill the Form to
Know More