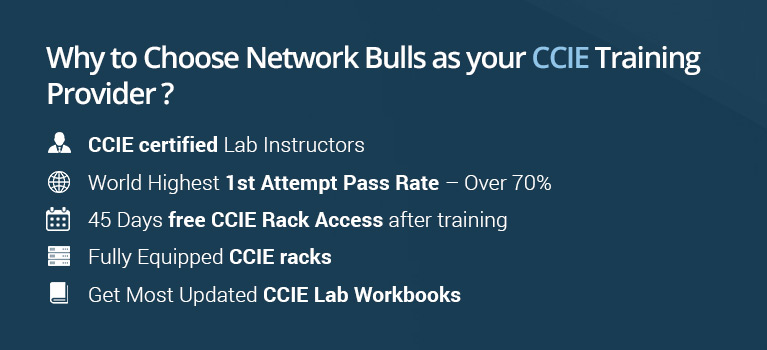 CCIE Voice/Collaboration Written + Lab Exam Training
Course Description
Course Description
CCIE Voice/Collaboration Certification is the highest level of Certification offered by Cisco in Networking Technologies in VoIP Track. Candidate should have strong knowledge of Voice technologies up to CCNP level, to go for CCIE Voice/Collaboration Certification. Network Bulls is offering CCIE Voice/Collaboration Training on Biggest Infrastructure of VoIP Training in India. CCIE Voice Trainings will be provided by CCIE Voice Lab certified Trainer.
Pre-requisite: Knowledge up to CCNP Voice Level (Certification not required)
Why to choose Network Bulls for CCIE Collaboration training:
Dedicated CCIE Collaboration rack

Fully loaded rack consist of 2911 ISR G2 Routers, 3750 Switches, Call Manager Version 9.0, Collaboration End points: 7961, 7965, 7970, DX650, EX60, Cisco Unity Connection Server, IM&Presence.

24X7 rack availability

Dedicated CCIE Voice/Collaboration Certified lab instructor

Over 70% passing rate in the first attempt, 90% passing rate in the second attempt

Updated practical workbook to simulate the real lab exam

One of the Top 5 biggest Cisco/Networking Training Labs worldwide.

World Class Infrastructure.

An ISO 9001-2008 certified company.

Incorporated under Central Government of India.
Network Bulls offer CCIE Voice/Collaboration Certification Training on real Cisco Routers, Switches, Collaboration End Points, and Call Managers etc. We do not use simulator software for practical. Labs of Network Bulls are World's Largest IT Training Labs. Labs are 24x7 available for students to practice on real devices. We use real Cisco devices in this training program.
Routers: 2901, 2911
Switches: 3750
Collaboration End points: 7961, 7965, 7970, DX650, EX60
Other VoIP Devices: Call Manager, Call Manager Express, Cisco Unity Connection, Cisco Unity Express, IM&Presence, UCCX
Available Training Modes - Classroom Training, Online Training
Training Plan
Training Plan
Training Duration and Fee

Track

Regular Track

Duration

18 Days

Price

(USD) 3000
Online Training
Available on Demand
Training Plan

Exam Code

Exam

Regular Track (Days)

400-051

CCIE Voice/Collaboration written V3.0

9

NA

CCIE Collaboration Lab Training

5

Balance Days (For additional practice and rest)

4

Total Duration

18
.
Student Reviews
Student Reviews
I passed my CCIE Voice lab exam. My CCIE number is 40586. My training experience with NB is awesome. Labs of NB are fully equipped with latest Cisco devices. Labs are 24x7 open along with trainers' support. Post passing my CCIE Voice lab exam. I am thankful to team NB for everything.

Vikas
CCIE Collaboration Lab Training
India
My dream to pass CCIE Collaboration/voice exam and to become CCIE came true with Network Bulls. I joined NB for CCIE Collaboration training. At the beginning I was very confused about my decision, because I had heard from somewhere that clearing CCIE Voice Lab exam for fresher is next to impossible thing. In the beginning I was planning to join some other institutes like INE, IP Expert etc, but when I stepped into Network Bulls for enquiry I made my decision after seeing the labs and world class training infrastructure and of course after getting the very positive reviews from students.With the help of my friends, trainers and continuous practice in labs of NB, I passed my CCIE Collaboration/Voice exam in first attempt. Guys, if you want to pass any kind of CCIE, this is the place to be.

Rupender
CCIE Collaboration Written + Lab
India
Hi friends, myself Piyush and I enrolled for CCIE R&S integrated training at Network Bulls, Gurugram, India, one of the best networking institutes in the world. Friends, when I joined NB, I was literally got amazed at the level of flexibility NB provides to its students in terms of fees, timings, books, study materials and training. I'm really happy that I made the right decision to join NB and achieved my dream job!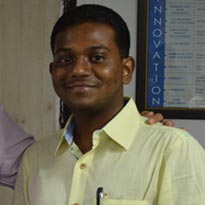 Hi friends, my name is Liyas and I recently achieved my CCIE number #57166. The best part is that I cracked the exam in the first attempt and it was only possible with the help of trainers at NB. I enrolled in CCIE R&S Course at NB and got trained by CCIE certified trainers. Many trainers at NB are even dual and triple CCIE. The trainers guide like a mentor and ensure that candidates have crystal clear understanding of concepts. Thanks NB for making my career fly!!!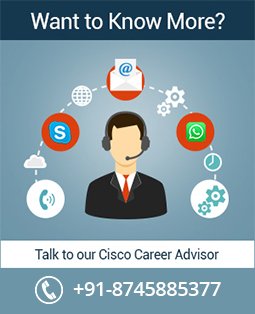 Fill the Form to
Know More