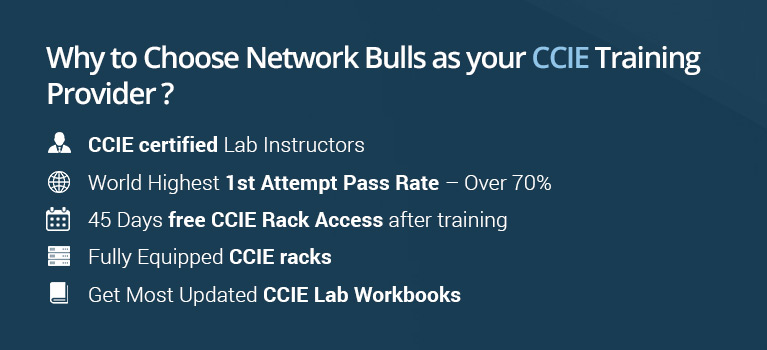 CCIE Voice/Collaboration Lab
Course Description
Course Description
CCIE Voice/Collaboration is World's most prestigious, Highly demanded, Highly Paid and toughest IT Certification, offered by Cisco systems. CCIE Voice/Collaboration is highest level expertise offered by Cisco Systems, in VoIP track.
Network Bulls offers CCIE Voice/Collaboration Lab exam training strictly as per Cisco CCIE Voice/Collaboration Lab Exam blueprint. You can request for Syllabus/Content over email. Network Bulls offers Dedicated CCIE Voice/Collaboration Rack during training. Network Bulls has produced Highest number of CCIE Voice/Collaboration Engineers in India in 2013. Network Bulls has produced the highest number of CCIE Engineers in Asia in 40xxx series.
CCIE Collaboration Lab Training is for candidates who are already through with their CCIE Collaboration or CCIE Voice Written exam certification and now are willing to prepare for CCIE Collaboration Lab Exam. In CCIE Collaboration Lab Training, you are given a dedicated CCIE Collaboration rack to practice in our World's Largest IT training labs with a certified trainer helping you throughout the journey of your lab exam preparation. Our trainers also help you in the case of any problem faced while implementing technologies in our labs providing world class training along with their guidance.
Pre-requisite: CCIE Voice/Collaboration Written
Why to choose Network Bulls for CCIE Collaboration Lab training:
Dedicated CCIE Collaboration rack

Fully loaded rack consist of 2911 ISR G2 Routers, 3750 Switches, Call Manager Version 9.0, Collaboration End points: 7961, 7965, 7970, DX650, EX60, Cisco Unity Connection Server, IM&Presence.

24X7 rack availability

Dedicated CCIE Voice/Collaboration Certified lab instructor

Over 70% passing rate in first attempt, 90% passing rate in second attempt

Updated practical workbook to simulate the real lab exam

One of the Top 5 biggest Cisco/Networking Training Labs worldwide.

World Class Infrastructure.

An ISO 9001-2008 certified company.

Incorporated under Central Government of India.
Network Bulls offer CCIE Voice/Collaboration Certification Training on real Cisco Routers, Switches, Collaboration End points, and Call Managers etc. We do not use simulator software for practical. Labs of Network Bulls are World's Largest IT Training Labs. Labs are 24x7 available for students to practice on real devices. We use real Cisco devices in this training program.
Routers: 2901, 2911
Switches: 3750
Collaboration End points: 7961, 7965, 7970, DX650, EX60
Other VoIP Devices: Call Manager, Call Manager Express, Cisco Unity Connection, Cisco Unity Express, IM&Presence, UCCX
Available Training Modes - Classroom Training, Online Training
Training Plan
Training Plan
Training Duration and Fee

Track

Regular Track

Fast Track

Duration

5 Days

5 Days

Price

(USD) 2300

(USD) 2300
Online Training
Available on Demand
Training Plan

Exam Code

Exam

Regular Track (Days)

Fast Track (Days)

NA

CCIE Collaboration Lab Training

5

5

Balance Days (For additional practice and rest)

0

0

Total Duration

5

5
Note: 15 days prior notification is required by the candidate before his/her arrival to India. Also, Fast Track is only recommended for experienced working professionals who have some basic knowledge about the relative field of technology chosen
Duration of CCIE Lab exam preparation depends upon various factors like candidate's previous knowledge, grasping speed, daily time spent in lab and candidate's confidence, which varies from candidate to candidate. Lab exam preparation's duration can be anything between 10 days to 90 days depending upon your performance and learning speed. Those who already have live working experience with Cisco enabled networks can complete their preparation in just 7-15 days of hard work. As per our experience, it generally takes around 1 month for lab exam preparation if you already have sound knowledge of CCIE Written exam syllabus.
We have around 70% of passing rate (Highest in Industry) in first Attempt and around 90% in Second Attempt. If a candidate unfortunately fails in CCIE Lab exam, he/she can continue practicing till the time he/she passes the lab. There is no additional charge for additional lab access.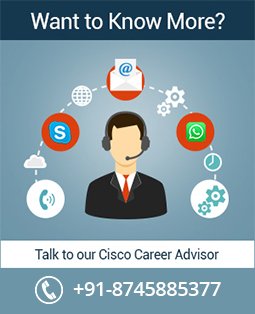 Fill the Form to
Know More