Cisco CCNA Q&As Ebook
Free CCNA Interview Questions and Answers Workbook - Network Bulls
CCNA Q&As Ebook – Overview
CCNA Q&A E-book is specially designed for the networking aspirants going to appear for CCNA R&S examination. This e-book contains questions along with answers, so you don't have to spend time in finding the right answer. The major highlights of this e-book are listed below –
1
Questions on entire CCNA Course
It contains the questions on the entire CCNA R&S course. Thus, you get questions for each and every topic in a single e-book.
2
Quick revision
Once you are done with the training, you can easily revise the major points by going through this e- book. It will help you to revise quickly without going through your books again.
3
Prepare for CCNA examination
This e-book will help you to prepare for the CCNA R&S examination as by going through this e-book you can easily assess the level of your preparation and can know topics which need attention.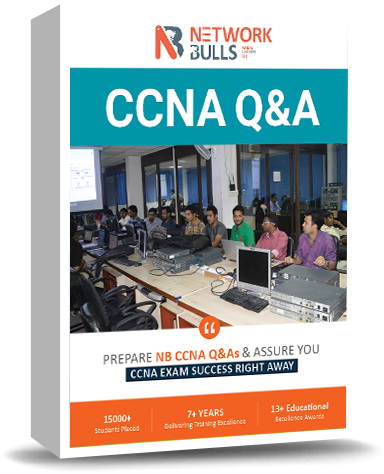 CCNA Questions and Answers Ebook