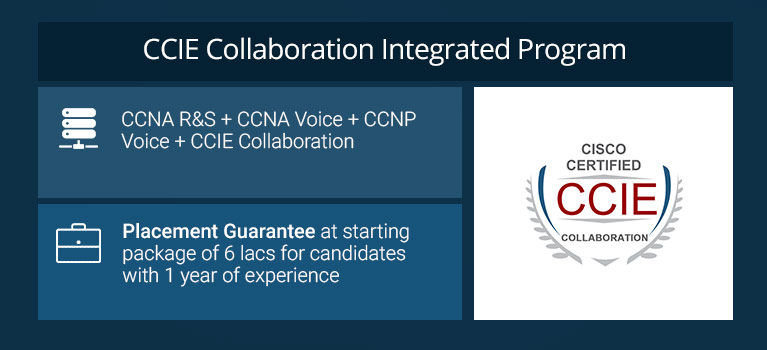 CCIE Collaboration (CLCOR + V3.0 Lab) Training
Course Description
Course Description
CCIE Collaboration certification offered by Network Bulls focuses on designing, executing and rectifying the many faced collaboration solutions in a network. This certification focuses on certain key concepts like infrastructure and design, protocols, codecs, and endpoints, Cisco IOS XE gateway and media resources, Call Control, QoS, Cisco Unified Communications Manager and collaboration applications which form a strong foundation of Collaboration Technologies for its applicants.
CCIE Collaboration certification is provided as per exam blueprint provided by Cisco.The qualifying exam for CCIE Collaboration certification CLCOR(Implementing and Operating Cisco Collaboration Core Technologies) is a 2 hours online exam which candidate needs to clear for being eligible for CCIE Collaboration V3.0 lab exam.
Devices used while preparing candidates for CCIE Collaboration V3 exam are as follows:
Routers: 2811, 2911
Switches: 3750
Collaboration End points: 7961, 7965, 7970, DX650, EX60
Other VoIP Devices: Cisco Unified Call Manager 9.0; Cisco Unified Call Manager Express, Cisco Unity Connection 9.0, Cisco Unity Express, IM&Presence, UCCX, etc.
Mr. Vikas Kumar

Triple CCIE #30078 (R&S, Security and Voice)

Mr. Mohit Bhalla

Dual CCIE #42145 (R&S, Security)
Training Plan
Training Plan
CCIE Collaboration CLCOR + V3 Lab Exam Training Plan

Track

Regular Track (Mon – Fri)

Weekend (Sat – Sun)

Training Duration

2 Months

5 Months

Hours

2 Hours a Day

3-4 Hours a Day

Training Fee

Rs 1,20,000/-

Rs 1,20,000/-

Available Training Modes
Classroom/Online
Classroom/Online
Note - The NB training fee doesn't include exam fees.
Daily classes at Network Bulls begin with 2 hours of theoretical training inclusive of in-depth training on CCIE Collaboration course. After completion of your theory class, practical sessions are conducted in our labs which are available 24x7, where you can practice and learn the actual working of the concepts learned for any number of hours as per your requirement.

CCIE Collaboration CLCOR and V3 lab course training is delivered by CCIE Collaboration certified trainers with 5-15 years of industry experience.

24x7 lab assistance while you are practicing in labs providing immediate solutions to problems occurring, ensuring uninterrupted high quality practical training.

Access to in house practical workbooks within no time.

Doubt sessions ensuring complete understanding of the course at each and every step.

Fully loaded dedicated racks are allotted to each individual for better understanding and implementation of the CCIE Collaboration conceptual scenarios.