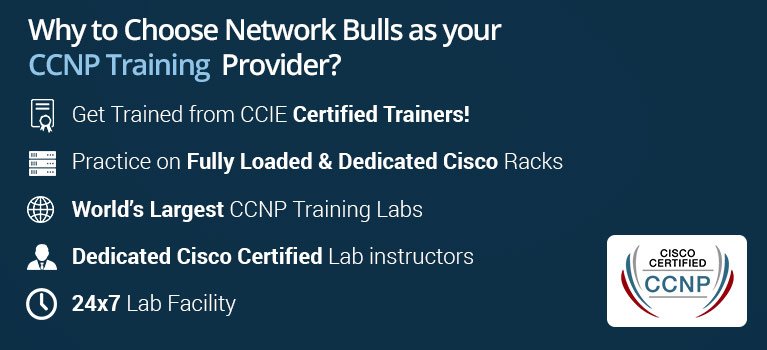 CCNP Voice Certification Course Training in Gurgaon, Delhi, India
Course Description
Course Description
This certification prepares aspirant's skillset necessary for combining collaboration and video apps in basic network structure. CCNP Voice certification aims at making its aspirants well equipped with knowledge and skills required for creating a clear, mappable, easy handled, and combined collaboration solution in a standard environment. Concepts like sound implementation of converged IP networks including its planning, operation, configuring and troubleshooting are also a part of CCNP Voice certification.
CCNP Voice certification is an intermediate level of certification in VoIP technologies, allowing candidates to acquire in depth knowledge on Cisco Unified Communications Manager (formerly Unified Call Manager), quality of service (QOS), gateways, gatekeepers, IP phones, voice applications, and utilities on Cisco routers and Cisco Catalyst switches.Apart from this combining and troubleshooting of Cisco Unified communication, Cisco Unity Connection and Cisco Unified Presence applications are also a part of CCNP Voice training offered by Network Bulls.
Devices used while imparting training on Cisco CCNP Voice course are as follows:
Routers:2801, 2811, 3825, 2911 series
Switches:3560, 3750 series
Collaboration End Points:7961, 7970, 9971, EX60 series
Servers:CUCM, CUC, UCCX, IM&Presence, VCS and TMS
Your daily class at Network Bulls begin with 2-3 hours of theoretical training which includes in-depth training on CCNP Voice course. After the theory class, practical sessions begin in our labs which are available 24x7, where you can practice and learn the actual working of the concepts learned for any number of hours you want to.
CCNP Voice course training is given by CCIE Voice (written) or CCIE Voice (lab) certified trainers with 5-15 years of industry experience.
CCNP Voice lab of NB consists of course specific devices: routers and switches with highly updated equipments and other required devices.
24x7 lab assistance while you are practicing in labs providing immediate solutions to problems occurring, ensuring uninterrupted high quality practical training.
Availability of Wi-Fi access to enhance your practical learning experience. Remote access to labs and devices within institute premises.
Access to in house practical workbooks within no time. Doubt sessions are also conducted in order to ensure complete understanding of each concept of the course.
Network Bulls as a leading CCNP Voice course training provider institute offers quality training services to students aspiring to become Voice certified professionals. With highly qualified Voice trainers having years of industry experience, NB strives to provide world class training to its students changing their professional lives forever. Our CCNP Voice course training program transforms fresher into voice professionals within just few months of rigorous training.
Mr. Vikas Kumar

Triple CCIE #30078 (R&S, Security and Voice)

Mr. Mohit Bhalla

Dual CCIE #42145 (R&S, Security)
Training Plan
Training Plan
CCNP Voice Training Duration and Fee

Track

Regular Track (Mon – Fri)

Weekend (Sat – Sun)

Training Duration

3 Months

5-6 months

Hours

2 Hours a Day

3-4 Hours a Day

Training Fee

Rs 80,000/-

Rs 80,000/-
Note - The NB training fee doesn't include exam fees.
CCNP Voice is updated version of CCVP and is professional level certification in Voice over IP track offered by Cisco Systems. Network Bulls offer CCNP Voice certification training in Gurgaon Center in Delhi NCR. Training is provided on Live CCNP Voice racks fully equipped with latest devices. CCNP Voice rack consists of 3 Cisco 2811 Series Routers, 1 3750 PoE Switch, 5 IP Phones of 7961 and 7965 series, Call Manager 9.0, Unity Connection 9.0 and CUPS Server.
Students will go through 2 Hours of classes from a CCIE Voice certified trainer, in which both theoretical and practical parts will be covered. Live CCNP Voice racks are already placed in classrooms to enhance practical learning. As it is impossible to deliver CCNP Voice training, if live CCNP Voice racks are not available in classrooms.
After completion of 2 Hours of Classes, you are free to practice in our labs fully equipped with multiple CCNP Voice racks. CCIE Voice certified lab instructors will be available in labs to help you out during practical sessions.
Labs of Network Bulls are open 24x7, so you can practice in our labs for long hours without any restrictions. You can also come at nights to access labs.
You can access Silent and Discussion zone areas for self-study and group discussions with your batch mates and seniors.
Student Reviews
Student Reviews
I am feeling proud to write about my learning experience at Network Bulls. I am sure it will inspire lot many students from all over the globe. It was a wonderful learning experience with NB. I Enrolled for CCNP Collaboration course, post completion of which I got job placement in Dimensions India. It all happened because of knowledge imparted by my trainer, incredible lab facilities provided by NB and my hard work. My big time thanks to NB family for everything.

Gaurav
CCNP Collaboration/Voice
India
Network Bulls is the only institute in world where you can access CCNP Collaboration racks while doing CCNA Collaboration training. I enrolled for CCNA Collaboration certification course in India. My trainer was Mr. Sudhanshu who is CCIE Voice certified and a great trainer. Labs are fully equipped with latest devices as per Cisco CCNA Collaboration lab equipment checklist suggested by Cisco. It was worth investing in my studies here.

Abhay
CCNP Collaboration/Voice
India
Hi, my name is Benjamin Tucker and I am from the United Kingdom. I came to Network Bulls for completing my CCNP Routing and Switching. I learned a lot about Networking and improved my Networking skills to a great extent. It was a fantastic experience at Network Bulls.

Benjamin Tucker
CCNP R&S
United Kingdom