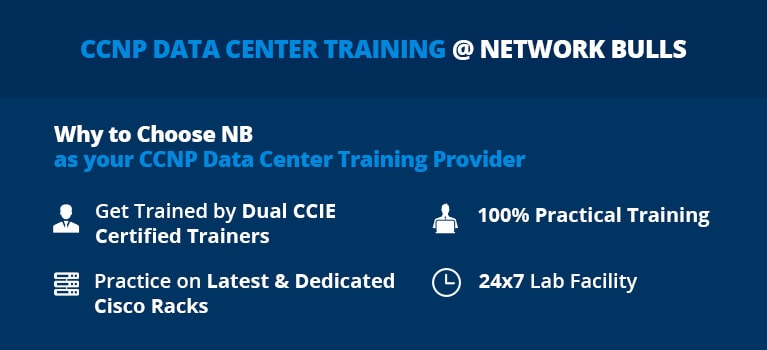 CCNP Data Center Certification Training
Course Description
Course Description
CCNP Data Center Course Description
CCNP Data Center certification is the professional level certification in Data Center domain offered by Cisco Systems. CCNP Data Center training builds a strong foundation for managing, installing, configuring, and maintaining a Data Center Infrastructure.
As a Cisco CCNP Data Center Certified Professional, you will have hands-on skills for working in Complex DC environments making use of advanced technologies such as – virtualization, orchestration and automation; data center security, unified computing, integration of cloud initiatives and policy-driven infrastructure.
Network Bulls' CCNP Data Center Certification Training provides in-depth knowledge on advanced Cisco Data Center technologies. We provide CCNP DC Certification Course training on real DC devices including ACI Spine 9k series Nexus, Cisco Nexus 7000, 5000 and 2000 Series Switches, UCS etc., thus you learn the practical implementation of the advanced DC technologies. Post completion of your CCNP Data Center course at Network Bulls, you will be eligible for senior level job roles which include Data Center Network Engineer, Data Center Architect, Network Design Engineer, DC Support Engineer, Cisco Data center Implementation Engineer, and DC Pre-sales Engineer.
Network Bulls is Best Institute for CCNA DC and CCNP DC Certification course Training in India. We are the only Cisco Training institute in India to offer Cisco CCNA, CCNP and CCIE DC Training with most updated infrastructure including 9000 Series Nexus ACI. Having the Biggest Cisco Data Center Training Labs in Gurgaon, we have students from all over India, including majority of students from Noida, Gurgaon and Delhi. If you are looking for CCNP DC Course training in Delhi, Gurgaon or Noida, NB is the only and best training institute to help you achieve your Certification and Career goals.
CCNP Data Center Training prerequisites:
You want to get CCNP Data Center Certification, then you need to pass CCNA DC Certification first. But if you are just looking for CCNP DC Training, then you don't need to have any Certification, but in-depth knowledge of CCNA R&S and CCNA Data Center Course is mandatory.
Mr. Mohit Bhalla

Dual CCIE #42145 (R&S, Security)
Training Plan
Training Plan
CCNP Data Center Certification Training Plan
CCNP Training Fee and Duration

Track
Regular Track
Weekend (Sat & Sun)
Duration
2-2.5 Months
3- 4 Months
Hours
2 hours a day
3 hours a day
Training fee
90,000/-
90,000/-
Available Training Modes
Online/Classroom
Online/Classroom
Note: The NB Training Fee doesn't include CCNP DC exam fee.
CCNP Data Center Course Syllabus:
CCNP Data Center syllabus is divided into four modules. Below is the brief description of all the four modules of CCNP Data Center course–
Implementing Cisco Data Center Infrastructure (DCII) 6.0
Configuring MST, port channels and RSTP, and implementing OTV, Cisco Fabric Path, LISP and VXLAN.
Configuring routing, multicast and first-hop redundancy in the data center.
Configuring user management &implementing system security features on Cisco Nexus switches.
Implementing Fibre Channel port security and binding,managing Fibre Channel domains and performing basic Fibre Channel configuration.
Configuring FCoE, distributed device aliases, FCIP, NPV, and zoning.
Configuring system management & infrastructure monitoring.
Implementing Cisco Data Center Unified Computing (DCUCI) v6.0
Installing UCS B-Series system and deploying service profiles making use of service profile templates and pooled identities.
Configuring UCS B-Series system for the purpose of deployments making use of iSCSI. Configuring B- &C-Series systems for the purpose of deployments making use of Fibre Channel for booting and regular data access.
Configuring and implementing security mechanisms like LDAP integration, RBAC with Organizations and Locales, key rings and trusted points.
Implement and configure monitoring with Call Home and syslog.
Managing UCS Manager domains with UCS Central, interact with the UCS Manager XML API and manage multiple C-Series servers with Cisco IMC Supervisor.
Implementing Cisco Data Center Virtualization and Automation (DCVAI) v6.0
Implementing infrastructure virtualization solutions, such as VRFs, VDC, Cisco AVS and Cisco Nexus 1000v.
Identifying programmability methods and programing Cisco Nexus switches using NX-API, XML, and Python.
Implementing Cisco ACI solution which provides fabric connectivity to virtual machines, bare-metal hosts, and external L2 & L3 domains.
Integrating Cisco ACI with virtual machine managers, like VMware vCenter.
Enforcing application policies in inter- and intra-tenant scenarios.
Deploy micro-segmentation and Cisco AVS.
Programming Cisco ACI using RESTful APIs, Aryaand Python.
Monitoring Cisco ACI deployment making use of atomic counters & monitoring tools.
Troubleshooting Cisco Data Center Infrastructure (DCIT) v6.0
Troubleshooting L2 technologies, like port channels, STP,vPC, FEX and Cisco Fabric Path.
Troubleshooting routing, CFS and first-hop redundancy in the data center.
Troubleshooting virtualization solutions, like VRF, VXLAN and OTV.
Troubleshooting SAN including FCoE, Fibre Channel, NPV, NPIV and zoning.
Troubleshooting data center unified computing.