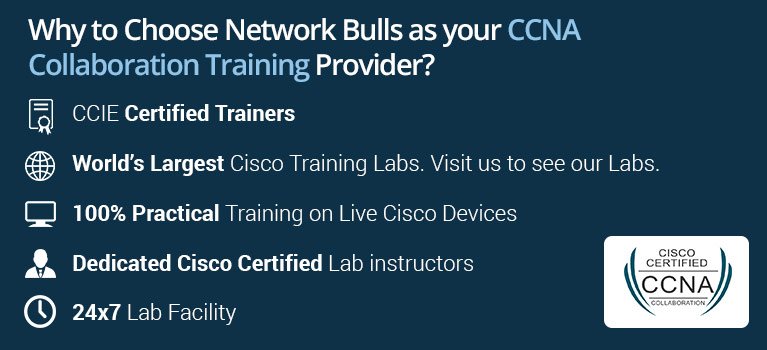 Course Description
Course Description
An associate level of certification in VoIP technology, it equips candidate with ability to create and manage a voice enabled network. This certification validates aspirant's knowledge and skills required to handle voice network tasks via VoIP technology like IP PBX, IP telephony, IP phone, call agent, voicemail, etc. CCNA Voice certification is suitable for candidates aspiring to become either a VoIP engineer/manager or VoIP technology administrator.
Network Bulls CCNA Voice course training especially focuses on topics like Cisco Unity Connection, Cisco Unified Communications Manager, Cisco Unified Communications Manager Express, PSTN, etc.
The devices used while providing world class CCNA Voice training at Network Bulls are as follows:
Routers: 2901, 2911 series
Switches: 3560, 3750 series
Collaboration End points :7961, 7965, 7970, DX650
Cisco Unified Communication Manager v8.x/9.x
Cisco Unified Communication Manager Express v8.x/9.x
Cisco Unity Connection v8.x/9.x
CCNA Voice Course Outline: 210-060 CICD 210-065 CIVND1&2
Prerequisites – CCNA
1. Describe the Characteristics of Cisco Unified Communications Solution like its functions and components, call signaling and media flows, etc.
2. Understand Provision End Users and Associated Devices like Cisco Unified Communications Manager and Cisco Unified Communications Manager Express, creation and modification of user accounts for Cisco Unified Communications Manager and Cisco Unified Communications Manager Express.
3. Describe and configure Voice Messaging and Presence (Cisco Unity Connection or Cisco Unity Presence) and Create or modify user accounts for Cisco Unity Connection.
4. Maintain Cisco Unified Communications System like CDR, CMR, etc., capacity report generation, monitor voicemail usage, and much more.
5. Understand Provide End User Support (PSTN Connectivity, troubleshooting endpoints, usage of phone applications, defining fault domains, etc.).
6. Configure and understand video end points with Cisco unified communication manager. Implement 2611 XM router and understanding analog signaling (FXS, FXO etc).
Network Bulls - a leading Cisco training provider institute offers commendable CCNA Voice training services to applicants coming from different parts of the world. Our CCNA Voice training makes aspirants well versed with ins and outs of VoIP technologies, making them employable at the same time.
Available Training Modes – Classroom Training
Training Plan
Training Plan
CCNA Voice Certification Training Plan

Track
Regular Track (Mon – Fri)
Weekend (Sat – Sun)
Training Duration
50 days
6-7 Weekends
Hours
2 Hours a Day
3-4 Hours a Day
Training Fee
27,000/-
27,000/-
Note - The NB training fee doesn't include exam fees.
Regular theoretical class for CCNA Voice is for 2-3 hours after which practical class for the same is conducted. The practical sessions for CCNA Voice course can be for n number of long hours, as per student's wish or requirement.
The training provided on CCNA Voice course is given by CCIE Voice (written or lab) certified trainers who have minimum of 5-15 years of industrial experience.
Students are free to practice day/night in our 24x7 available labs sharpening their conceptual skills for the taken up CCNA Voice certification.
Dedicated CCNA Voice racks
Unlimited Rack access for better practical exposure
In-House practical workbooks
Student Reviews
Student Reviews
Network Bulls is the only institute in world where you can access CCNP Collaboration racks while doing CCNA Collaboration training. I enrolled for CCNA Collaboration certification course in India. My trainer was Mr. Sudhanshu who is CCIE Voice certified and a great trainer. Labs are fully equipped with latest devices as per Cisco CCNA Collaboration lab equipment checklist suggested by Cisco. It was worth investing in my studies here.

Ashutosh
CCNA Collaboration/Voice
India
Hi I am Nitish, I perused my CCNA & CCNP Voice from Network Bulls and i got a job offer from Orange Business Services which is a renowned IT company as we all know. At Network Bulls labs are open 24x7, management and support staff is very good. Trainers are best in industry and here every type of help is provided to make sure that our preparation is solid. Thanks NB.  

Nitish
CCNA Collaboration/Voice
India