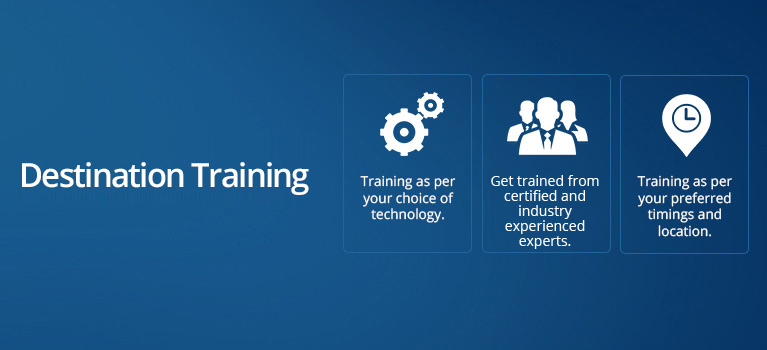 Destination Training
With rapid development in technological trends and skillset required by companies, the need of constantly updating one's professional memorandum acquires prime importance. Whilst technology becoming archaic in matter of no time, it becomes extremely important for IT professionals to update their technical skills in order to grow and become valuable for their respective organizations. Keeping this in mind, Network Bulls has started destination cum outstation training for IT Professionals on constant travel providing them an opportunity to change the fate of their professional lives forever.
Our destination training enables professionals all over the world to enhance their skillset even when they are travelling to and fro or are on vacations. Be it any place in India or Abroad, NB guarantees to provide exceptional destination training services to candidates worldwide. Be it any part of the world, our certified experienced trainers are always there to train you as per your preferred location, timings, and schedules.
We provide destination training using two modes of training that is:
Online Training: which is instructor led face to face training using WebEx or Skype.

On-site Training: which is flying a trainer to your desired location, training you as per your own convenience and learning pace.
NB's Destination training Highlights
Training as per your choice of technology.

Get trained from certified and industry experienced experts.

Training as per your preferred timings and location.

Complete assistance that is accommodation, travel and booking of the test, if any.

Easy access to study material via mail or courier (whichever preferred).

Explore your dream destinations while updating your technical profile.

Recorded sessions for post training revision.

Doubt sessions, if required.

Training as per course content specified.
All you need to do is choose from the wide variety of options given and follow the below mentioned procedure:
After finalizing the course, you need to inform us so that we can share the concerned course's duration, cost and other relative information.

After confirming your taken up course and relative information, we book your slots and trainer.

Choose a hotel of your own choice. We can even assist you on the same.

Book your flight and apply for visa.

Confirm your dates with us so that we can send our trainer to your location.

Start your training as per your own convenience.
Note: All the expenses of the trainer will be borne by us, you just need to pay the desired fee for the opted course.