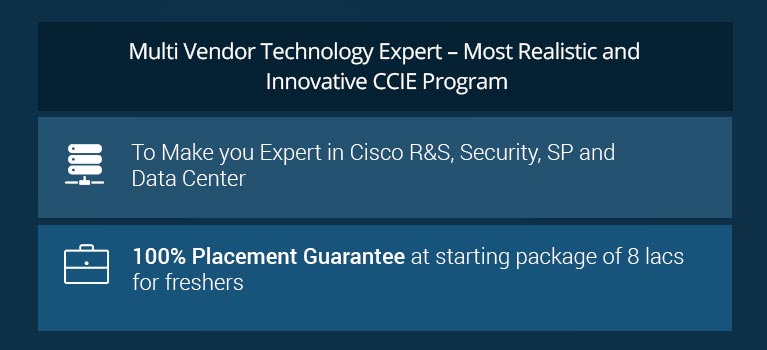 Multi Vendor Tech Expert - Most Innovative & Realistic CCIE program
Infographic
Multi-Vendor Technology Expert
MVTE course designed and offered by Network Bulls is an amazing combination of Cisco Routing & Switching, Security, SP and Data Center technologies along with Multi Vendor Firewall trainings.
What you gain in this course?
Network Designing

You learn how to Design Network and Security solutions for your organization using Cisco Routers & Switches and Multi Vendor Firewalls (Cisco, Check Point, Juniper, Palo Alto).

Network Implementation

You learn how to implement Enterprise level of complex networks with hundreds and thousands of users by configuring Cisco Routers & Switches using technologies like RIP, EIGRP, OSPF, BGP, MPLS, VLAN, VTP, STP, and many more.

Network Security

You learn how to design and implement Network Security solutions for the Network you created using Cisco ASA 55xx series Firewalls, Juniper SRX Firewalls, Palo Alto Firewalls, Check Point Firewalls, VPN technologies and many more.

Network Monitoring & Ticketing

You learn how to work on various Network Monitoring & Ticketing tools from different vendors, while working in any company as proud Cisco Engineers.
Course Description
Course Description
For the first time in history, a course has been launched which is designed by experts after consulting hundreds of technical managers who are facing difficulty in finding industry ready skilled professionals. After analyzing the current and future industry needs, we have introduced a program which covers not only Cisco, but Juniper, Palo Alto, Checkpoint, Virtualization and Cloud as well. It not only covers Routing & Switching, but Security, Data Center, Cloud Computing, Service Provider technologies as well. Network Monitoring and Ticketing Tools are also included in this high tech program, which has been a serious problem for companies, as their new hiring's were experts into technologies but newbie for various tools used in industry for network monitoring and client support purposes.
Our Mission behind this customized Multi-Vendor, Multi-Technology program is to make students ready for new age technologies as per current market trends. Market is changing tremendously, IT vendors like Checkpoint, Juniper, Virtualization has also grown tremendously in last 10 years, innovating technologies, enhancing user experience, making world more open and secure. A company now forms a network not only with Cisco but with products from other vendors as well. Companies are buying multi-vendor hardware forming multi-vendor environment, enhancing the user experience and security with multi-vendor, multi-technology, multi-layer protection for their networks. Security especially is now not only limited to Cisco, Juniper and Checkpoint but also has given lot of flexibilities for a network admin to form a network with thousands of new technologies.
Benefits and Training Methodology:
Benefit of this course for you will be that you will become Multi-Vendor and Multi-Technology Expert and job ready, and will become most demanded professional in Networking Industry.
A Course which will not only make you employable but also kills the competition for you!
A Course which is 5 years ahead of any other course offered in industry!
It is like a dream for any Network Engineer working in industry to master technologies covered in this program in their lifetime. CCNA R&S + CCNP R&S + CCIE R&S + Advanced BGP + Advanced MPLS + Nexus + Virtualization + Cisco Firewall + Juniper SRX Firewall + Palo Alto Next Generation Firewall + Checkpoint Firewall + VPN + Cloud Computing + Network Monitoring + Ticketing Tools. What a Combo! - Unbeatable.
It will be a 100% Job Guaranteed program like CCIE, only difference between this program and other programs will be that you won't need to appear for CCIE exams to get placed. Our goal will be to place you in some reputed company in Delhi NCR before completion of your course, so that you can start working and keep on preparing for your CCIE exams simultaneously in weekends from Network Bulls. By the time you will clear your CCIE; you will have Hands-On experience and can easily switch to some other company with CCIE tag or can also demand for salary hike in present company. Salary packages after completion of this course will vary from candidate to candidate based on their technical and presentation skills. Starting package could be anything between 2.5 Lacs per annum to 8 lacs per annum depending upon the skills. If you already have relevant experience, let's say 1 year, your package is guaranteed to be between 4.5 to 9 lacs.
Available Training Modes - Classroom Training
Mr. Vikas Kumar

Triple CCIE #30078 (R&S, Security and Voice)

Mr. Mohit Bhalla

Dual CCIE #42145 (R&S, Security)

Mr. Praveen Kataria

CCIE Security #43866
Training Plan
Training Plan
Program Contents:
CCNA R&S, CCNP R&S, CCIE R&S, Advanced BGP, Advanced MPLS, Nexus, Virtualization, Cisco ASA Firewall, VPN, Juniper SRX Firewall, Palo Alto Next Generation Firewall ,Checkpoint Firewall, Cloud, Network Monitoring Tools and Ticketing Tools.
Training Plan - Multi Vendor Technology Expert Program

Track

Intensive Training - Regular Track

Training Duration

10 -12 Months

Training Days

Monday to Friday

Total Minimum Hours Required per Day

8 Hours for Classes, Practice & grooming

Classes

2-3 Hours a Day

Practice Per Day

Minimum & Mandatory 3 Hours/Day

Grooming Classes

Mandatory 2 Hours a Day

Training Fee

(One Time Payment)

Rs 1,30,000/-
Notes - 1. The NB training fee doesn't include exam fees.
2. Revised Fee Structure will be effective from 5th June 2017.
Installment Plan :
Pay in 4 Easy Monthly Installments:
1st Installment: Rs 40,000/-
2nd Installment: Rs 40,000/-
3rd Installment: Rs 40,000/-
4th Installment: Rs 40,000/-
This new course will come with entire new training methodology. It will be a full time training program, covering 2-3 hours a day classroom training, minimum and mandatory 3 hours a day practical training and mandatory 2 hours a day grooming.
In this training plan, we will deliver 2-3 hours a day classes (theory + practical), after completion of the classes, you will be taken to labs where dedicated lab instructors will be waiting for you with some preplanned practical scenarios and to make sure you implement each and every technology discussed during classes practically. You will have enough time to implement it by your own and discuss the doubts and clear the confusions. After practical sessions, you will get a break for 1 hour for refreshments and lunch. Post lunch, you will be taken to a classroom, where you will go through Spoken English, Presentations, Group Discussions, Interview Preparation, Mock Interviews and lot more throughout your training duration.
After your mandatory classes and practicals, you are free to relax, self study and practice as much as you want as our labs are open 24x7. You will feel highly motivated and fresh after grooming classes, and you will love to practice more and more. And 24x7 Lab Facility is waiting for you upstairs!
Note:
For Winter Batches (January and February), refreshment/lunch break will be given before practical sessions.
3 hours a day Practical Classes will be provided only for CCNA and CCNP R&S batches to build a strong foundation. For CCIE R&S practicals, we encourage students to create their own practicals in labs and implement them in presence of Cisco Certified lab instructors. Minimum 4-5 hours a day practice is recommended when you start your CCIE training. Lab Instructors will be available in labs 24/7 to help you. Don't restrict your practice for 2-3 hours a day. Read books, Do unlimited practicals and take help from your lab instructors during your practicals. Happy Learning!!
Training Schedule

Month

Intensive Training

October
-
November
21st Nov 2017
December
19th Dec 2017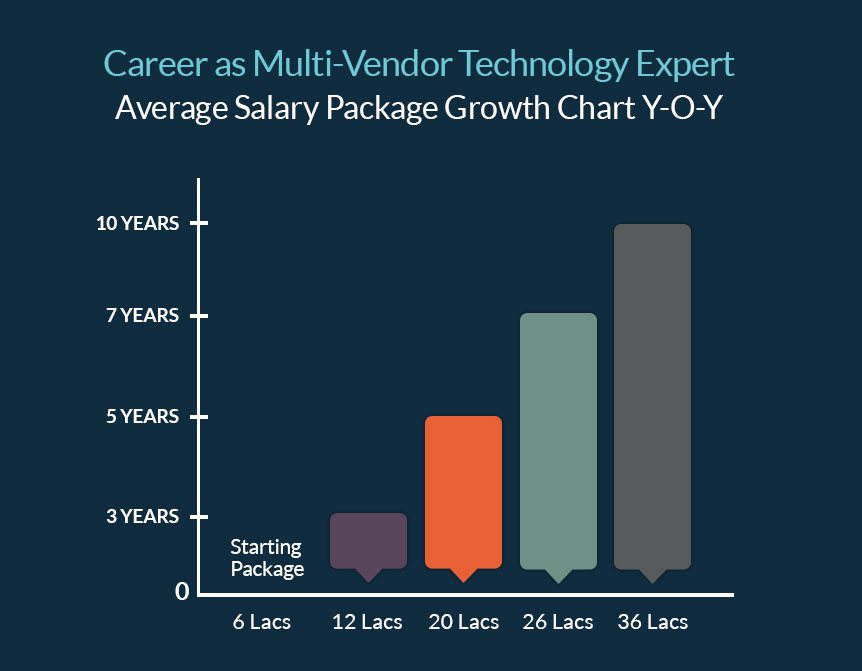 Student Reviews
Student Reviews
I joined Network Bulls for MVTE course which consists of CCIE R&S integrated course + multi-vendor Firewall training (Juniper, Palo Alto, Cisco and Checkpoint), Cloud, Nexus, BGP, MPLS and lot more. Even before completion of my course I got placed with CSS Corp as Network Security Engineer and that too without passing any CCIE exams. It's all because I chose to get trained in Intensive Training Model launched by NB, which improved my communication skills along with technical knowledge.

To start my career with starting salary package of 6 Lacs was my dream and it came true when I got job placement in CSS Corp as Sr. Network Engineer last month. I am thankful to my trainers, and entire Network Bulls family for such a wonderful learning experience and making my career.

I joined Network Bulls for CCIE R&S course in June 2012 and cleared CCIE R&S Lab exam successfully in first attempt. I loved world class training and support from Network Bulls. Network Bulls is best CCIE Training Institute, with one of the finest Cisco Training infrastructures and Best CCIE Trainers. Training Labs of NB are biggest in India.

Sumit Panghal
CCIE R&S
India
I passed my CCIE Voice lab exam last week. My CCIE number is 40586. My training experience with NB is awesome. Labs of NB are fully equipped with latest Cisco devices. Labs are 24x7 open along with trainers' support. Post passing my CCIE Voice lab exam. I am thankful to team NB for everything.

Vikas
CCIE Collaboration/Voice
India