CCNA training and Salary after CCNA Course training is best in Delhi/Gurgaon.
Most of the experienced Network Engineers working in Gurugram/Delhi have over 2.5 LPA package.
The salary package keeps growing according to your level of training and your designation in an organization. 
Here in this picture, you can see the quick stat for salary packages owned by Cisco trained professionals after different levels of Cisco certification training.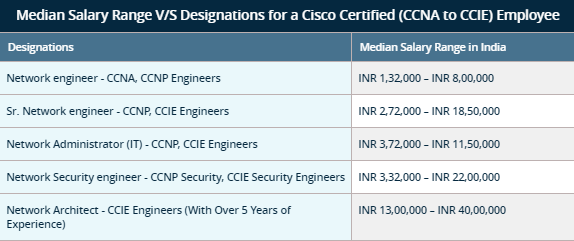 Now you know what salary package you will get after CCNA, CCNP, CCIE training, but this salary packages depend on your job location.
Take a look,
So, in cities like Bangalore, Delhi, Gurgaon, Noida, Mumbai, Pune, Hyderabad, Chennai, and Kolkata you can get the highest salary after doing CCNA course in Gurgaon, Delhi/NCR.