Can You answer this
question?
CCIE is considered to be an expert level certification provided by Cisco Systems. A CCIE certified credentials would have a level ahead of job responsibility from networks and networking solutions to implementation and troubleshooting of complex converged networks.
There are lots of job roles depending upon the varied CCIE Certification tracks. For instance, one with CCIE certification in the Security track would be hired as Network Security Administrator in an organization.
Correspondingly, Cloud Administrators, Network Security Specialist, Communication Network Engineer, Cloud Specialist, System Administrators, Cloud Architects, Cloud Designers are considered to be some of the many job titles about various CCIE certification tracks.
Scope After CCIE Certification
Post CCIE course training and certification, you would be eligible for numerous and astounding job roles with a vast future scope. At the same time, the job responsibilities might be varying according to job roles for every track.
The below-mentioned are the top 5 job roles after CCIE certification with their job responsibilities to help you out in deciding which CCIE track and job roles are better for shaping your career.
1. Sr. Network Support Specialist
Senior Network Support specialists' significant job responsibility would be to develop, maintain functional and secure networks. The day-to-day task of the CCIE certified credential is considered to be mentoring a team of engineers to troubleshoot as well as optimize networks on users' end.
2. Sand Security Engineer
The Senior Network Security Engineer's job role would be provided to CCIE certified personnel in the Security track. The Security Engineers would be able to deploy, choose, support, and troubleshoot Cisco firewalls, VPNs, and IDS/IPS solutions for an efficient networking environment. They would also be Creating, overseeing as well as test security measures.
3. Principal Network Architect
A Principal Network Architect would have a goal to establish networks that catering your customer requirements.
• They would be designing and implementing functional network infrastructure
• They would be resolving issues that fellow network support engineers are going to escalate.
• They would also be mentoring team members as well as addresses user requirements.
4. Network Administrator.
The regular job description of a Network Administrator would be to design and deploy functional networks, such as LAN, WAN, WLAN.
• They would be automating the tasks as well as monitoring their effectiveness.
• Mentoring team members on issues related to technical vicinity.
• Communicating with end-users when required.
• Maintaining complete technical documentation is considered to be the task of the Network Administrator.
• They could also suggest improvements to capacity, network performance, as well as scalability.
5. Sr. Network Engineer
The Senior Network Engineers are considered to be somehow similar to wireless Engineers and Senior Network Technicians. They would be configuring and installing servers, software, routers, and other network devices with Network Engineers on remote access or user end. The primary job responsibility of the Senior Network Engineer would be to monitor the network its performance as well as integrity.
So, these were the top 5 job roles that would be offered to a CCIE certified credentials. CCIE is considered an expert-level certification, and anyone could attempt this exam, i.e., there would be no pre-requirement for attempting the CCIE certification exam. But one is entailed to have valid CCNA, CCNP, and CCIE knowledge for achieving the CCIE certification.
Obtaining CCIE Certification again is not that much easy and requires lots of studying. Some excellent and reliable study dumps might also come in handy, like the SPOTO CCIE Exam Dumps. SPOTO CCIE Exam Dumps are formulated by experts who have about 18 years of experience. Thus they are 100% accurate.
CCIE (Cisco Certified Internetwork Expert) is known as World's one of the most demanded and highest paid IT Certification. CCIE is highest level of Cisco Certification offered in majorly 7-8 tracks including Routing & Switching (The oldest CCIE track), Security, Service provider, Data Centre, Wireless and Collaboration. Also known as doctorate in Cisco Networking, CCIE is one of the most prestigious IT Certifications worldwide.
A fact can not be ignored that there are only around 45,000 CCIE certified engineers worldwide in 2017. Whereas even if we had 200,000 CCIE engineers, we would have employed all of them because of huge demand of knowledgeable Cisco engineers.
Talking about India, 99% of engineers have no idea that CCIE is a certification and high in demand. They have no idea that if they do serious studies of CCIE and pass CCIE lab exam, they will earn 2x more than normal Btech engineer. Even only 3% of Networking professionals worldwide pass CCIE in their lifetime.
CCIE Routing & Switching and CCIE Security Certifications are best options for fresher Btech/BCA graduates in India to get their careers kick started. Career and Scope after CCIE Certification can not be compared with any other stream in India. Imagine a student who did CCIE course as a fresher and passed the Certification and got placed at 5-6 lac package in Gurgaon/Bangalore. On the other hand if a fresher Btech student chose Java programming or PHP etc, he/she will not get starting salary package of more than 3 lacs.
And after 10 years, CCIE guy will be withdrawing over 25-30 lacs whereas the other software guy must be withdrawing 12-15 lacs package.
Here's Median Salary of CCIE Certified Engineers in India: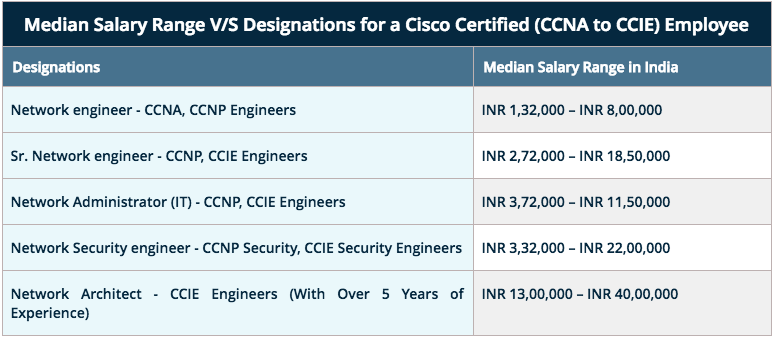 Do you want to know Salary Package of Fresher CCIE Engineers in India and scope of CCIE Engineers in India? Here's the list of Salary Packages withdrawn by CCIE Certified and Non-Certified Engineers as freshers.
Salary for Fresher CCIE Students:

Above is the annual average Salary Packages of CCIE Certified Engineers in India in 2017.
Job Designation of CCIE Engineers in India in 2017: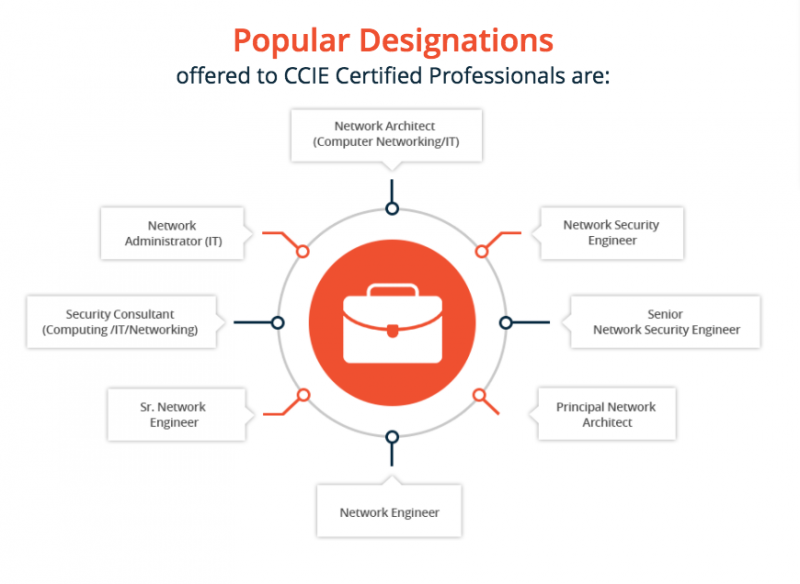 CCIE is highest level of Cisco Certification offered in majorly 7-8 tracks including Routing & Switching (The oldest CCIE track), Security, Service provider, Data Centre, Wireless and Collaboration. Also known as doctorate in Cisco Networking, CCIE is one of the most prestigious IT Certifications worldwide.
Regards : CCIE course in pune
There ius good scope of CCIE . My sister has done CCIE course after B tech . She is working in Gurugram with one of the top company and earming handsome package. 
You can apply for follwing job profiles in India. 
Technical Subject Matter Expert
Network Engineers
Senior Network Engineers
IT Consultants
Network Security Engineers
Network Architect
Network Specialist
The highest level of Cisco certification CCIE is globally acclaimed. Most of the IT organizations look for the CCIE certified or trained professional to hire for supporting their network.
Which makes CCIE reputed, in-demand, and highest paid IT certification in the networking domain.
CCIE trained professionals easily get job if they have solid networking knowledge without even passing any Cisco certification exam.
Scope of CCIE in India, you can check in this video - https://youtu.be/G10kcJLT6HQ
Job roles after CCIE training and certification are Senior Network Engineer, Network Administrator and job responsibility will depend on your track.
But one thing I can guarantee is that you will enjoy fulfilling your job roles.
Now, salary after CCIE, is no doubt will be better and more than any non-trained individual working in the IT sector.
With CCIE training you can visit places. I have seen CCIE trained professionals finding a good job outside India with 3-5 of working experience. So, I can say scope of CCIE out of India is bright.
Cisco CCIE Network Engineers have demand globally, in fact there are only 55000 CCIE's all round the world whereas, their requirement has been increasing drastically.
If you live in India, China, USA, UK, UAE, or any other big IT hub countries than you must do Cisco CCNA, CCNP, CCIE training to achieve more and more success within your own country.
Network Bulls situated in Gurugram, India is the best Cisco courses training center in the World. Approx. 40+ countries students visit Network Bulls to pursue job-oriented CCNA, CCNP, CCIE training and clear CCIE certification exam.
So, if you dream to get CCIE training and achieve CCIE certification than its the best option you have in India.