How much salary can we get after doing CCNA course in Delhi Gurgaon?

A CCIE Student & Music Lover

Can You answer this
question?

Principal Network Architect - Array Networks
Salary packages of CCNA engineers are good enough to get their careers started with. Don't run behind salary packages, focus on learning.
I have seen many CCNA level engineers withdrawing very good salary packages in Gurgaon and i have also seen people with CCNA Certification but jobless.
I have seen my entire CCIE batch at network bulls getting placement after completing the course, and i have also seen some of the students not getting placed because of lack of knowledge and practical knowledge.
Those students who focused on learning and studies and never worried about jobs, got placed at good packages.
And those students who were always worried about job but never studied hard, couldnt find good companies to work with.
I have seen students not working hard, not learning, not practicing and getting worried about jobs.
Focus on your developing your skills.
Well, it totally depends upon you.
If you have sound knowledge of all CCNA technologies, along with good communication skills, and clear the interview of companies like Aricent, BT etc, you can easily expect salary package of around 2-2.5 Lacs as fresher.
But if you have average communication skills and average knowledge of CCNA course, then you can not expect much. Even there are chances that you will not get a job in Cisco Networking domain. So make sure you have good knowledge and good communication skills.

CCIE Security
Here are the possible CCNA or CCNP level job designations:
Network Engineer, Network Technician, Residential Network Engineer, Network Support Engineer to name a few. Generally Network Engineer is the designation of a CCNA or CCNP level L1 Engineer. If you are looking for job after doing CCNA Course, then you should explore these designations in naukri or monster.
Here are possible Salary Packages of CCNA Engineers according to cities:
Bangalore, Karnataka: Rs 1,77,260 - Rs 9,67,858
Chennai, Tamil Nadu: Rs 1,48,630 - Rs 6,09, 529
Mumbai, Maharashtra: Rs 1,43,500 - Rs 6,39,102
Hyderabad, Andhra Pradesh: Rs 1,48,343 - Rs 6,06,599
Pune, Maharashtra: Rs 1,58,597 - Rs 7,33,151
Delhi, Gurgaon, Noida: Rs 1,50,285 - Rs. 6,25,579
Source - PayScale.com
I hope it helps!
It is seen that there are not much opportunities in delhi and gurgaon after doing ccna only. Competitionis getting more tough day by day. Your other skills also play a key role in getting employment.
Positive thing is that you can expect a nice package and growing company if you can move around pune or bangalore or other some other part of india.
CCNA salary in India: Salary depends on company to company and candidate technical knowledge.
If you are confident, hold deep technical knowledge then easily you can crack interview in the big companies. You know better big brand offers the highest salary package to the knowledgeable candidates.
So salary package after CCNA, totally depend on you bro.
Do hard work and study day and night during your CCNA course training and try to gain in-depth knowledge about networking.
Best of luck dude….
This is a very nice one and gives in-depth information. I am really happy with the quality and presentation of the article. I'd really like to appreciate the efforts you get with writing this post. Thanks for sharing.
CCNA  course in pune
Salary package depends upon the company you are joining and it also depends upon your experience also. One of my known has done CCNA after MCA Course and earning in 5 figures. So it is good course and salary packages are good if your concepts are clear and as your experience will increase, you will be able to get very high package. 
CCNA training and Salary after CCNA Course training is best in Delhi/Gurgaon.
Most of the experienced Network Engineers working in Gurugram/Delhi have over 2.5 LPA package.
The salary package keeps growing according to your level of training and your designation in an organization. 
Here in this picture, you can see the quick stat for salary packages owned by Cisco trained professionals after different levels of Cisco certification training.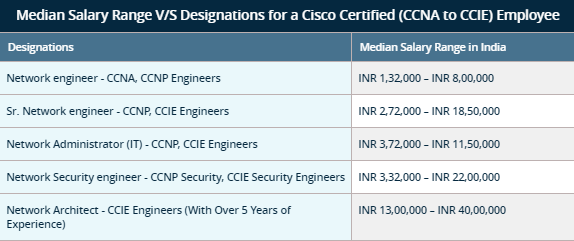 Now you know what salary package you will get after CCNA, CCNP, CCIE training, but this salary packages depend on your job location.
Take a look,
So, in cities like Bangalore, Delhi, Gurgaon, Noida, Mumbai, Pune, Hyderabad, Chennai, and Kolkata you can get the highest salary after doing CCNA course in Gurgaon, Delhi/NCR.