How can you guarantee a job for students who has no experience in Networking field?
I studied in many pages that without experience the CCIE certification is of no use. Most of the reviews I have seen are in cisco.com. They say that reading and putting answers on paper is totally different from the real world. I am in a state of confusion what to do next. I have done my CCNA R&S training in Hyderabad. I want to join network bulls to complete my CCIE. Please help me.

Can You answer this
question?
Reading reviews online and implementing changes on the basis of them is totally different from the real world. If you are CCIE definitely it means that you are certified from CISCO and you have knowledge wherein you cannot compare yourself to a professional guy working in MNC from past 5-6 years (average) and is CCIE as well.
No institute in the world can guarantee you a job on the basis of money you have paid to them, it all depends on your hard work, the hours you spend with books, routers, switches etc. and how professional you are with your attitude. So, the more dedicatedly you study the more knowledge you get.
Coming to your question that how Network Bulls offer you a Job Guarantee is that they train you well make you like a processional and make you sit for interviews with different MNCs like BT, CSS Corps etc. now this completely depends on you and your knowledge that how well you crack the interview and yes if you are a CCIE it does makes a difference while you sit for an interview and your salary package also makes a difference.
I hope the above message clarifies all your doubts.4
CHEERS THANKS !!
Hi Anirudh, As Nikhil answered the question really well and i appreciate his efforts of putting everything in the answer in a genuine manner, without any sugarcoating or tempering any information.
here's the official reply from NB family:
I understand your concern that you have read some reviews written in cisco.com and the thread is quite de-motivating for freshers.
Read the cisco.com threads carefully where people have mentioned that pass rate of CCIE engineers is merely 3%, that means Only 3 out of 100 students pass CCIE lab exam.
Does it make any sense? Yes, it made sense 10 years back when there were no CCIE Training facilities available worldwide. there were no CCIE study materials and guidance available. At that time pass rate of CCIE lab exam was merely 3%. But today we have amazing training institutes like INE and Network Bulls available and CCIE pass rate is over 70% for both of these institutes, and over 40-50% for many other training companies worldwide. That post of cisco.com doesn't make any sense now in 2017.
Likewise, you can check on cisco's website they used to mention that CCIE Cert is only for people with over 10 years of experience. Makes lot of sense. The kind of job roles CCIE engineers handle worldwide are supposed to be handled by experienced professionals only.
No fresher CCIE can replace any experienced CCIE for their job roles. Those experienced CCIE's are withdrawing huge salary packages in India, and almost every big country. Taking example of an engineer who did CCIE after 10 years of experience and he is working in some company in India as Principal Network Architect. That person must be withdrawing at-least 30 lacs of package.
We are not saying that a student must do CCIE and we will place that student at 30 lacs package. No. So someone with CCIE Cert and no experience will get 4-8 lacs of package depending upon his/her skills (Technical + Communication + Attitude + Presentation etc). And someone with CCIE Cert + Experience, will get better job profile with huge responsibilities and higher salary packages obviously.
I don't care about a useless thread of cisco.com created 7 years back to defame the certification or to de-motivate youngsters to achieve their dreams. What i care about is, we have produced and placed thousands of CCIE Certified and Non-Certified students in last 7 years.
Many many students have passed CCIE cert in 1st attempt and got placed in good companies at good packages. Actions speak louder than words. (And than any old threads as well).
About Placement Guarantee of Network Bulls:
We are not providing Placement promises to students based on the Training Fee they are paying.
We are not providing placement promises to students who do not wish to study.
Here's the screenshot of Terms and Conditions clearly mentioned at our website, that will clear your doubts instantly: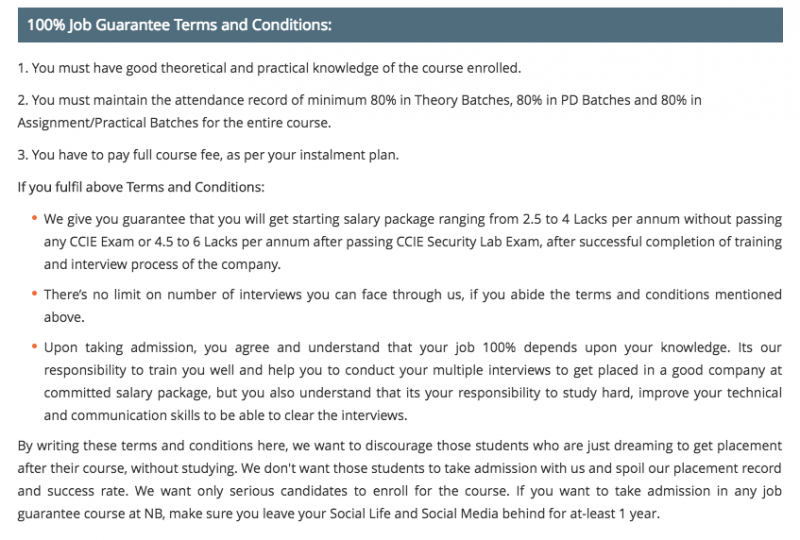 I hope these terms and conditions mentioned in our website clears all of your doubts. If it doesn't, you can continue on the thread with your doubts and i am always here to help.
Although Nikhil Verma has already explained All of the Facts really well. I again thank Nikhil Verma for his contribution. Thanks a lot. Happy Learning!!

Principal Network Architect - Array Networks
Network Bulls has focused on quality training and has always tried to create an environment to encourage the hard work.
You know how you get a job?
Its a two way contribution. Network Bulls gives you right training, and you study well, put your 100% to make sure you learn from that training.
Tell me name of a single student at NB, who has good communication skills and knowledge of the course and not getting placed. Just one name.
If there's any such student, i am ready to give him job in my team in Bangalore. Being an Ex-NBian, i know the truth.
I know the truth that whoever is ready to work hard and learn technology practically, NB will place that student even before he/she completes his/her course.
Look, CCIE R&S and CCIE Security, both has huge demand in market. be it Bangalore, Noida, Gurgaon, Delhi, Chennai, Mumbai, Pune, Kolkata, that person can get job anywhere.
If you have good knowledge of syllabus of CCIE R&S or CCIE Security, you will get job. Its as simple as that.
But if you are one of those who think, that i am paying training fee to NB and i should get job without studying. Then you and your mental health is at fault. :P
I hope it cleared your doubts. i hope you will study hard and make your dreams reality. best of luck my friend.

CCIE Security
Being an ex-student of CCIE Security batch of Network Bulls, its an honour to address this issue here.
We had 35 students in our batch of CCIE integrated course. Here's what happened to the batch:
5-6 students stopped coming within 2-4 months of joining because they had their own issues or they didn't find course interesting or whatever. Lets forget those students.
Now we had 28 students remaining in our batch. Out of these 28 students, some 10-12 students got jobs based on their skills even before the batch was completed. I remember we were at finishing stage of CCIE Security batch of Ajay Grewal sir, when only 16-17 students were left.
Out of remaining 16-17 students, 8-10 students including me got Job Placements within 1-2 months of course completion.
Now i was placed as Network Security Engineer in a company in Gurgaon.
What happened to remaining 7-8 students?
2-3 students got placed after couple of months.
Now, students with poor communication skills and average/poor technical skills were left. those 3-4 students are still job less.
I still remember that Mr. Vikas Kumar sir used to visit our batch every month or sometimes 2-3 times a month to request students to raise their attendance in PD classes and practical classes. That man who is owner of the institute, kept on requesting students to work hard, study hard, to come to classes but those students were not serious. And today those 3-4 students of every batch are dis-satisfied. Who is at fault?
No institute can give you job guarante if you are not ready to put your efforts into it. grow up.
This is a very nice one and gives in-depth information. I am really happy with the quality and presentation of the article. I'd really like to appreciate the efforts you get with writing this post. Thanks for sharing.
CCNA course in pune
Everyone starts with zero experience. If you have good skills and good understanding of job prifile, there will be no no difficulty in getting job. I have one of my friend when i was studying in Chandigarh Group of Colleges Landran, he also had interest in netwroking field . After completing his studies , he had tried for job in this field and after giving few interview, he was selected by one of the good company with good package.  
I can see you are planning to pursue CCIE training and you have the right name in your mind and i.e Network Bulls.
I am also a Network Bulls student and I completed my CCNA, CCNP, CCIE training here. Like you, I had the same doubts in my mind as to how would I get a job? I don't have any experience, where I would get placed? All these questions during my CCNA training.
I was so confused so I dropped a query in the Network Bulls complaints box regarding my confusion/complaints. As said earlier, these complaints boxes are looked after by triple CCIE Mr. Vikas Kumar and after reading my confusion he came to have a word with me.
He cleared my doubts/complaints within a minute and as guaranteed I got a job even before my course completion.
Their 100% practical training fills every gap between theoretical training and industrial requirement. This is how Network Bulls students get placed easily and NB has 10x Placement Record if compared to any other training institutes in India.
So, go for it Anirudh! It's the best place for CCNA, CCNP, CCIE training.