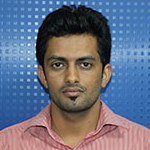 Rajender Kumar
Senior Technical Trainer
CCIE R&S #57528
Rajender comes with a vast experience of more than 7 years and has been training students of Network Bulls for CCIE R&S Track. With a good reputation among students, Rajender himself has done CCIE R&S; he also holds MCITP Certification to his credits. He has expertise in routing & switching concepts such as BGP, MPLS, IPv6 etc. and sound knowledge of Microsoft Servers.
Rajender has worked with companies such as Jetking, IIHT and Techmind in the past as a trainer. He has taken 500+ corporate training workshops also in last 6 years with big IT organizations. Rajender likes playing cricket and continuously polishing his skills by reading more & more books related to networking industry.
No. of students
trained?
625
How students have rated
Rajender Kumar?
Knowledgeable about the subject
9/10
Interest in sharing information and knowledge
8/10
Open for queries and doubts
9/10
Post your Reviews & Comments
{{comment.user.name}}
{{comment.created_at|timeSince}}
{{comment.message|trusted}}