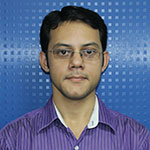 Mr. Ali humza
Sr. Trainer
CCIE R&S #60981
Ali joined Network Bulls team and has become student's favorite already in a very short span of time. Prior to joining Network Bulls Ali has worked in IT industry with companies such as Trimax IT Infrastructure & Services as Network Engineer in its MPLS department, NBT, and NNSC as a networking consultant.
Ali comes with in-depth knowledge and practical experience of Cisco Routing & Switching Technology. He is CCIE R&S trained and holds an excellent hand in advanced technologies such as IPv4 & IPv6 protocols, OSI protocols, TCP/IP models, l2 switching, Cloud Computing, VPN, DMVPN, QOS, Multicasting, Network Security etc. An engineer in Electronic Communications branch, Ali trains students of CCNA R&S and CCNP R&S at Network Bulls.
A trainer who is known to extend his theoretical sessions with rigorous practice is one of the favorites of students. Ali is currently preparing for CCIE R&S (Written + Lab) Certification and motivates other aspirants. In his free time, Ali loves reading novels and playing Chess with friends.
No. of students
trained?
345
How students have rated
Mr. Ali humza?
Knowledgeable about the subject
9/10
Interest in sharing information and knowledge
9/10
Open for queries and doubts
9/10
Watch some of Mr. Ali humza
videos/feedbacks?
Post your Reviews & Comments
{{comment.user.name}}
{{comment.created_at|timeSince}}
{{comment.message|trusted}}