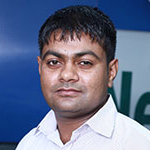 Mr. Priyavarat
Senior Trainer
Cisco
An experienced mentor, a trainer with more than 4 years of experience, Priyavarat is an another key member of NB Trainers team. As a consultant, Priyavarat helped 100+ companies small or big in setting up their IT Network Infrastructure. He is a veteran who knows each and every little detail about network infrastructure and because of his deep understanding students taking his classes always admire him for making them network troubleshooting experts.
Apart from training Priyavarat plays a key role in drafting practical workbooks and designing real life case studies for students. By hobbies, Priyavarat loves playing cricket, listening music and spending time with students at our labs.
No. of students
trained?
450
How students have rated
Mr. Priyavarat?
Knowledgeable about the subject
9/10
Interest in sharing information and knowledge
9/10
Open for queries and doubts
9/10
Post your Reviews & Comments
{{comment.user.name}}
{{comment.created_at|timeSince}}
{{comment.message|trusted}}