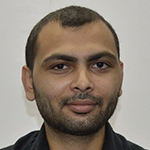 Mr. Vivek Joshi
Sr. Lab Instructor
CCIE R&S #57389
Vivek Joshi recently joined Network Bulls as a CCIE Lab Instructor and in quite a short span of time; he has become an eminent part of Network Bull's technical training team.
Vivek has completed his B.tech in Computer Science and is CCIE R&S certified professional (#57389). In addition to being an expert in Routing and Switching technology, he also has an in-depth knowledge of numerous other technologies such as Linux and Junos.
Vivek loves to spend his free time creating poems, playing chess and cooking. He is planning to appear for the CCIE written and the lab examination in a short span. Vivek is a true inspiration and motivation for candidates at NB as he himself is ready to appear in the world most prestigious networking certification.
No. of students
trained?
369
How students have rated
Mr. Vivek Joshi?
Knowledgeable about the subject
9/10
Interest in sharing information and knowledge
9/10
Open for queries and doubts
9/10
Post your Reviews & Comments
{{comment.user.name}}
{{comment.created_at|timeSince}}
{{comment.message|trusted}}