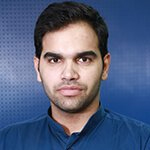 Mr. Praveen Kataria
Master Trainer
CCIE Security #43866
Mr. Praveen Kataria is a Master Trainer at Network Bulls and a key member of Network Bulls Training Team. A vastly experienced trainer of CCNA Security, CCNP Security, and CCIE Security Certifications, he is known for his strong hold on practical sessions and making students adept with security track. He has cultivated strengths of practical clarity amongst students, making their basic to expert level knowledge strong and concise.
Praveen himself is a CCIE Security Certified Trainer. His CCIE No. is 43866. Apart from his training duties, Praveen also contributes in preparing practical workbooks, supervising live projects and drafting cases with real life scenarios. When Praveen is free from training, he prefers to spend time with family and going out on adventurous tours
No. of students
trained?
510
How students have rated
Mr. Praveen Kataria?
Knowledgeable about the subject
9/10
Interest in sharing information and knowledge
9/10
Open for queries and doubts
9/10
Watch some of Mr. Praveen Kataria
videos/feedbacks?
Post your Reviews & Comments
{{comment.user.name}}
{{comment.created_at|timeSince}}
{{comment.message|trusted}}