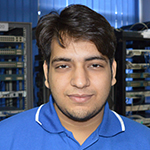 Mohit Gulati is a young, dynamic and dedicated member of Network Bulls training team. Mohit trains students over CCNA + CCNP modules at NB as he holds great command over associate level networking certification. He himself is a CCNA Certified and CCNP + CCIE trained candidate, since he is certified himself that is why he very well understands networking technologies and specializes in making students' foundation strong.

Mohit is an expert in Routing & Switching technologies like OSI protocols, TCP/IP models, layer 2 switching, IPv4 & IPv6 protocols, BGP, MPLS, STP, EIGRP, OSPF, Switch security, Ether channel etc. along with newly added modules in CCNA such as VPN, IPv6 routing Cloud Computing and SDN technologies. He also has great command over network security concepts and prepares students for advanced level.

A passionate trainer aims to make a difference in the society by training students. He spends a lot of his spare time in interacting with students and guiding them. Because of his dedication and technical acumen, he has earned great respect among students in a very short span of time.
No. of students
trained?
421
How students have rated
Mr. Mohit Gulati?
Knowledgeable about the subject
9/10
Interest in sharing information and knowledge
9/10
Open for queries and doubts
9/10
Post your Reviews & Comments
{{comment.user.name}}
{{comment.created_at|timeSince}}
{{comment.message|trusted}}