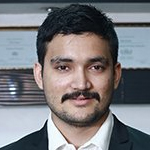 Mr. Mohit Bhalla
Master Trainer
Dual CCIE #42145 (R&S, Security), CCSI #34989 and Data Center Written
Having a degree of B.E. Computer Science, Mohit had joined Network Bulls in 2012. He is currently working as a trainer for Cisco Routing & Switching, Data Center Technologies, Juniper SRX,Palo Alto,Checkpoint and Cisco ASA Firewall, F5 Load Balancer, Riverbed WAN Optimization, Cloud Computing, Cloud Security, Real Time Network Designing &Troubleshooting, Network Monitoring Tools and Ticketing Tools.
His major achievements include Dual CCIE #42145(R&S, Security), CCSI #34989 Certifications and taking Network Bulls industrial training batches. He also handles the additional role of a lab instructor and Network Engineer at NB. He believes in transforming lives of many ordinary students into extraordinary and that's why he chose to start his training career immediately after the completion of CCIE & CCSI with us. Since 2012 he has been a mentor of many CCIE success stories and continues to live his passion.
Mohit is also serving Network Bulls Technologies as a Solution Architect. He has helped 100+ MNCs with their Data Center Solutions & Network Designs, Data Center Centralization and up-gradation of Network as well as the Data Centers using Cisco Nexus 5K, 7K, 9K, UCS etc. Solutions offered by Cisco.
At NBT, he is heading a team of 20+ engineers and taking care of Network Security and Data Center Solutions for the clients of NBT. Being a Cisco Premium Partner, we have managed to become Cisco Data Center Architecture Specialization Partner with the help of Mr. Mohit and his team.
No. of students
trained?
1260
How students have rated
Mr. Mohit Bhalla?
Knowledgeable about the subject
9/10
Interest in sharing information and knowledge
9/10
Open for queries and doubts
9/10
Post your Reviews & Comments
{{comment.user.name}}
{{comment.created_at|timeSince}}
{{comment.message|trusted}}