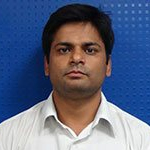 Mr. Vishwajeet Rathore
Senior Trainer
Cisco Security
Vishwajeet is designated as Sr. Trainer for Cisco Security Track and trains NB Candidates for CCNA R&S, CCNA Security, CCNP Security, and CCIE Security Courses. He has industry experience of 5 years, during his work tenure he has worked for companies such as Mil Fied Mortgage (A UK based firm) and Gyro Automotive Essentials as Technical Assistant.
Vishwajeet has a vast experience of conducting 200+ corporate training workshops, Summer Training and Winter Training Workshops for Cisco Routing & Switching and Security Track. Hands-on expertise over Firewall and VPN Technology, an expert trainer and a mentor who likes to help candidates at each step during their preparations.
He has a B. Tech degree on his name from ECE branch, Vishwajeet is CCIE Security Certified trainer. Currently, he aims to master Juniper, Palo Alto, and Data Center Technologies. Whenever he gets time from training or consulting, he likes to on a family vacation and enjoys road trips.
No. of students
trained?
612
How students have rated
Mr. Vishwajeet Rathore?
Knowledgeable about the subject
9/10
Interest in sharing information and knowledge
8/10
Open for queries and doubts
9/10
Post your Reviews & Comments
{{comment.user.name}}
{{comment.created_at|timeSince}}
{{comment.message|trusted}}