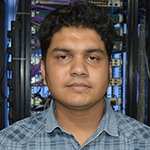 CCIE R&S #61725,#CSCO12054504
Rajat is a young and dedicated trainer of Network Bull's technical training team. Rajat is a great mentor and passionate training professional. He guides student on Cisco CCNA + CCNP modules and builds a strong foundation of networking which serves a long way in gaining expertise. Rajat has worked with top IT companies as Network Administrator for more than 5 years. Thus, have a deep understanding of networking devices.
Rajat is a highly qualified trainer and a key part of Network Bulls training team. Rajat is CCNA R&S + CCNP R&S certified #CSCO12054504. He has a strong hold on the networking concepts of Routing and Switching such as IPv6, VLAN, LANs, STP, Ether Channel, Multi-area OSPF, Netflow, WAN, SNMP, Syslog, MPLS and BGP protocols. Rajat has in-depth knowledge of complex routing networks.
Rajat loves to spend his spare time interacting with students, guiding them, and helping them to grow in their career. In addition, he also loves sketching and listening music. Rajat is always ready to walk a mile away for the better understanding of students.
No. of students
trained?
345
How students have rated
Mr. Rajat Goyal?
Knowledgeable about the subject
9/10
Interest in sharing information and knowledge
9/10
Open for queries and doubts
9/10
Post your Reviews & Comments
{{comment.user.name}}
{{comment.created_at|timeSince}}
{{comment.message|trusted}}